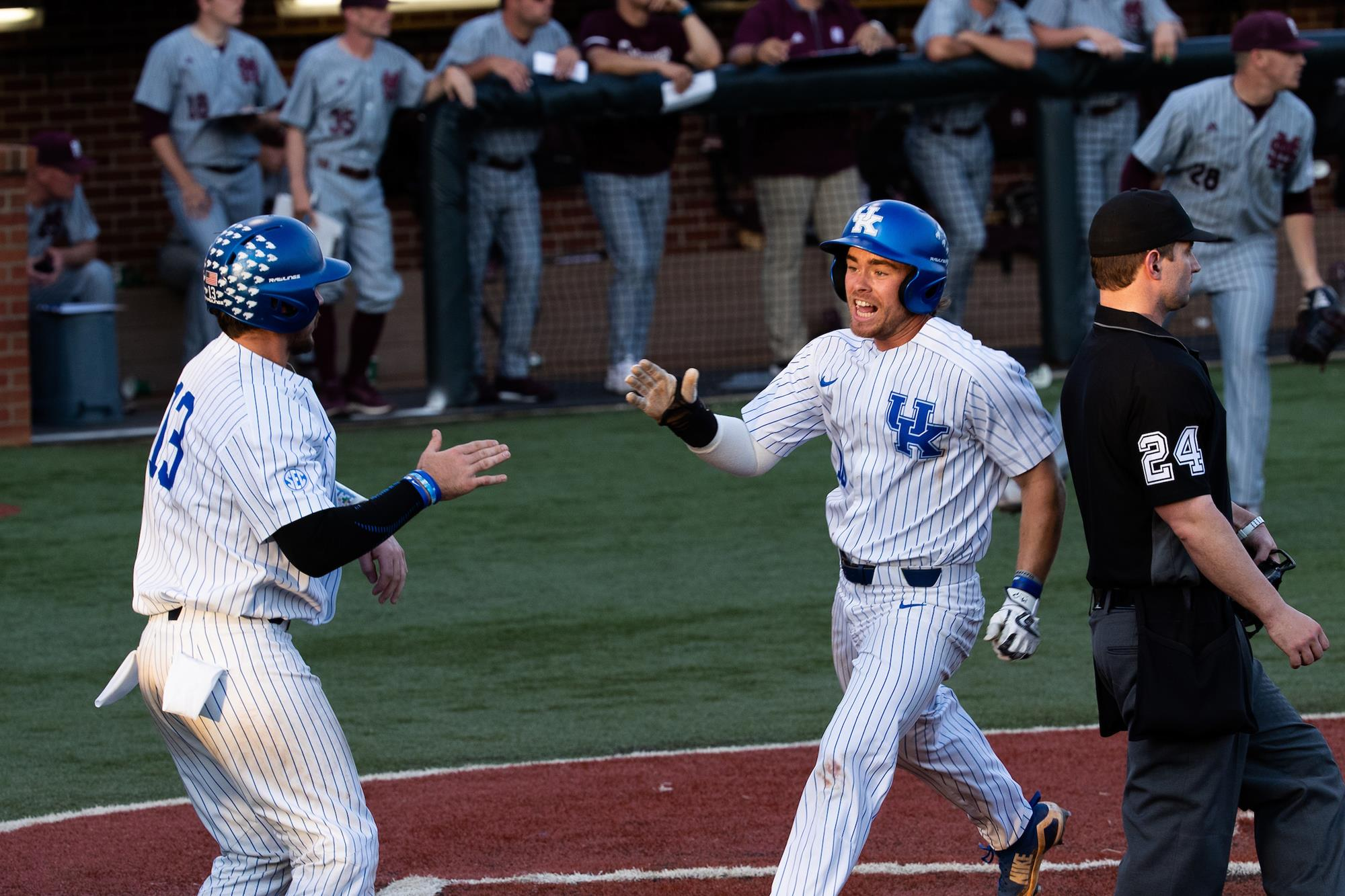 LEXINGTON, Ky. – The Cliff did it again.
 
With just two regular season games remaining in the half-century of baseball played at Cliff Hagan Stadium, the magic inside its brick walls appeared again as No. 17 Kentucky rallied in the eighth inning for a 4-1 victory over Mississippi State. The four-run inning had the old stadium shaking as 4,416 fans and former players roared their approval.
 
The Wildcats (33-17, 13-13 Southeastern Conference) claimed the weekend series and now can get their first sweep in league play this season on Sunday afternoon. The potential final game in The Cliff's history begins at 3 p.m. and will air on the SEC Network.
 
In erasing the 1-0 deficit in the eighth inning the Cats recorded their sixth victory of the season when trailing after seven innings, once again displaying a relentless nature late in games. Junior Trey Dawson began the inning by battling back from an 0-2 count to single on a 3-2 pitch before junior Tristan Pompey went the other way for a single.
 
Junior All-America candidate Kole Cottam – one of the nation's top home run threats – then laid down a sacrifice bunt that died in the grass along the third base line, with Cottam beating the throw to first to load the bases with no outs. Senior Luke Becker laced the first pitch he saw into left-centerfield to score a pair of runs and give the Cats the lead and set up senior Luke Heyer – the Cats' leading home run hitter – for another sacrifice bunt that was thrown away by the pitcher, allowing two runs to score.
 
"Bunting is another piece of offense," UK coach Nick Mingione said. "We work on it every day and we spent an extra ten minutes on it every day this week. That's what the game called for and give (Cottam and Heyer) credit, they actually got them down in good spots."
 
Freshman right-hander Jimmy Ramsey got the win after getting the final two outs in the eighth and closing it out in the ninth. He followed freshman lefty Mason Hazelwood, who pitched 3.1 scoreless innings to keep the game at 1-0 while the Cats' offense tried to find a way to break through.
 
On a day when the 1988 team that game within one win of the College World Series was honored, the place both that team and the current one called home showed it still has a little magic left.
 
 
 
SCORING
Top 1st – Rowdey Jordan and Luke Alexander walked. Hunter Stovall singled through the right side, scoring Jordan. Miss. State 1, UK 0.
 
Bottom 8th – Trey Dawson and Tristan Pompey singled. Kole Cottam beat out a SAC bunt attempt for a hit to load the bases. Luke Becker singled to LCF, scoring Dawson and Pompey. Luke Heyer laid down a SAC bunt that was thrown away by the pitcher, allowing Cottam to score from second and Becker to race home from first. UK 4, Miss. State 1.
 
 
NOTES
Kentucky has scored in 58 consecutive games and 134 of the past 135 dating to the 2016 season. The lone shutout came in a seven-inning game.
The win is the Wildcats' sixth this season when trailing after seven innings.
The Cats are 5-2 in games decided in the last at bat.
Several Cats extended impressive reached base safely streaks …

Junior C/1B Kole Cottam has reached safely in 13 straight games, has hits in 24 of the past 26 games and is riding a career-long 13-game hit streak.
Junior INF Trey Dawson has now reached base safely in 11 straight and 20 of his last 21 games.
Senior INF/OF Luke Heyer has reached in 13 straight games and 18 of the last 19 games.
Senior INF Luke Becker has reached in 48 of 50 games (and 92 of 94 including 2017 summer ball).
Junior OF Tristan Pompey went 2-for-4 with a double and a run.

He has three doubles in the series and 16 for the season.
He now has 17 multi-hit games this season and 51 for his career.
In the series he's 4-for-6 with three doubles and has reached base in seven of nine plate appearances.
Senior INF/OF Luke Heyer went 2-for-2 with a walk and a SAC bunt.

It was Heyer's team-leading 15th multi-hit game of the season.
Senior INF Luke Becker went 2-for-4 with a run and two RBI.

Becker's two-run single to LCF was the game-winning hit.
He has seven multi-RBI games this season and 17 for his career.
He has 16 multi-hit games this season and 43 for his career.
In the series he has four hits and four RBI.
Sophomore LHP Zack Thompson made his second start since returning from a seven-week absence.

Thompson pitched 4.0 innings, giving up two hits, one run and striking out three.
In two starts since his return he has gone 7.0 IP, 2 H, 1 ER, 5 BB and 10 K.
Freshman LHP Mason Hazelwood pitched 3.1 scoreless innings, giving up just one hit, one walk and striking out three.

It was a career-long outing and his 45 pitches are a career-high.
Freshman RHP Jimmy Ramsey recorded the final five outs to earn his third win of the season.
 
 
ON DECK
On Sunday, the final regular season game in Cliff Hagan Stadium history will take place with the Cats going for a series sweep. First pitch is set for 3 p.m. ET on the SEC Network and UK Sports Network radio.