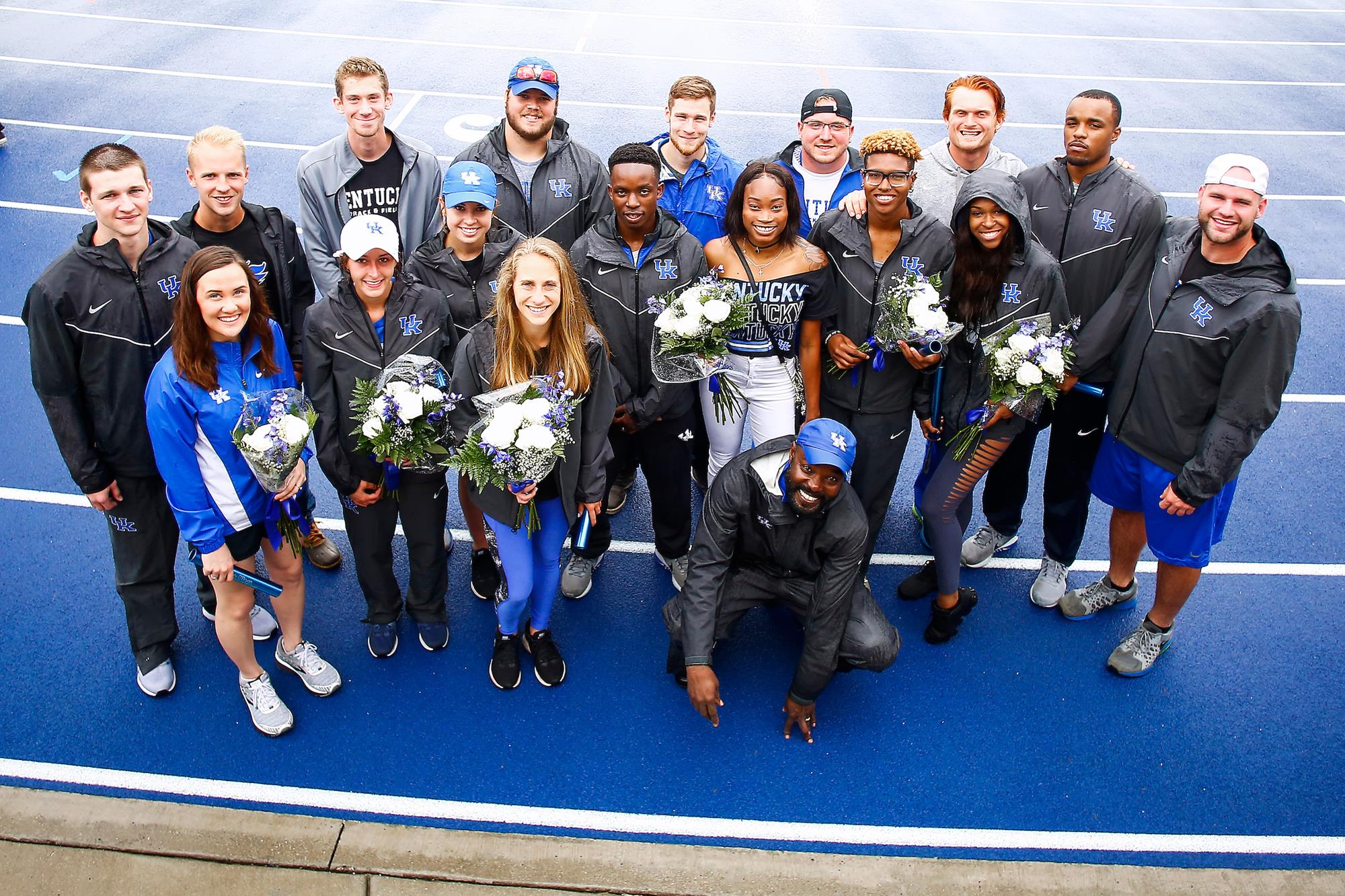 Wildcats Win 10 Events at Kentucky Relays
LEXINGTON, Ky. – Kentucky Wildcats won 10 events, plus an alumna won an event, at the 2018 Kentucky Relays held at the UK Outdoor Track and Field Complex to conclude the regular season on Saturday.
 
The Wildcats had a successful meet all around even through some rainy weather, honoring 18 seniors with a ceremony on this commencement weekend on the UK Campus. While many of UK's top runners didn't compete, electing to rest a week before the Southeastern Conference Championships, the whole team was involved on Saturday with trading card and shoelace giveaways and autograph signings throughout the day.
 
Event winners
Seniors David Cline and Logan Bryer went 1-2 in the men's hammer throw with respective marks of 215'3″/65.60m and 203'4″/61.97m.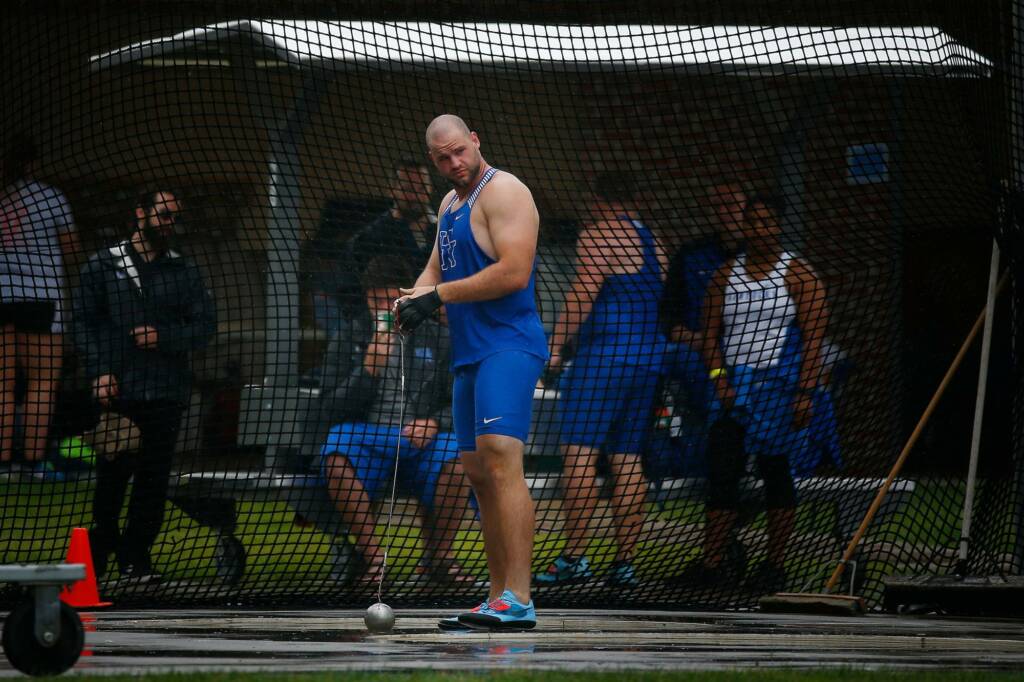 Senior Fred Dorsey won and Travis Riley placed in the men's long jump with respective marks of 23'11″/7.29m and 23'10″/7.26m.
Olivia Gruver won the women's pole vault, clearing one height, 13'4.25″/4.07m to open up her 2018 account. That mark ranks No. 25 in the NCAA East Region at present.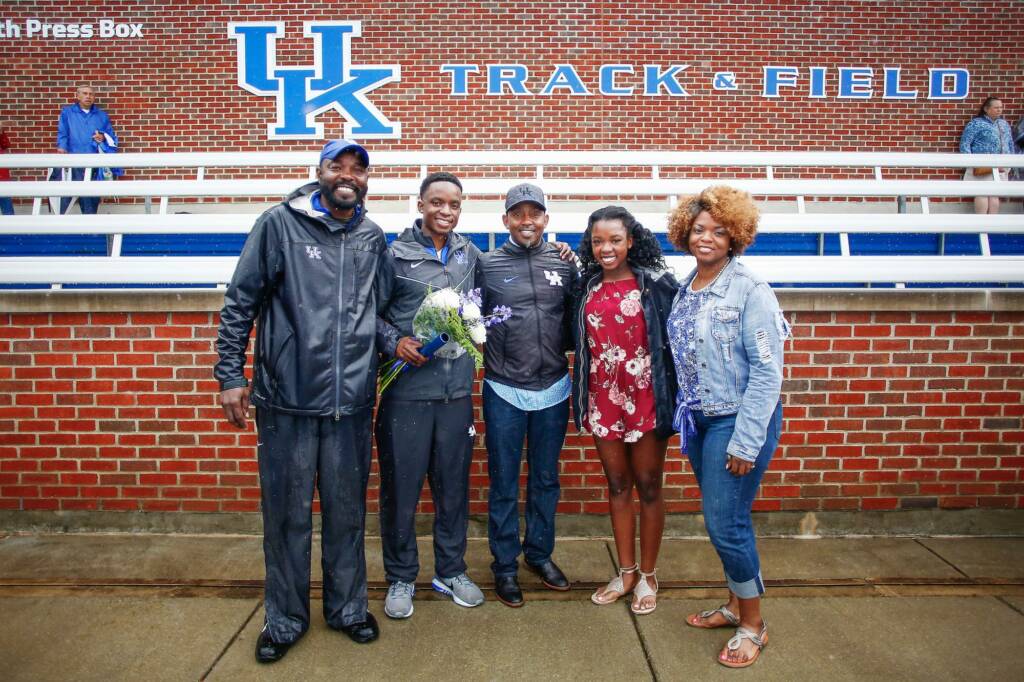 Nicole Fautsch won the women's discus with a five-foot personal best 167'8″/47.75m to move to No. 9 on the UK all-time list.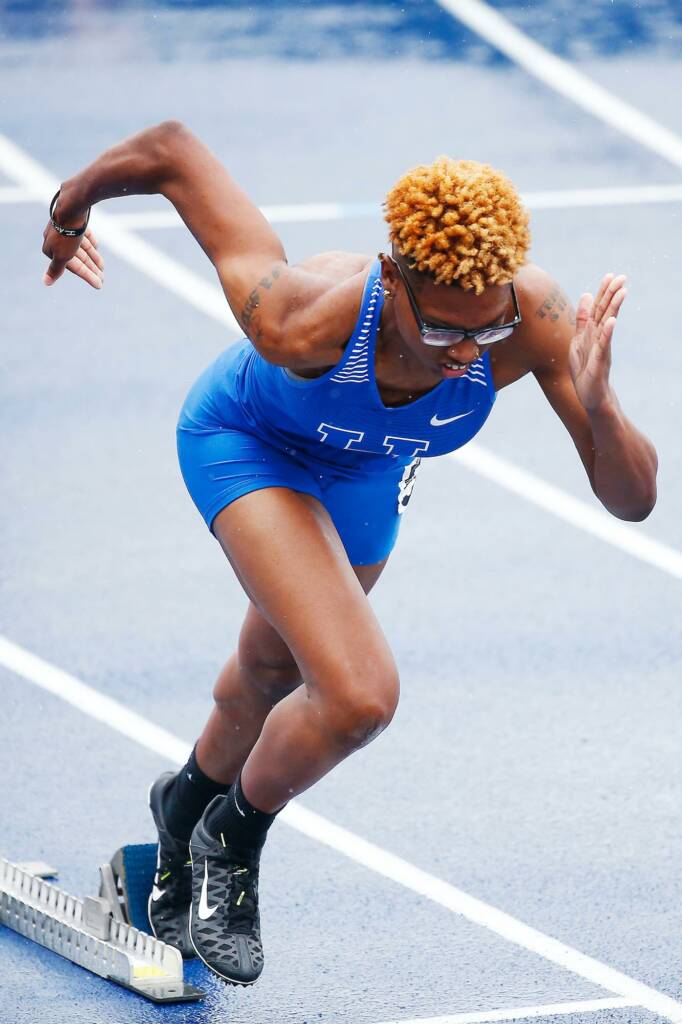 Charles Lenford Jr. won the men's discus with a mark of 171'8″/52.32m.
 
Brennan Fields won the men's 3,000-meter steeplechase in a 13-second personal best 9:04.60.
 
Celera Barnes won the women's 100m in 11.63 into a -0.3 wind.
 
Jasmine Mitchell won the women's 400m in 55.29 on Senior Day.
Senior Ian Jones won the men's 400m in 48.66.
 
Janie O'Connor won the women's 200m in 23.91 (-0.4).
 
UK Class of 2017 alumna Sha'Keela Saunders won the women's long jump with a mark of 21'3.5″/6.49m into a -0.6 headwind.
2018 Kentucky Relays – May 5, 2018
Tentative Schedule
Running Events
Event
UK Entry
Women's 5,000m
3. Caitlin Shepard: 17:22.30
Women 1500m
3 .Michelle McKinney: 4:25.55
5 Sarah Crawford: 4:38.08
9. Madisyn Peeples: 4:48.30
Men 1500m
11. Tanner Dowdy: 4:03.90
12. Cole Dowdy: 4:04.66
13. Alex Mortimer: 4:05.32
Men 3K Steeplechase
1. Brennan Fields: 9:04.60 | 13-second PB
3. Daniel Southard: 9:51.58
Women 100m
1. Celera Barnes: 11.63 (-0.3)
3. Janie O'Connor: 11.83 (-0.3)
Women 400m
1. Jasmine Mitchell: 55.29
Men 400m
1. Ian Jones: 48.66
Women 200m
1. Janie O'Connor: 23.91 (-0.4)
Women 800m
2. Michelle McKinney: 2:14.99
Field Events
Event
UK Entry
Men Hammer
1. David Cline: 215'3″/65.60m
2. Logan Bryer: 203'4″/61.97m
Women Long Jump
1. Sha'Keela Saunders (UK Class of 2017): 21
3.5″/6.49m (-0.6)
Men Long Jump
1. Fred Dorsey: 23'11″/7.29m
2. Travis Riley: 23'10″/7.26m
Women Pole Vault
1. Olivia Gruver: 13'4.25″/4.07m | No. 25 in NCAA East Region right now
4. Alison D'Alessandro: 12'4.50″/3.77m | Oudoor best
6. Nicole Bagby: 12'4.50″/3.77m
Men Shot Put
7. Tim Duckworth: 44'2.75″/13.48m
Women Discus
1. Nicole Fautsch: 167'8″/47.75m | Five-foot PB, T-No. 9 UK all-time list
Men Discus
1. Charles Lenford Jr.: 171'8″/52.32m
8. Tim Duckworth: 135'3″/41.22m
Women High Jump
2. Carly Hinkle: 5'8″/1.73m

—
For the most in-depth coverage of the UK cross country and track and field program follow the @KentuckyTrack social media channels on Instagram, Twitter and Facebook as well as on  UKathletics.com.