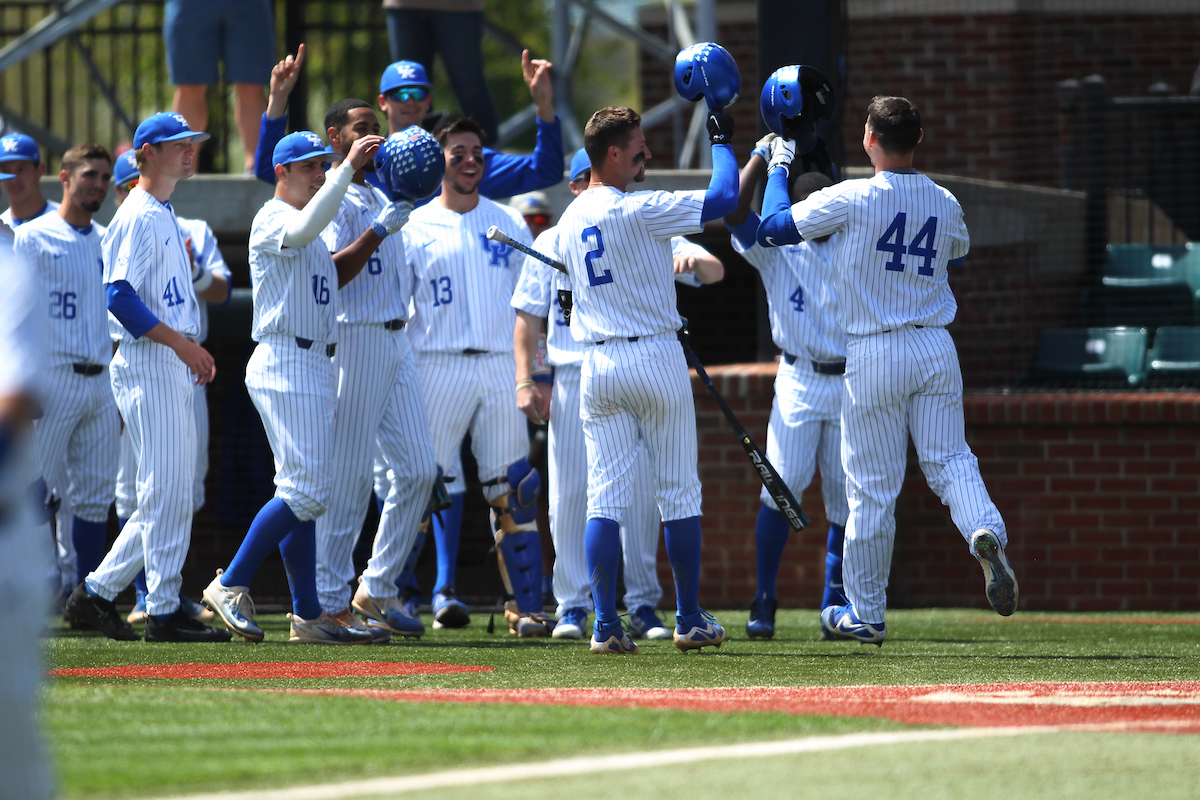 LEXINGTON, Ky. – Freshman Coltyn Kessler recorded his first career hit and junior Ryan Shinn his first home run but the long ball undid No. 13 Kentucky in a 14-11 loss to Missouri on Saturday at Cliff Hagan Stadium. The teams will play the rubber game of the series on Sunday at 1 p.m. ET.
 
The Tigers had scored just 16 runs in their past 10 conference games but broke out on Saturday thanks to four home runs. The final blow came on Trey Harris' three-run, eighth-inning shot off that provided enough cushion to withstand the Cats' furious rally from a 9-2 deficit.
 
Troy Squires matched a career-high with five RBI, including two-run doubles in back-to-back at bats, as the Cats (28-15, 9-11 SEC) battled back into the game. After pulling within 9-8 in the sixth, Missouri (29-14, 9-11 SEC) used a five-run eighth to open the margin back up and put the game out of reach.
 
Despite the overall rough afternoon on the mound the Cats did have a pair of promising developments from its pitching staff. Redshirt freshman right-hander Brett Marshall put up a second consecutive scoreless inning against an SEC opponent as he works his way back from Tommy John surgery and sophomore lefty Zack Thompson appeared for the first time in six weeks with a scoreless ninth.
 
The teams will meet again Saturday afternoon at 2 p.m. with Missouri lefty Michael Plassmeyer set to face UK righty Zach Haake. The game will be streamed on SECN+ and air on 630 AM WLAP for radio.
 
 
SCORING
Top 2nd – Brett Bond walked and advanced to third on Chad McDaniel's single through the right side. McDaniel advanced to second on errant throw by RF. Alex Samples grounded out to third, scoring Bond and moving McDaniel to third. Cade Bormet looped a single to RF, scoring McDaniel. Mizzou 2, UK 0.
 
Top 3rd – Brian Sharp homered to RF. Mizzou 3, UK 0.
 
Bottom 3rd – Ryan Shinn homered to LF. Trey Dawson walked, stole second and advanced to third on Tristan Pompey's groundout. Troy Squires singled to RF, scoring Dawson. Mizzou 3, UK 2.
 
Top 4th – McDaniel singled to CF. Samples walked. Mett Berler homered to LF, scoring McDaniel and Samples. Mizzou 6, UK 2.
 
Top 5th – Trey Harris hit by pitch and scored on Zach Hanna's homer to LF. Brett Bond walked, advanced to second on a balk and scored on McDaniel's single to CF. Mizzou 9, UK 2.
 
Bottom 6th – Kole Cottam singled to CF, advanced to second on a wild pitch and third on Luke Heyer's single to LF. Luke Becker singled through the left side to score Cottam. Ben Aklinski singled to CF to load the bases. Coltyn Kessler hit a pinch hit single to CF, scoring Heyer. The ball got by the CF for a two-base error, scoring Becker and Aklinski and advancing Kessler to third. Dawson and Pompey walked to load the bases. Squires doubled to LCF, scoring Kessler and Dawson. Mizzou 9, UK 8.
 
Top 8th – Samples doubled to LF and advanced to third on a SAC bunt. Berler walked and stole second. Paul Gomez singled to RCF, scoring Samples and Berler. Sharp singled. Harris homered to LCF. Mizzou 14, UK 8.
 
Bottom 8th – Dawson and Pompey singled and moved up on a failed pickoff attempt. Squires doubled to LCF, scoring Dawson and Pompey. Cottam and Heyer walked to load the bases. Aklinski walked, scoring Squires. Mizzou 14, UK 11.
 
 
 
NOTES
Kentucky has scored in 51 consecutive games and 127 of the past 128 dating to the 2016 season. The lone shutout came in a seven-inning game.
Several Cats extended impressive reached base safely streaks …

Senior INF Luke Becker has reached in 42 of 43 games (and 86 of 87 including 2017 summer ball).
Junior C/1B Kole Cottam has reached safely in 13 straight games and has hits in 17 of the past 19 games.
Junior INF Trey Dawson has now reached base safely in 13 of his last 14 games.
Junior OF Ben Aklinski has reached in 36 of the last 38 games.
Redshirt sophomore Zeke Lewis earned his first career start, serving as the designated hitter.
Freshman Coltyn Kessler notched his first career hit, a pinch hit RBI single to centerfield.
Junior OF Ryan Shinn hit the first home run of his career after ranking among the nation's top home run hitters in junior college last season.
Senior C/1B Troy Squires went 3-for-6 with a run, two doubles and five RBI.

The five RBI matched his career high, previously set against South Carolina on April 6, 2018.
He now has 12 multi-hit games this season and 25 in his career.
Junior INF Trey Dawson went 3-for-3 with three runs scores, two walks and a stolen base.

The three hits are a new career-high for Dawson.
He reached base all five times he came to the plate in the game.
Sophomore LHP Zack Thompson pitched a scoreless ninth inning, his first appearance since March 10 vs. Texas Tech.
 
 
ON DECK
Kentucky and Missouri will play the rubber match on Sunday at 1 p.m. ET on the SEC Network+ and Darren Headrick will have the radio call on 630 AM WLAP.