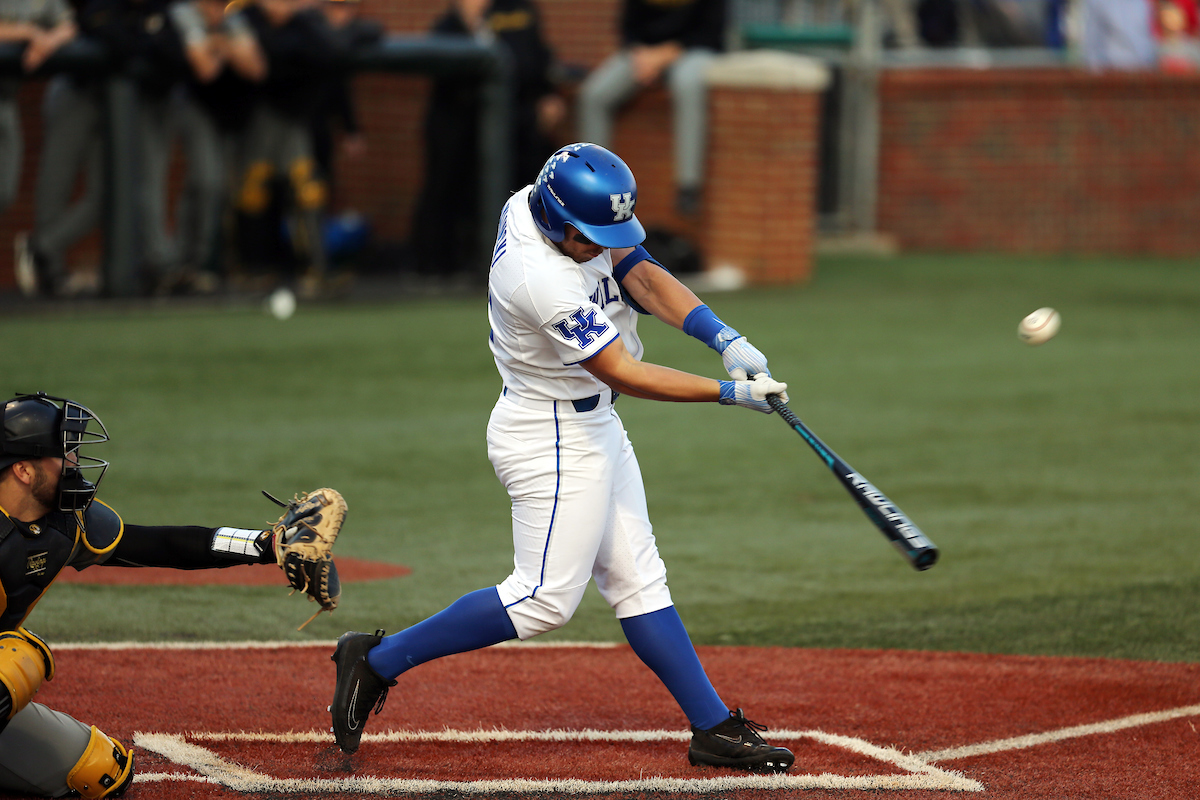 LEXINGTON, Ky. – Luke Heyer blasted a game-winning home run off the camera deck beyond the centerfield wall and Sean Hjelle pitched eight ferocious innings as No. 13 Kentucky claimed the series opener against Missouri, 2-1, before a Friday night crowd of 4,112 at Cliff Hagan Stadium.
 
Heyer's team-leading 15th home run of the season came with two outs in the fifth inning and the Cats trailing 1-0, smacking off the deck just to left of the 390-foot sign. Tracked at 106 miles per hour off the bat, the no-doubt line shot scored Troy Squires, who extended the inning by being put in motion on a one-out groundout that would likely have been an inning-ending double play otherwise.
 
The home run proved to be enough on a night when both club's aces were dealing. Hjelle allowed an unearned run in the first inning after his own errant throw on a pickoff attempt but nothing after that. He capped his night by striking out three straight Tigers swinging after a leadoff check swing infield single put the tying run on base in the eighth. It was Hjelle's 21st career win, moving him into a tie for sixth place on UK's all-time list.
 
Chris Machamer survived a two-out double off the top of the right field wall to lock down his eighth save of the season, which ranks fourth on the single-season list, tying Hjelle's eight saves as a freshman in 2016.
 
The teams will meet again Saturday afternoon at 2 p.m. with Missouri lefty Michael Plassmeyer set to face UK righty Zach Haake. The game will be streamed on SECN+ and air on 630 AM WLAP for radio.
 
 
SCORING
Top 1st – Brian Sharp singled to CF, moved to second on an errant pickoff throw and to third on Trey Harris' groundout. Brett Bond squeeze bunted, scoring Sharp. Mizzou 1, UK 0.
 
Bottom 5th – Troy Squires singled up the middle. Luke Heyer homered to CF. UK 2, Mizzou 1.
 
 
NOTES
Kentucky has scored in 50 consecutive games and 126 of the past 127 dating to the 2016 season. The lone shutout came in a seven-inning game.
Several Cats extended impressive reached base safely streaks …

Senior INF Luke Becker has reached in 41 of 42 games (and 85 of 86 including 2017 summer ball).
Junior C/1B Kole Cottam has reached safely in 12 straight games and has hits in 16 of the past 18 games.
Junior INF Trey Dawson has now reached base safely in 12 of his last 13 games.
Junior OF Ben Aklinski has reached in 35 of the last 37 games.
Junior RHP Sean Hjelle pitched 8.0 innings, giving up six hits, one unearned run, striking out eight and walking two.

The win was Hjelle's 21st career victory, moving him into a tie for sixth on UK's all-time list with Corey Littrell (2011-13).
Hjelle's eight strikeouts give him 197 for his career.
Sophomore RHP Chris Machamer pitched a scoreless ninth to earn the save.

He now has eight saves this season, moving him into a tie for fourth on UK's single-season list.
Senior C/1B Troy Squires went 2-for-4 with a run scored.

He now has 12 multi-hit games this season and 25 in his career.
Senior INF/OF Luke Heyer went 1-for-4 with a two-run homer.

Smoked his team-leading 15th home run of the season in the fifth inning, a line shot to CF.
Heyer now has 12 multi-RBI games this season and 15 for his career.
Senior C/1B Kole Cottam went 2-for-4.

Now has a team-high 18 multi-hit games this season and 44 for his career.
 
 
ON DECK
Kentucky and Missouri meet again on Saturday afternoon with first pitch on Friday set for 2 p.m. ET on the SEC Network+ and Darren Headrick will have the radio call on 630 AM WLAP.