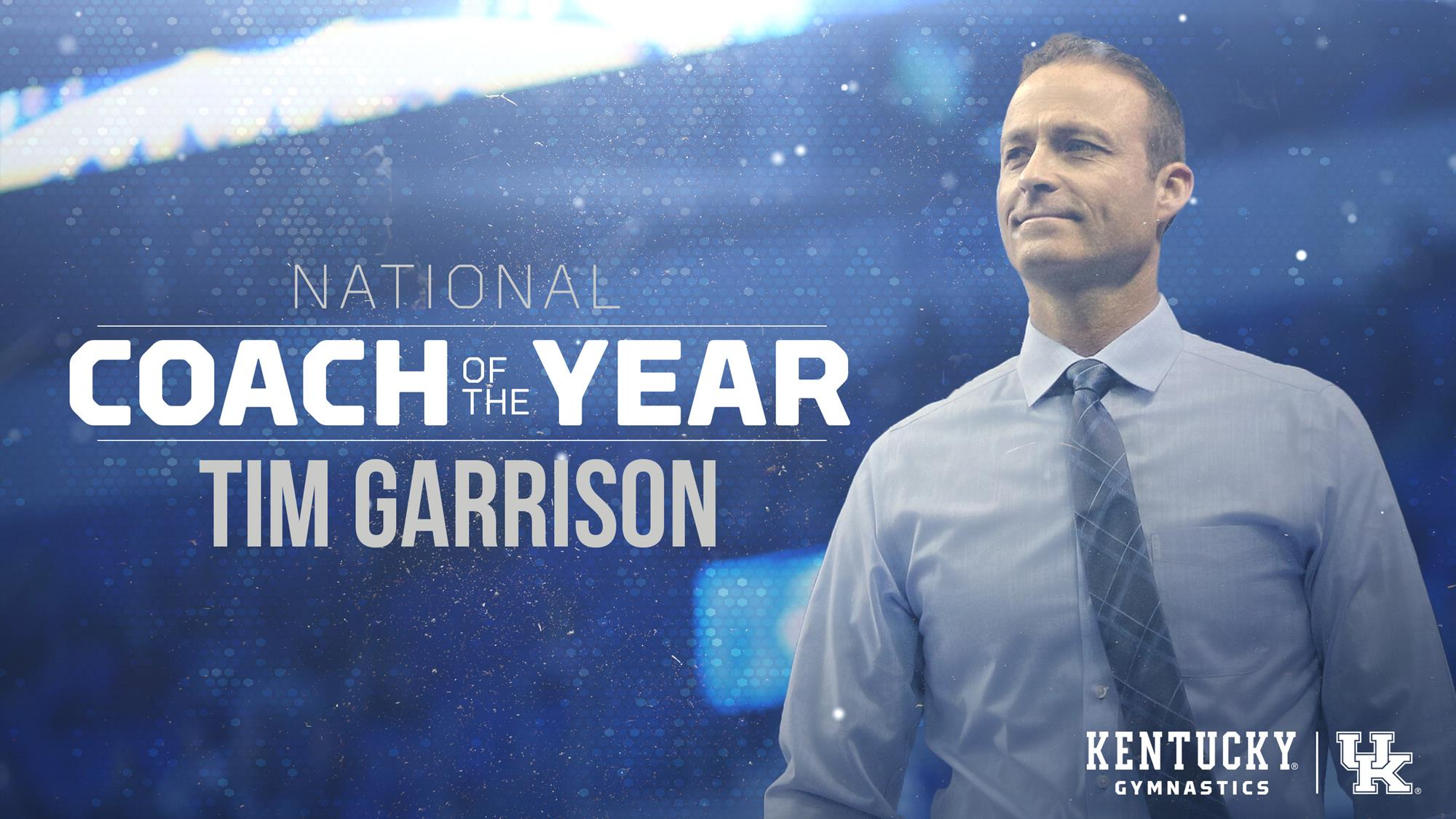 April 22, 2018 - 12:12 PM
Kentucky Gymnastics Coaches Take Home Nation's Top Honors
ST. LOUIS – Kentucky gymnastics head coach Tim Garrison and assistant coaches Chuck Dickerson and Rachel Garrison were named the 2018 National Association of College Gymnastics Coaches/Women (NACGC/W) National Coach and Assistant Coaches of the Year, the organization announced Sunday. The awards are voted on by Division I coaches across the country. Both awards are the program's first.
 
"I'm so grateful for my staff," head coach Tim Garrison said. "They have given so much of themselves to this team and program and I could not be happier for them to be recognized by our National coaches group and receive the coach of the year award."
 
Tim Garrison led Kentucky to its first NCAA Championships appearance in school history after a score of 197.050 at the NCAA Minneapolis Regional. UK finished second at the region after defeating Denver, Iowa, Iowa State and Minnesota. The score was UK's fourth ever over 197.
 
The Wildcats finished the season ranked No. 12 in the nation after finishing with a 196.0625 at the NCAA Championships.
 
Garrison coached one All-American, one SEC Champion and three members of the All-SEC team in 2018. Mollie Korth was named a 2018 first team All-American after a 9.925 at the National Semifinals placed her tied for fourth. A fifth place finish in the All-Around also put her on the second team.
 
Junior Sidney Dukes took home a share of the SEC floor championship after a 9.9 at the SEC Championships. UK's three All-SEC winners were Dukes, Alex Hyland and Mollie Korth.
 
Rachel Garrison, who focuses on the beam, has helped turn the apparatus into one of best in the nation and a consistent high score. She coached the beam team to No. 9 in the nation, Kentucky's highest ranked event this season with a 49.295 RQS. Each year while at UK, she has improved that ranking. UK's beam team was ranked No. 22 in the country when she started, and the Wildcats have steadily improved, hitting No. 12 in 2017 and No. 9 this year.
Kentucky has posted six scores that sit in the top-10 of Kentucky's beam history this season, led by a 49.400 at the NCAA Regional. She helped 2017 SEC beam champion Alex Hyland to an RQS of 9.890, and she's posted a score of 9.925 twice this season.  Sidney Dukes is also in the top-50 in the nation with an RQS of 9.875, and she also topped out at 9.925.
Chuck Dickerson, who focuses on the vault and the floor, helped Kentucky stay in the top-12 all season. Dickerson's vault team finished the season at 49.170 and No. 11 in the nation, and has been a consistent force with an average of 49.121. His floor team is no different, with an RQS of 49.315 and No. 11 in the nation. Only two SEC schools sit above Kentucky on the floor. In the region, only one team sits above Kentucky on the floor.
2017 All-SEC member Sidney Dukes' floor RQS was 9.905 No. 26 in the nation and No. 5 in the region. Her floor routine won her an SEC Championship.
2017 SEC Freshman of the Year and All-American Mollie Korth is Kentucky's best vaulter at 9.9 RQS, good for No. 15 in the nation.
Since Dickerson's arrival, UK has consistently improved in overall score, as well as vault and floor score. In 2013, UK's vault ranking was No. 25 and No. 29. Kentucky's scores and rankings in those events and overall have improved each year, a testament to Dickerson's assistance in the growth of the program.
For complete news and updates on the Kentucky Gymnastics program, go to UKathletics.com. Season tickets can be found on UKathletics.com/Tickets. News and updates on the team can also be found on Twitter at @UKGymnastics and at @UKCoachGarrison and Facebook at Facebook.com/UKGymnastics.