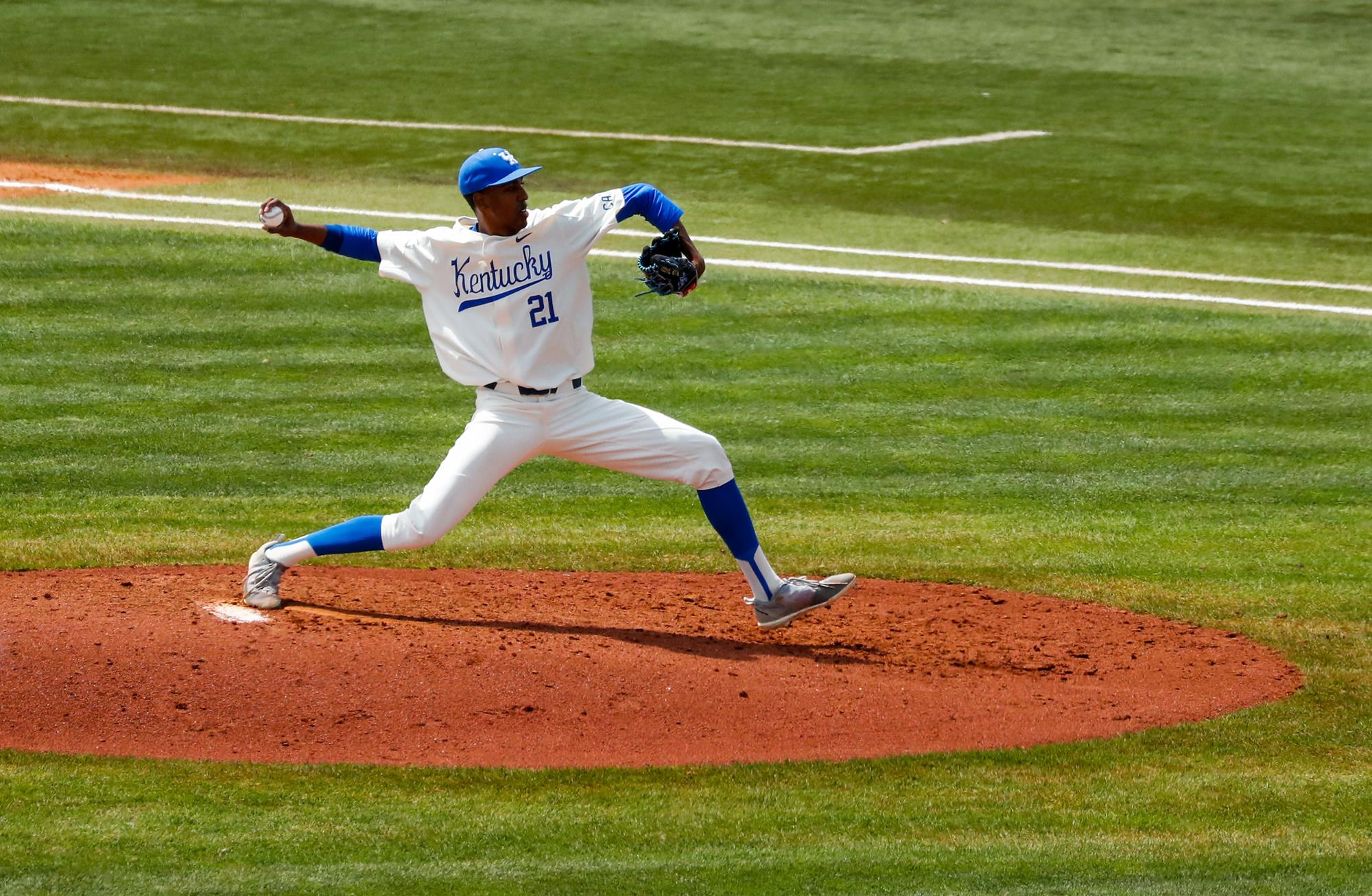 LEXINGTON, Ky. – Junior pitcher Justin Lewis allowed a leadoff double to start the game and then slammed the door on No. 1 Florida, allowing just two Gators to reach base the rest of the afternoon, powering the No. 6 University of Kentucky baseball team to a 3-2 win in the series finale of a three-game set Saturday at Cliff Hagan Stadium.
 
The win over No. 1 Florida (34-8, 14-4 SEC) was the 10th in program history for Kentucky (26-14, 8-10 SEC) and the first since taking two of three from the top-ranked Gators in 2016. A near-capacity crowd of 4,461, which was the second largest regular-season home crowd in school history, saw the Wildcats win their 10th game this season against a top-25 team, including its fifth against a top-10 opponent.  
 
Lewis was brilliant for the Wildcats on Saturday continuing a streak of UK winning five straight games he has started since the first series of league play. After allowing a leadoff double followed by a walk and a hit-by-pitch, Lewis got back-to-back strikeouts and a groundout to end the threat in the opening frame. He followed by retiring the next 10 batters he faced to allow the Wildcats to build a three-run lead they would not relinquish.  
 
The native of Suwanee, Ga., tossed a season-high eight innings and struck out a career-high tying 11 batters in the outing moving to 7-2 on the season. The leadoff double was the only hit Lewis would allow during his time on the mound, tying a season-low in hits allowed. Saturday's performance marked the third 10+ strikeout game of the season for Lewis, including his first in league action.
 
The only run Lewis allowed in the game came without the Gators getting a hit. In the fifth inning, Lewis allowed one of his three walks, then balked to move the runner to scoring position. The Gators would score on a throwing error a few pitches later.
 
Lewis turned the game over to sophomore Chris Machamer to start the ninth inning with the hard-throwing righty getting a groundout and strikeout to start his day before allowing a solo home run to JJ Schwarz to cut the UK lead to 3-2. Machamer didn't let the Gators get any closer, getting a groundout to second to end the game. Together, Lewis and Machamer limited the Gators to a season-low two hits on the day.
 
The Wildcats played small ball to get the 3-0 lead, scoring on an RBI groundout by Luke Heyer in the first before a RBI single from Troy Squires in the second. The game-winning third run came on a sacrifice bunt by Ben Aklinski. Squires recorded his 11th multi-hit game of the season, going 2-for-4 while Kole Cottam, Heyer, Ryan Shinn and Trey Dawson had the other hits for UK.
 
Florida started Tyler Dyson in the circle with the sophomore going two innings allowing three earned runs on four hits with four walks and no strikeouts. Jake Leftwich took over mid-count with a runner on in the third inning and tossed six scoreless allowing just two hits with two strikeouts. Dyson received the loss, moving to 5-3 on the season.
 
SCORING
Bottom 1st – Kentucky grabbed its first lead of the series in the bottom of the first inning. After Tristan Pompey walked to start the frame, Squires lined out to rightfield before Luke Becker walked and Cottam singled to right to load the bases for Heyer, who would groundout to short scoring Pompey. Ryan Johnson loaded the bases again with a walk bringing up Shinn, who sent a drive to deep right-centerfield that was caught at the wall by Florida's Nick Horvath. UF 0, UK 1
 
Bottom 2nd – UK added to its lead with a single run in the bottom of the second inning. Dawson started the one-out rally with a single up the middle and advanced to second when Pompey drew his second walk of the game. Squires made the Gators pay for the walk by delivering his first hit of the weekend, scoring Dawson from second base. After a fly out, the Gators received a brilliant defensive play by Jonathan India at third base robbing Cottam of a single and two RBI to end the threat. UF 0, UK 2
 
Bottom 3rd – A leadoff double by Heyer started a one-run rally by the Wildcats in the bottom of the third inning and forced Florida to go to its bullpen early, pulling Dyson for Leftwich. Johnson greeted Leftwich with a laser to leftfield that was caught for the first out but after a walk to Shinn, Aklinski laid down a perfect bunt to score Heyer and give UK a 3-0 lead. UF 0, UK 3
 
Top 4th – UK gifted the Gators their first run of the game in the fourth inning starting with a two-out walk to Horvath, who advanced to second on a balk by Lewis. Horvath scored a few pitches later on a throwing error by Becker at second. Lewis got a fly out to deep rightfield to end the frame. UF 1, UK 3
 
Top 9th – With two outs, Florida made it a one-run game with a solo home run from Schwarz to rightfield. UF 2, UK 3
 
NOTES
Junior pitcher Justin Lewis was brilliant in the game.

Lewis threw a season-high eight innings while tying a career high with 11 strikeouts.
Kentucky has won five straight games that Lewis has started.
This was the third time this season Lewis has struck out 10 or more batters and the first in league play he has accomplished the feat.
Today's one-hitter from Lewis marked the second time this season he has allowed one hit or less. The junior also allowed one hit to Auburn in five innings pitched.

Several Cats extended impressive reached base safely streaks …

Senior INF Luke Becker has reached in 39 of 40 games (and 83 of 84 including 2017 summer ball).
Junior C/1B Kole Cottam has reached safely in nine straight games and has hits in 14 of the past 16 games.
Junior INF Trey Dawson singled in the second inning and has now reached base safely in 10 of his last 11 games.
Senior C Troy Squires went 2-for-4 with a RBI in the game.

Squires has recorded two or more hits in 11 games this season and 24 games in his career.

Senior INF Luke Heyer went 1-for-4 in the game with an RBI and a run scored.

Heyer hits his 12th double of the season.

Kentucky is now 5-2 in one-run games this season.
The Wildcats have 10 wins against ranked foes this season, including five against top-10 teams.
UK is now 17-5 this season and 48-17 under Nick Mingione when it scores first.
Saturday's win was the 10th all-time for Kentucky against a No. 1-ranked team.

Each of UK's last three wins against a No. 1-ranked team have come against Florida.
The Wildcats are 3-2 in their last five games against ranked opponents.
 ON DECK
Kentucky will break conference play Wednesday when it plays host to Morehead State at 6:30 p.m. ET. The game will air on 630 AM WLAP for radio and be broadcast online through computers, smart phones and tablets on SEC Network+. UK will return to league play next weekend when it welcomes Missouri to Cliff Hagan Stadium with the lidlifter on Friday starting at 7:30 p.m. ET.
 
Follow along with the Cats on Twitter, Facebook and Instagram, and on the web at UKathletics.com.