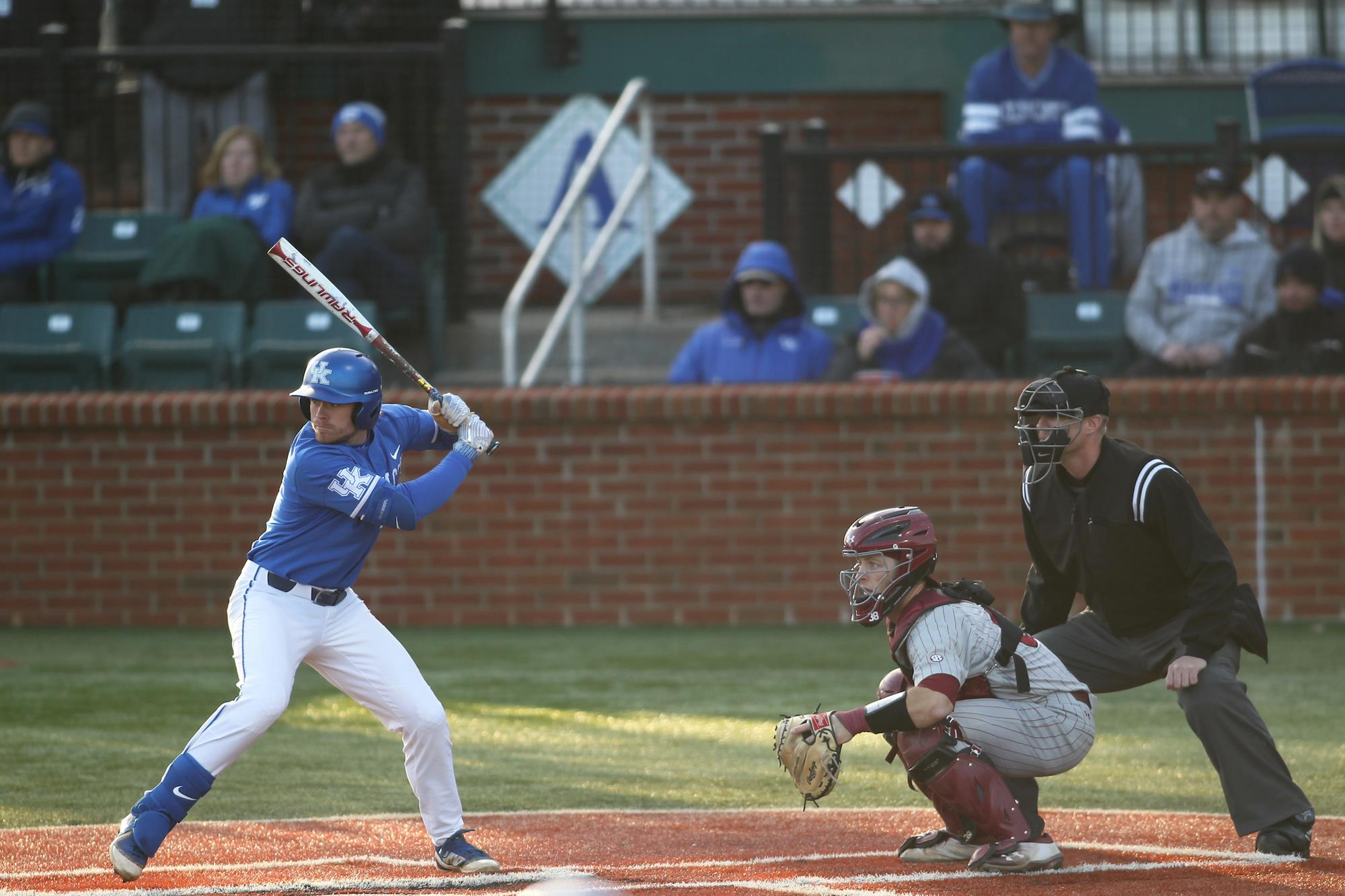 LEXINGTON, Ky. – Top-ranked Florida used a big third inning to claim the first of three games against No. 6 Kentucky, 6-1, at Cliff Hagan Stadium in a matchup of top 10 teams. The defending national champions plated six runs in taking an early lead they would not relinquish.
 
The two clubs will meet again Friday night with UK ace Sean Hjelle matching arms with Florida's Jackson Kowar, who started against the Cats in the 2017 regular season finale that clinched the SEC East title for the Gators. First pitch is set for 7:30 p.m. ET and will air on the SEC Network.
 
Zach Haake started for the Cats and threw two hitless inning but was removed after that as part of a pre-determined game plan. The Gators (33-7, 13-3 SEC) pounced in the third inning, scoring six runs, including Wil Dalton's SEC-leading 14th home run of the season.
 
The Cats (25-13, 7-9 SEC) responded with a pair of runs in the fourth when Luke Becker slashed an RBI double into the left field corner to score Luke Heyer and then came home on Ben Aklinski's single through the infield. Becker also singled and walked, pushing his impressive on base streak to 37 times in 38 games this season.
 
 
SCORING
Top 3rd – Blake Reese was hit by a pitch, Keenan Bell and Brady Smith walked. Deacon Liput doubled to RCF, scoring Reese and Bell. Nelson Maldonado hit a SAC fly to LF, scoring Smith. Jonathan India walked. Wil Dalton homered to LCF, scoring Liput and Maldonado. UF 6, UK 0.
 
Top 4th – Reese walked. Smith blooped a single to LF, moving Reese to 3B. Liput reached on a fielder's choice, scoring Reese. UF 7, UK 0.
 
Bottom 4th – Luke Heyer was hit by a pitch and scored on Luke Becker's double into the LF corner. Becker advanced to third on Kole Cottam's groundout. Ben Aklinski singled through the left side, scoring Becker. UF 7, UK 2.
 
Top 5th – JJ Schwarz doubled to LF. Austin Langworthy walked. Reese blooped a single behind SS, scoring Schwarz. UF 8, UK 2.
 
Top 8th – Smith homered to LF. UF 9, UK 2.
 
Top 9th – India walked. Dalton singled to CF. Schwarz hit into a fielder's choice with India out at 3B and Dalton reaching third on a throwing error. Reese reached on a throwing error by the pitcher, scoring Dalton. Smith singled to LF, scoring Schwarz. UF 11, UK 2.
 
 
 
NOTES
Several Cats extended impressive reached base safely streaks…

Senior INF Luke Becker has reached in 37 of 38 games.
Junior OF Ben Aklinski has reached in 32 of the last 33 games, including 15 straight.
Junior INF Trey Dawson has reached safely in nine consecutive games.
Junior C/1B Kole Cottam has reached safely in seven straight games and has hits in 13 of the past 15 games.
Senior INF Luke Becker went 2-for-3 with a run, RBI double and walk.

Becker has reached base in 37 of the Cats' 38 games this season (and 81 of 82 including 2017 summer ball).
Becker now has 12 multi-hit games this season and 39 for his career.
Redshirt Freshman Brett Marshall entered in the sixth inning and struck out the side.

It was Marshall's fourth appearance this season after missing the 2017 season due to Tommy John surgery.
 
 
ON DECK
The Cats and Gators return to the field Friday night for a 7:30 p.m. ET first pitch. The game will air on 630 AM WLAP for radio and air on the SEC Network.