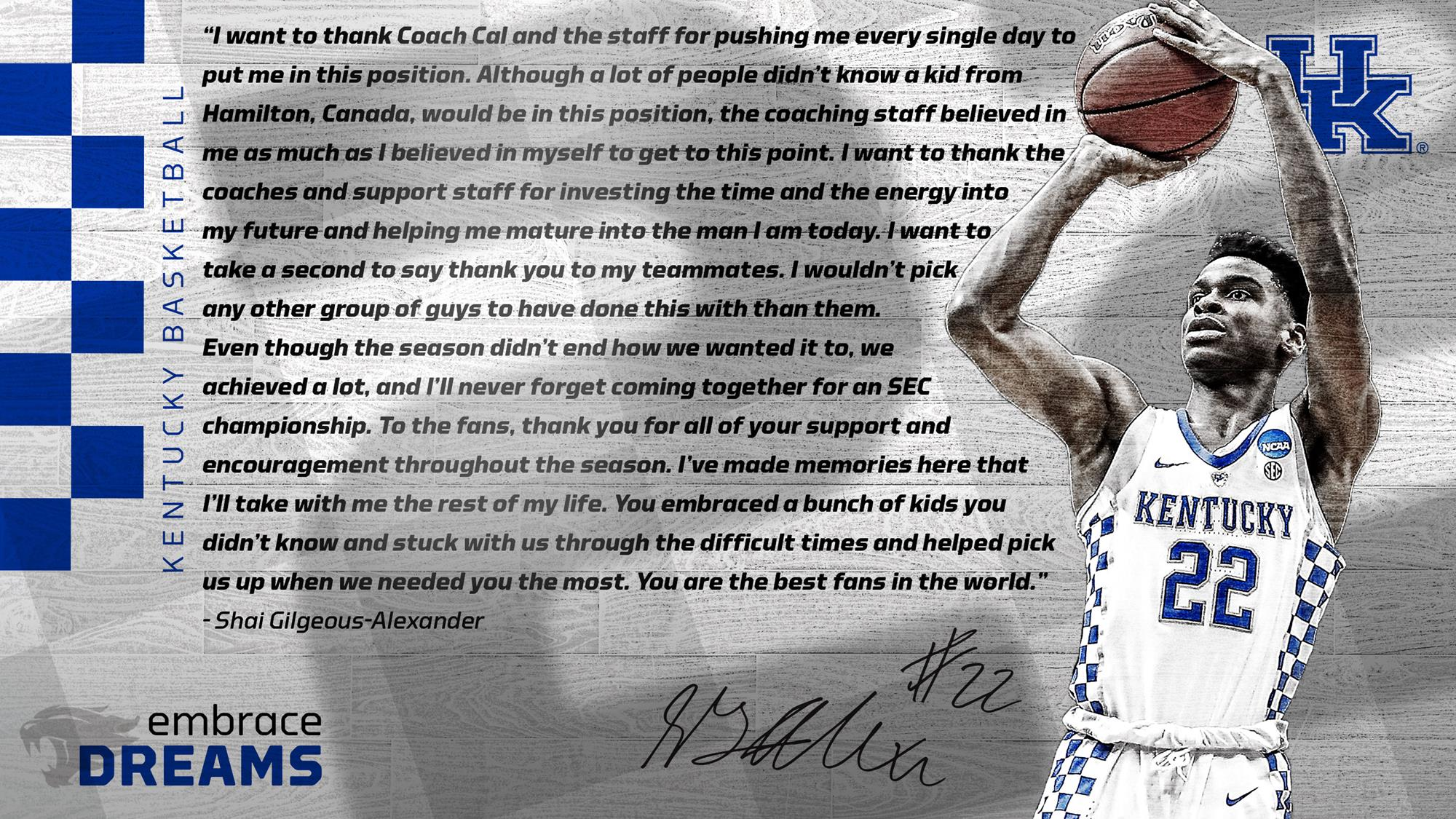 Shai Gilgeous-Alexander to Declare for 2018 NBA Draft
LEXINGTON, Ky. – From a relatively overlooked guard from Canada to one of the nation's best playmakers by season's end, Shai Gilgeous-Alexander's meteoric rise will continue with his eligibility in the 2018 NBA Draft.
 
The Kentucky men's basketball freshman guard plans to enter his name in this year's draft and will sign with an agent, which would effectively end his collegiate career at UK.
 
The NBA Draft is June 21 at the Barclays Center in Brooklyn, New York.
 
"I want to thank Coach Cal and the staff for pushing me every single day to put me in this position," Gilgeous-Alexander said. "Although a lot of people didn't know a kid from Hamilton, Canada, would be in this position, the coaching staff believed in me as much as I believed in myself to get to this point. I want to thank the coaches and support staff for investing the time and the energy into my future and helping me mature into the man I am today.
 
"I want to take a second to say thank you to my teammates. I wouldn't pick any other group of guys to have done this with than them. Even though the season didn't end how we wanted it to, we achieved a lot, and I'll never forget coming together for an SEC championship.
 
"To the fans, thank you for all of your support and encouragement throughout the season. I've made memories here that I'll take with me the rest of my life. You embraced a bunch of kids you didn't know and stuck with us through the difficult times and helped pick us up when we needed you the most. You are the best fans in the world."
 
One of the least heralded players of Kentucky's 2017 signing class, Gilgeous-Alexander not only evolved into perhaps the gem of the class, he may have been the most valuable player on the team.
 
After moving into the starting lineup on Jan. 9 vs. Texas A&M, Gilgeous-Alexander averaged 16.4 points, 5.7 assists and 4.6 rebounds over the final 22 games of the season. Capped by his 29 points in the Southeastern Conference championship game, he averaged a team-best 21.0 points, 6.7 assists and 5.0 rebounds while shooting 55.3 percent from the floor en route to Most Valuable Player honors at the SEC Tournament.
 
He didn't slow down in NCAA Tournament play, posting 19 points, a career-high eight rebounds, seven assists and a career-high five steals vs. Davidson, followed by 27 points, six rebounds and six assists vs. Buffalo. All told, Gilgeous-Alexander averaged 20.7 points, 6.3 assists, 5.7 rebounds and 2.0 steals in the postseason. 
 
"Shai's development is a story I'll tell our players for the rest of my career," UK head coach John Calipari said. "When we talk about building your own confidence and conquering yourself, Shai is the perfect example. You're talking about a kid who had the physical tools and had the potential to be in this position, but he elevated his game because he woke up at 7 a.m. every day to work out, was the best in the weight room, watched film and never missed class.
 
"I've said it before and I'll say it again: I've never met a kid who is undisciplined off the court be disciplined on it. Shai's entire life is disciplined, and it's not forced by others around him. He's done this because he's put in the work, and it's that attitude and mindset that will ensure his success at the next level. I couldn't be more proud of him and I know that whatever team gets him is going to get a young man that will bring a winning mentality."
 
Gilgeous-Alexander is the third underclassmen to declare for the draft. Freshman forward Kevin Knox intends to enter the draft and sign with an agent, which would effectively end his career at UK. Freshman forward PJ Washington has declared for the draft but will not sign with an agent at this time, opening up the possibility of a return. So long as Washington does not hire an agent, he will have until May 30 (10 days after the NBA Draft Combine) to make a final decision as to whether he wishes to remain in the draft or return to Kentucky.
 
The 2018 NBA Draft Combine will take place May 16-20 in Chicago.
 
Gilgeous-Alexander was named to the All-SEC Second Team, the SEC All-Freshman Team and the U.S. Basketball Writers Association District IV Team in 2017-18. He averaged 14.4 points, 5.1 assists and 4.1 rebounds for the season.
 
Other notable performances from Gilgeous-Alexander this season included a 30-point game in a 14-point second-half comeback vs. Vanderbilt at home. Gilgeous-Alexander scored or assisted on 32 of UK's final 56 points in that come-from-behind win, including scoring eight of UK's final 10 points of the second half when the Wildcats were staring at a loss — even hitting the two clutch free throws with just over two seconds left and Kentucky down two.
 
Gilgeous-Alexander started the season as a spark off the bench. He forced himself into the starting lineup after back-to-back games of 20 points or more vs. Louisville and Georgia. Those back-to-back games marked the first time a player scored 20 or more points off the bench since Deron Feldhaus turned the trick Jan. 21 and 25, 1992.
 
And Gilgeous-Alexander was far from a score-first point guard. He proved to be an adept passer, leading the team in assists with a 5.1 average, ranked fourth in the SEC. He led the team in assists in a team-best 29 games. He finished third on the all-time freshman assists list with 189, behind only John Wall (241) and Marquis Teague (191).
 
Defensively, Gilgeous-Alexander was a menace, averaging 1.6 steals per game. That was the third most in the SEC this season, and his 61 total steals are the third most by a freshman in school history, behind only Rajon Rondo (87) and Wall (66).
 
Since Calipari joined the Wildcat program for the 2009-10 season, UK has produced 31 NBA Draft picks over eight seasons, 14 more than the next closest school (Duke). Included in the 31 are 24 first-round selections, three No. 1 overall picks, 12 top-10 selections and 17 lottery picks.  
 
Of the 21 players in the Calipari era who declared for the NBA Draft after one season at Kentucky heading into this season, all 21 were drafted in the first round.
 
For the latest on the Kentucky men's basketball team, follow @KentuckyMBB on Twitter, Facebook, Instagram and Snapchat, and on the web at UKathletics.com.