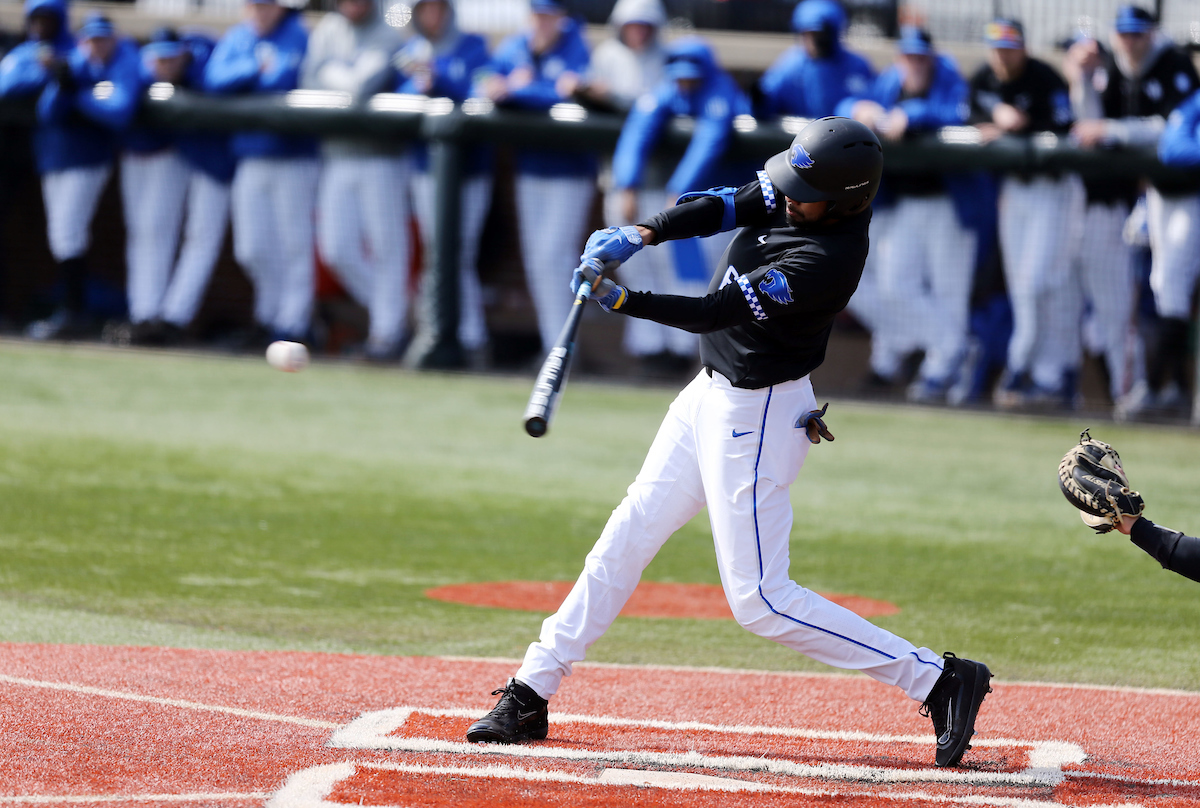 LEXINGTON, Ky. – The grind of Southeastern Conference play continues this weekend with the Wildcats making the trip down I-65 to square off with Alabama at Sewell-Thomas Stadium. Coming off a series win over No. 9 Auburn in league play the Cats are working to dig themselves out of the hole created by opening weekend in Arkansas.
UK's climb up the league standings begins with starting pitching, particularly the right arms of Sean Hjelle and Justin Lewis. Both pitchers did their part in wins over the Tigers and will need to continue pitching well, especially with the absence of lefty Zack Thompson. Righty Zach Haake started in his place last weekend and did not allow a run in 3.2 innings against a quality Auburn lineup.
Offensively, the Cats continue to pound out extra base hits, work counts and keep the pressure on opponents. They remain the only team in Division I with three players with at least nine home runs and are receiving production up and down the lineup.
All three games will be streamed on SECN+ beginning with Friday's 7 p.m. ET start. Saturday begins at 3 p.m. and Sunday at 2 p.m. Darren Headrick will be on the radio call at 630 AM WLAP.
TWICE IS NICE: 'NUKE' HEYER RACKING UP AWARDS
Luke Heyer, who hails from Lithia, Fla., has been named SEC Player of the Week twice in the first six weeks of the season and twice earned National Player of the Week honors.
The SEC recognized the 6-foot, 200-pound senior on Mar. 6 after his tear through the Shriners Hospitals for Children College Classic in Houston and again on Mar. 26 after a week that saw him launch a critical game-tying home run. He also earned National Player of the Week honors from Perfect Game/Rawlings, NCBWA and Collegiate Baseball for his performance in Houston and Collegiate Baseball tabbed him again Mar. 26.
Heyer was named the Shriners tournament's Most Outstanding Player after he peppered Minute Maid Park with rockets in the Wildcats' wins over No. 19 Houston, No. 20 Sam Houston State and Louisiana. He followed that up with a week that saw him hit three home runs and drive in 10 against Xavier and No. 9 Auburn. He launched a game-tying, two-run, ninth-inning homer as the Cats scored three runs for a walk-off win.
#6 KENTUCKY at ALABAMA
Friday vs. Alabama
7 p.m. ET; Thomas-Sewell Stadium; Tuscaloosa, Ala.
TV/Online: SECN+
Radio: 630 AM WLAP; ukathletics.com
Probables: UK RHP Sean Hjelle (4-1, 2.97) vs. Alabama RHP Sam Finnerty (2-1, 3.55)
Saturday vs. Alabama
3 p.m. ET; Thomas-Sewell Stadium; Tuscaloosa, Ala.
Online: SECN+
Radio: 630 AM WLAP; ukathletics.com
Probables: Zach Haake (1-0, 3.75) vs. Alabama RHP Jake Walters (2-3, 5.81)
Sunday vs. Alabama
2 p.m. ET; Thomas-Sewell Stadium; Tuscaloosa, Ala.
Online: SECN+
Radio: 630 AM WLAP; ukathletics.com
Probables: UK RHP Justin Lewis (4-2, 6.15) vs. Alabama LHP Garrett Rukes (1-1, 0.75)