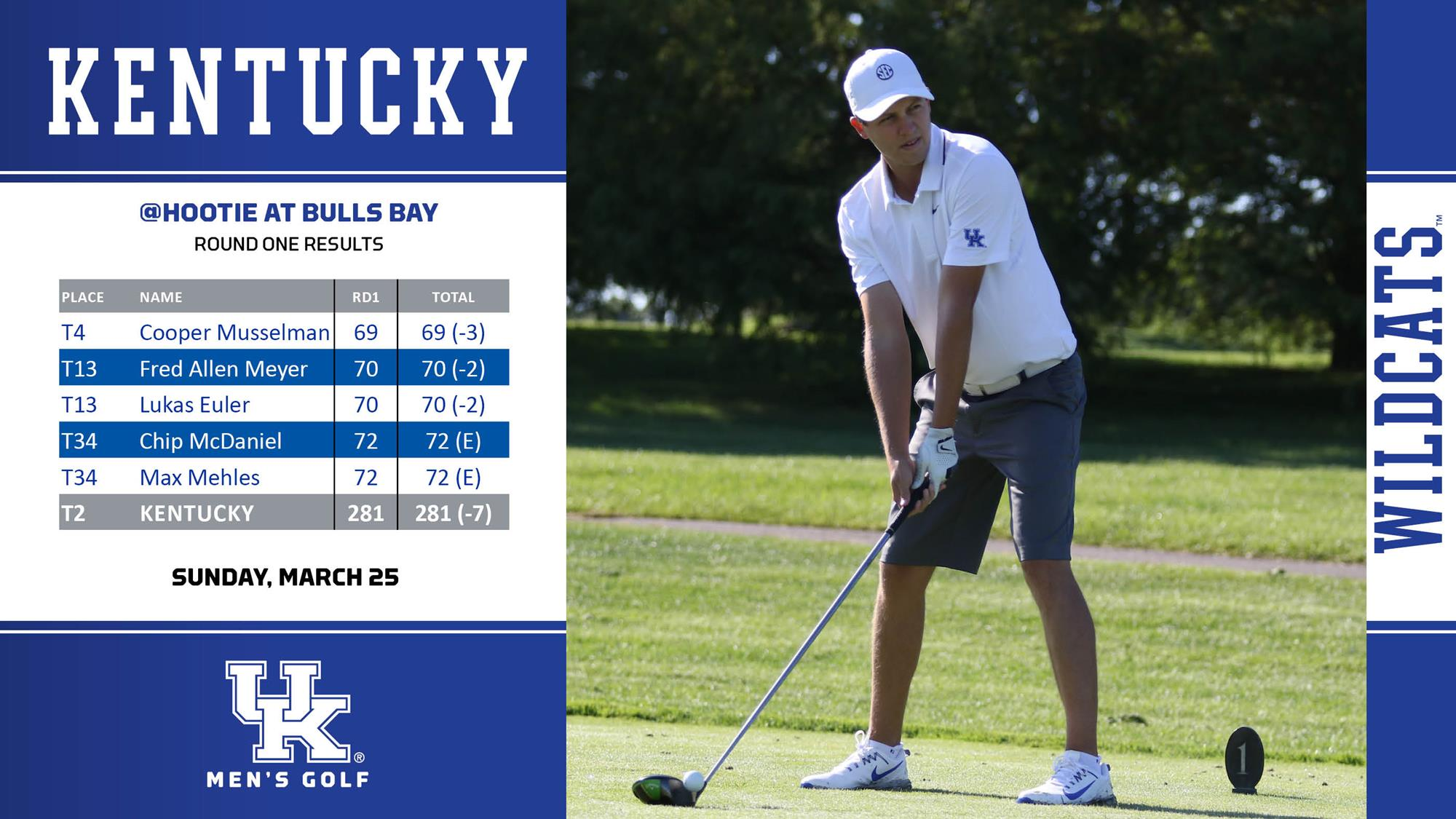 March 25, 2018 - 08:07 PM
Kentucky Opens Hootie with 7-Under Score, Second Overall
Day One Results
 
AWENDAW, S.C. – Behind the sixth-consecutive par-or-better round from senior Cooper Musselman, amid less than ideal conditions, the Kentucky men's golf team opened the Hootie at Bulls Bay Intercollegiate in stylish fashion on Sunday.
 
The Wildcats earned their second-best opening-round score of the season with a 7-under par, 281, with all five players contributing to UK's tally despite a steady rain plaguing the field through the opening nine holes. The Wildcats finished the day in a four-way tie for second and trail Missouri, the day one leader, by just three strokes.
 
Musselman is tied for fourth overall with a 69 in round one. That is the fourth straight under-par round and the fifth in his last six overall. Juniors Fred Allen Meyer and Lukas Euler also came in under par with a 2-under score and are tied for 13th. Senior Chip McDaniel and freshman Max Mehles earned even-par 72s and finished the day tied for 34th.
 
"A very nice start today for our team," UK head coach Brian Craig said. "We played in the rain for a good bit of the front nine and handled it pretty well before having an excellent back nine. There is much golf left to be played, but I like our early position."
 
Thirteen of the field's 15 teams rank inside of the top 100 via Golfstat's rankings as of March 20. Kentucky is tied for second with Kent State, Iowa State and Ole Miss. Teams will return to the course on Monday with another 18 holes before finishing up the final round on Tuesday. 
Player Roundup
Musselman began the day with a birdie on the opening hole to build momentum from the get go. He then turned in a red number on both the No. 3 and the No. 4 before a setback on the fifth put him at 2-under on the front nine. He birdied the par-four 11th to get back to 3-under for the day. He continued his steady play with pars on each of the final seven holes for a strong start to the tournament. He trails the individual leader by just two strokes heading into the second round.
 
Meyer fended off three bogeys through the rain with a pair of birdies on the front nine. He then turned it around and was masterful throughout the back nine with three total birdies, including two over his final three holes.
 
Euler continued his excellent junior campaign with a 2-under score that featured four birdies after the turn. Consecutive bogeys on the eighth and ninth negated his red number on the par-five second. But, once he began the back nine he fired birdies on four of five holes.
 
McDaniel had three birdies on the day to combat three bogeys for the even-par round and a tie for 34th. Mehles matched McDaniel's performance for his third par-or-better round of the spring slate. 
The Tournament Setup
Teams: Auburn, College of Charleston, Eastern Kentucky, Georgia Southern, Georgia State, Iowa State, Kentucky, Kent State, Louisville, Missouri, NC State, South Carolina, Ole Miss, Wisconsin, Wofford
 
Course Details: Bulls Bay Golf Club, built in 2002, is a private course (par 72) with bent grass greens and Bermuda fairways that plays at a long 7,220 yards. 
 
Format: Three-day, 54-hole event. Count top four scores each day.
 
Schedule of Play: Players will play 18 holes each day
 
Live Look: Live stats are available via birdiefire.
 
Forecast: Monday (Cloudy, high of 55); Tuesday (Mostly cloudy and a high of 61)
Agate
T2 – Kentucky (281, -7)
T4 – Cooper Musselman (69, -3)
T13 – Fred Allen Meyer (70, -2)
T13 – Lukas Euler (70, -2)
T34 – Chip McDaniel (72, E)
T34 – Max Mehles (72, E)
For the latest on the Kentucky men's golf team, follow @UKMensGolf on Twitter and on the web at UKathletics.com.