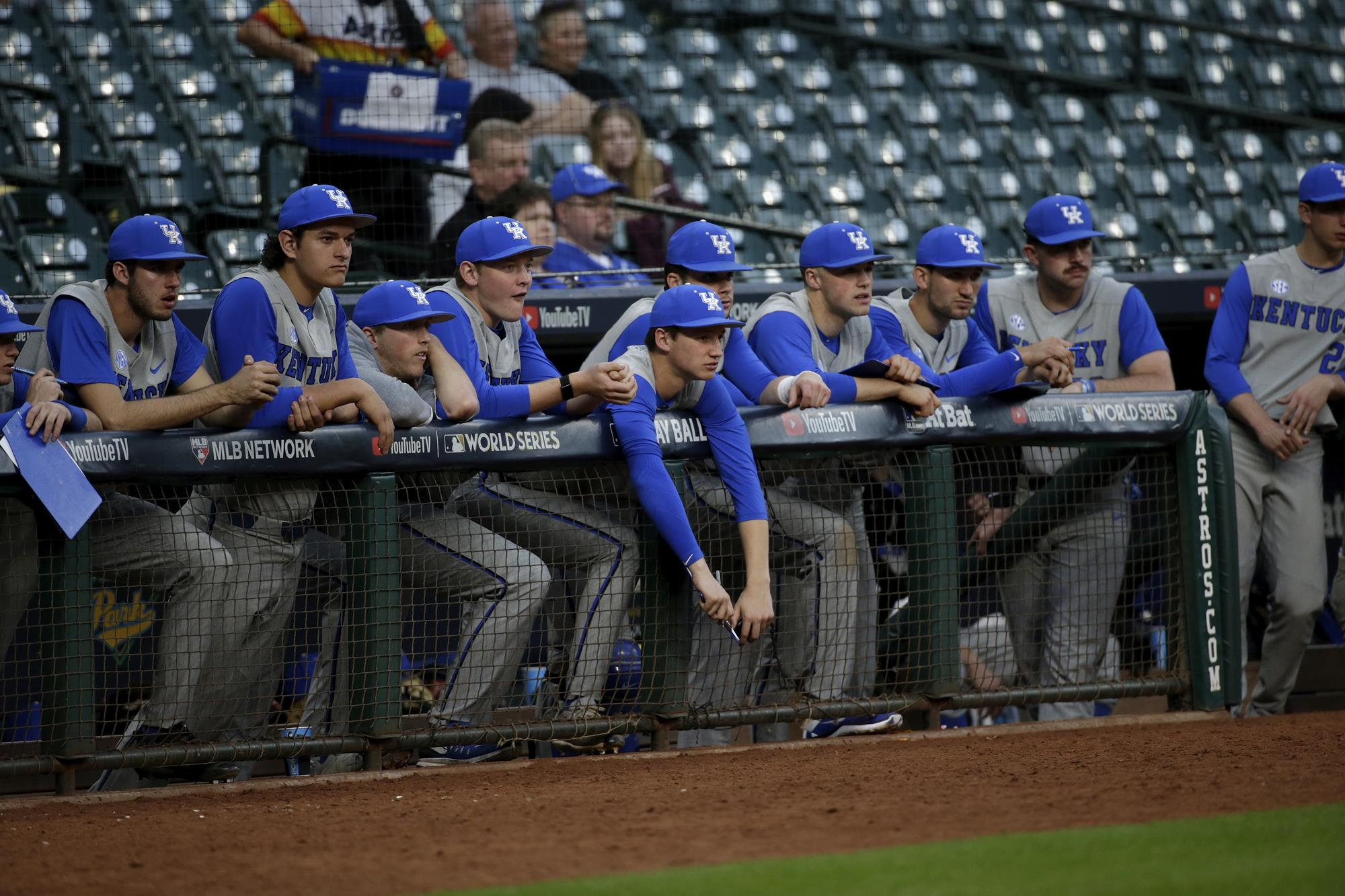 LEXINGTON, Ky. – Playing its fourth consecutive game against a top five opponent, No. 4 Kentucky fell behind early and couldn't climb out of the hole, dropping a 9-4 decision to No. 5 Arkansas in the Southeastern Conference opener.
 
Due to the forecast of storms on Sunday the two teams will play a doubleheader on Saturday with a first pitch of 3 p.m. ET. Each of the games will be a full nine innings.
 
Arkansas jumped on the Wildcats with three runs in the first inning, including a home run by Eric Cole that got in the jet stream out to left-centerfield. In the top half of the inning Cole robbed UK's Troy Squires of a home run on the first pitch of the game, making a leaping catch to pull the ball back.
 
It was a familiar refrain for the Cats, who hit four balls that were caught at the wall on the night. First baseman Kole Cottam did manage to muscle one out to dead centerfield to give the Cats a home run in 17 of 18 games this season.
 
UK ace right-hander Sean Hjelle battled but did not have his best stuff in his 3.1 innings of work. The outing was the shortest of his 21 career starts and was a combination of command issues and Arkansas' patience at the plate. Uncharacteristically, Hjelle walked five hitters and hit another after coming into the game having issued just four free passes this season. It was the junior's first regular season defeat since Mar. 23, 2017 vs. Ole Miss.
 
 
SCORING
Bottom 1st – Eric Cole homered to LCF. Luke Bonfield drew a two-out walk and scored on Dominic Fletcher's double to RF. Fletcher advanced to third on a wild pitch and scored on Jordan McFarland's single to CF. Arkansas 3, UK 0.
 
Top 2nd – Kole Cottam homered to CF. Arkansas 3, UK 1.
 
Bottom 3rd – Casey Martin walked, Bonfield walked and Heston Kjerstad was hit by a pitch to load the bases. Grant Koch walked to force in Martin. Arkansas 4, UK 1.
 
Top 5th – Troy Squires singled to CF and Ben Aklinski walked. Tristan Pompey singled to 3B. Luke Becker walked, forcing Squires home. Arkansas 4, UK 2.
 
Bottom 5th – Kjerstad reached on an infield hit and scored on Koch's homer to LF. Arkansas 6, UK 2.
 
Bottom 7th – Koch homered to LF. Carson Shaddy doubled to LCF and scored on a double to RF by Jax Biggers. Arkansas 8, UK 2.
 
Top 8th – Luke Heyer singled to RF, stole second and moved to third on Trey Dawson's single to RF. Squires single to CF, scoring Heyer. Pompey doubled to RCF, scoring Dawson. Arkansas 8, UK 4.
 
Bottom 8th – Martin singled to RF. Bonfield was hit by a pitch. McFarland walked. Kjerstad hit a SAC fly to LF, scoring Martin. Arkansas 9, UK 4.
 
 
NOTES
Kentucky is 4-2 against ranked opponents this season.
The offense has …

Hit a home run in 17 of 18 games this season.
Senior C/1B Troy Squires went 3-for-5 with a run and an RBI.

Squires has reached base safely in all 18 games this season.
He is riding a career-long eight game hitting streak.
He now has six multi-hit games this season and 19 for his career.
Senior INF Luke Becker went 2-for-4 with an RBI and a walk.

He has reached base safely streak to all 18 games this season.
This was his fifth multi-hit game of the season and 32nd of his career.
Junior OF Ben Aklinski walked to extend his reached base streak to 13 games.
Junior OF Tristan Pompey went 2-for-3 with an RBI double and a walk.

Pompey has reached base in 48 of the past 50 games.
This was his fourth multi-hit game of the season and 37th of his career.
Sophomore DH T.J. Collett has reached base in 17 straight games.