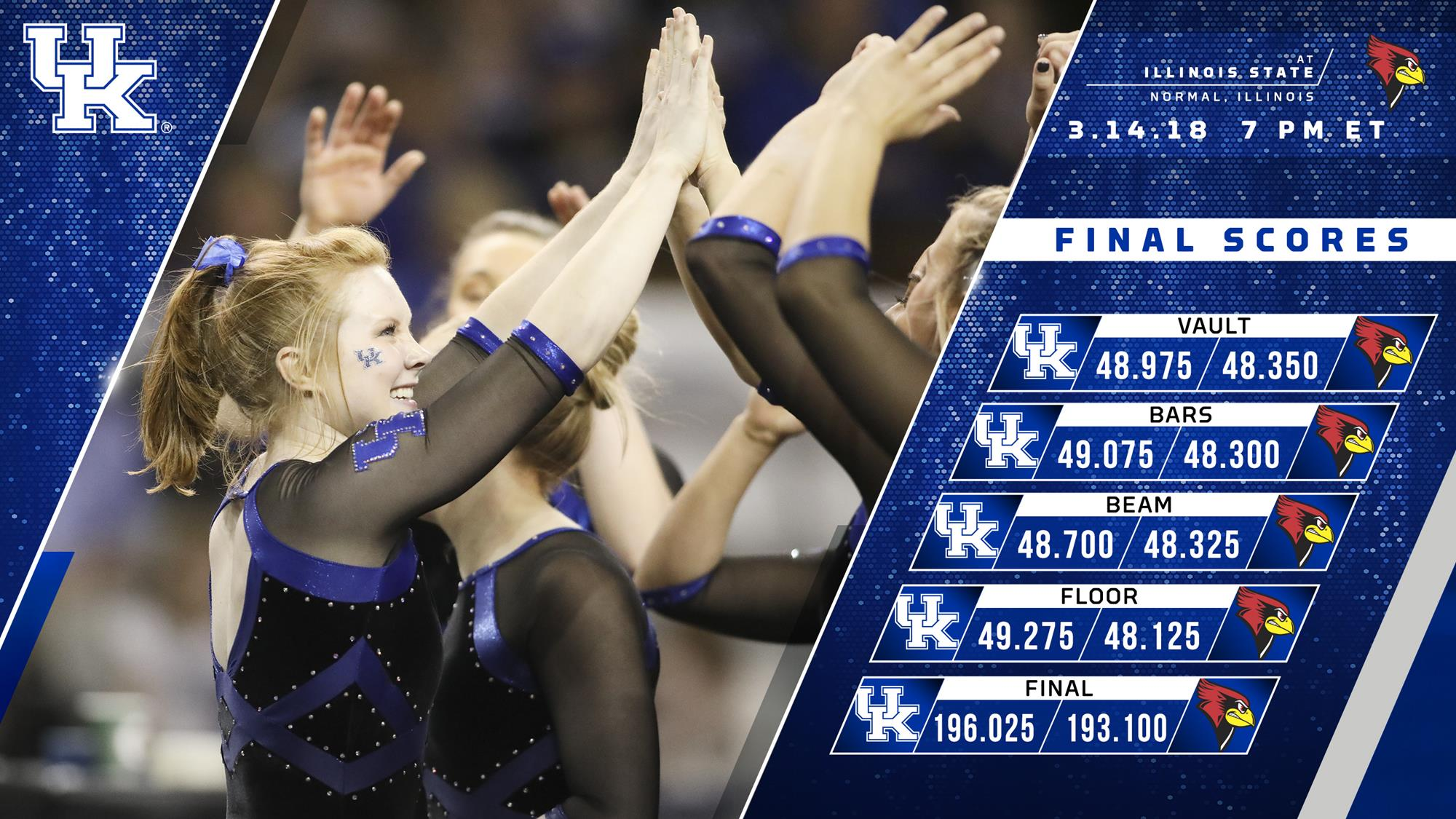 March 14, 2018 - 10:05 PM
No. 9 Kentucky Wraps Up Regular Season with Win Over Illinois State
NORMAL, Ill. – The No. 9 Kentucky (11-4, 3-4 SEC) gymnastics team ended the season with a win after taking down Illinois State (3-13), 196.025 – 193.100, on Wednesday night inside Redbird Arena.
 
"Tonight was not how we envisioned finishing the regular season," head coach Tim Garrison said. "There were some individual highlights, but as a team we were not as sharp. Our lack of energy and lackluster performance falls completely on my shoulders. This is a great team and I need to do a better job preparing them.
 
Junior Alex Hyland won the all-around with a 39.350 in the meet. Sophomore Mollie Korth finished third with a 38.700.
 
"I felt good about the all-around today," Hyland said. "The season has flown by. Today was okay for us today but not our best. There were a lot of great things today but there's still work to do. This team has a lot of fight in them and we are prepared to take on the postseason. I'm ready to get back in the gym and work some more."
 
Kentucky started on the bars, posting a 49.075. Junior Katrina Coca earned the event win after a 9.85. Senior Katie Carlisle, after starting things off on the apparatus, went 9.825. Freshman Ella Warren went 9.825 while Hyland posted a 9.8. Junior Katie Stuart rounded out the scoring with a 9.775.
 
On vault, Kentucky went 48.975. Stuart and Korth spilt the vault crown with Gabriele Cooke after each posted a 9.825. Hyland put up a 9.8, while junior Danaea Davis had a 9.775. Junior Sidney Dukes rounded out the scoring with a 9.75.
 
Kentucky's best event again was on the floor, where UK had a 49.275. Dukes won an outright floor title with a 9.9, just short of her career best. Hyland finished in second with a 9.875 Warren placed third after a 9.85. Senior Cori Rechenmacher scored a 9.825, while Korth rounded out the floor scoring with a 9.825 of her own. Sophomore Hailey Poland was the sixth scoring Wildcat with a 9.8.
 
UK finished on the beam with a 48.7, but four Wildcats shared the beam crown. Korth, Poland, Dukes and Hyland all posted scores of 9.875s to share the title. Warren was the other Wildcat to score with a 9.2.
 
Kentucky's back in action on March 24 for the SEC Championships in St. Louis at the Chaifetz Arena. Session one will take place at 3 p.m. live on SEC Network, while session two will take place at 7 p.m. on ESPN2 Official seedings for the SEC Championships will be released this weekend. Tickets for the events can be found here.
 
For complete news and updates on the Kentucky Gymnastics program, go to UKathletics.com. Season tickets can be found on UKathletics.com/Tickets. News and updates on the team can also be found on Twitter at @UKGymnastics and at @UKCoachGarrison and Facebook at Facebook.com/UKGymnastics.