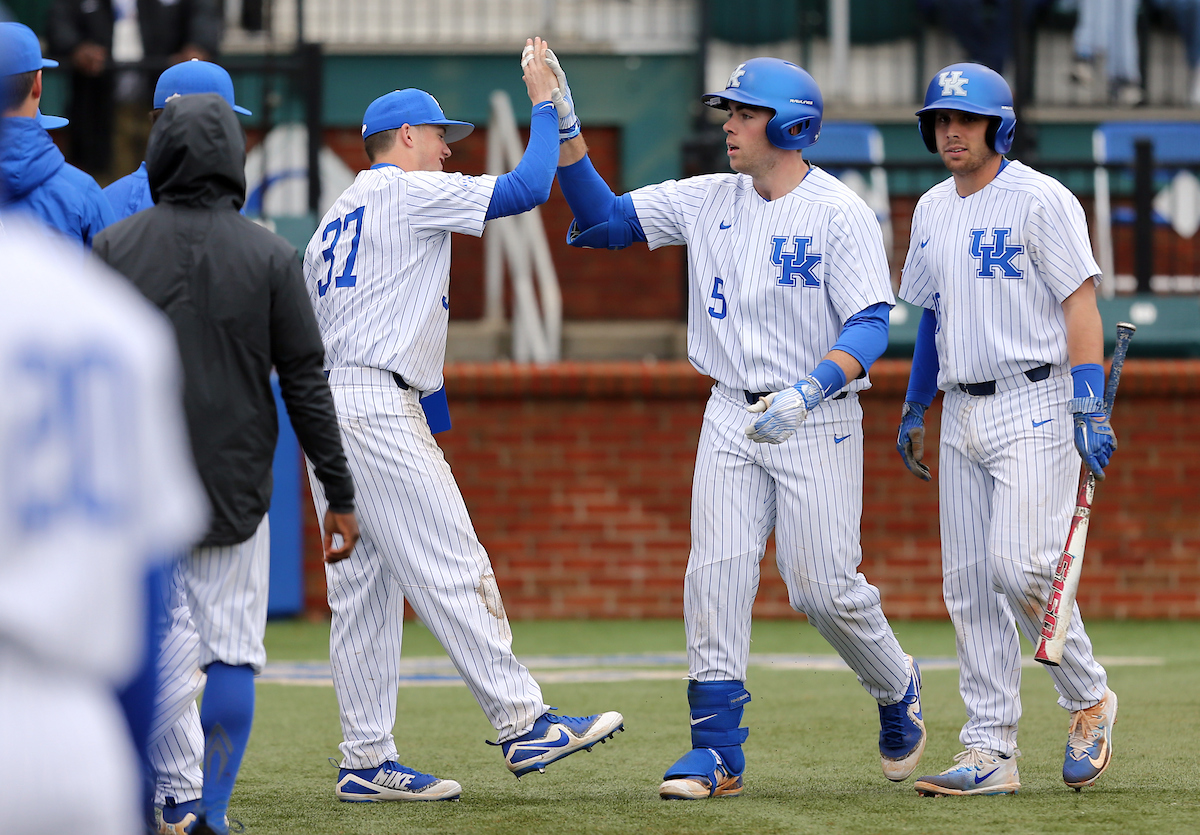 2018 KENTUCKY BASEBALL WEEK 2 UPDATE
 
OVERALL RECORD: 3-1
WEEK RECORD: 3-1
 
LAST WEEK
Feb. 20 – Loss, vs. Xavier, 2-3 (10 inn.)
Feb. 23 – Win, vs. Oakland, 10-1
Feb. 24 – Win, vs. Oakland, 17-6
Feb. 25 – Win, vs. Oakland, 15-6
THIS WEEK (1 home game, 3 neutral games)
Feb. 27 – vs. Western Kentucky (4 p.m., Cliff Hagan Stadium, Lexington, Ky., SECN+)
 
Shriners Hospitals for Children College Classic (Houston, Texas; Minute Maid Park)
Mar. 2 – vs. Houston (4:30 p.m.)
Mar. 3 – vs. Sam Houston State (1 p.m.)
Mar. 4 – vs. Louisiana (Noon)
 
PLAYER OF WEEK NOMINEE
Sophomore C/1B T.J. Collett

Collett is the first UK player to homer in four consecutive games since All-American Sawyer Carroll did so in a four-game series vs. Butler in early 2008.
Collett hit .400 in four games this week, homering four times and driving in 11 runs.
For his career, Collett now counts seven of his 13 career hits as extra-base hits, including six home runs.
Collett now has 17 RBI on the season in just eight games.
Collett is hitting .344 with an .844 slugging percentage this season.
His HR vs Xavier on Tuesday night tied the game and helped send it to extra innings.
 
 
PITCHER OF WEEK NOMINEE
Junior RHP SEAN HJELLE (vs. Oakland)

Pitched 7.2 innings, giving up one hit, no runs and striking out 13.
Went to just two three-ball counts and threw 70 of 94 pitches for strikes.
The 13 strikeouts are a career-high, besting the 10 he had vs. LSU on 5/25/17 at the SEC Tournament.
Hjelle retired the first 12 hitters he faced before back-to-back errors to start the fifth inning. He then retired the next 11 before Jordan Jackson's single.
Hjelle now has 17 career wins, tying him for 12th on UK's career list.
His career winning percentage of .773 ranks third on UK's career list.
In his first two starts this season, Hjelle has pitched 13.2 IP, giving up just three hits, one run, two walks and striking out 16.
 
TEAM NOTES
Kentucky hit .379 as a team and averaged 11 runs per game for the week.
Scored 42 runs in weekend series vs. Oakland
Kentucky moved to 23-2 in non-conference home games under coach Nick Mingione.
The Cats are 24-0 when scoring 10 or more runs under Mingione.
The offense has hit a home run in all eight games this season.
 
 
PLAYER NOTES
Senior IF Luke Becker

Had three doubles on the week.
Became the 50th player in UK history to reach 100 career hits.
Junior OF Ryan Johnson

Hit .467 for the week with four doubles and his first career home run.
Senior C/1B Troy Squires

Recorded all eight of his RBI for the season in the weekend series vs. Oakland.
Recorded his 22nd career sacrifice to move into seventh place on UK's career list.
Senior IF/OF Luke Heyer

Hit .444 in three games with two home runs, four runs and four RBI.
Started games at both 3B and LF during the week.
Junior IF Trey Dawson

Hit a team-high .556 for the week with six runs scored and eight walks.
Reached base in 11 of his first 12 plate appearances, including nine straight.
Junior RHP Justin Lewis

Struck out a career-high 11 vs. Oakland