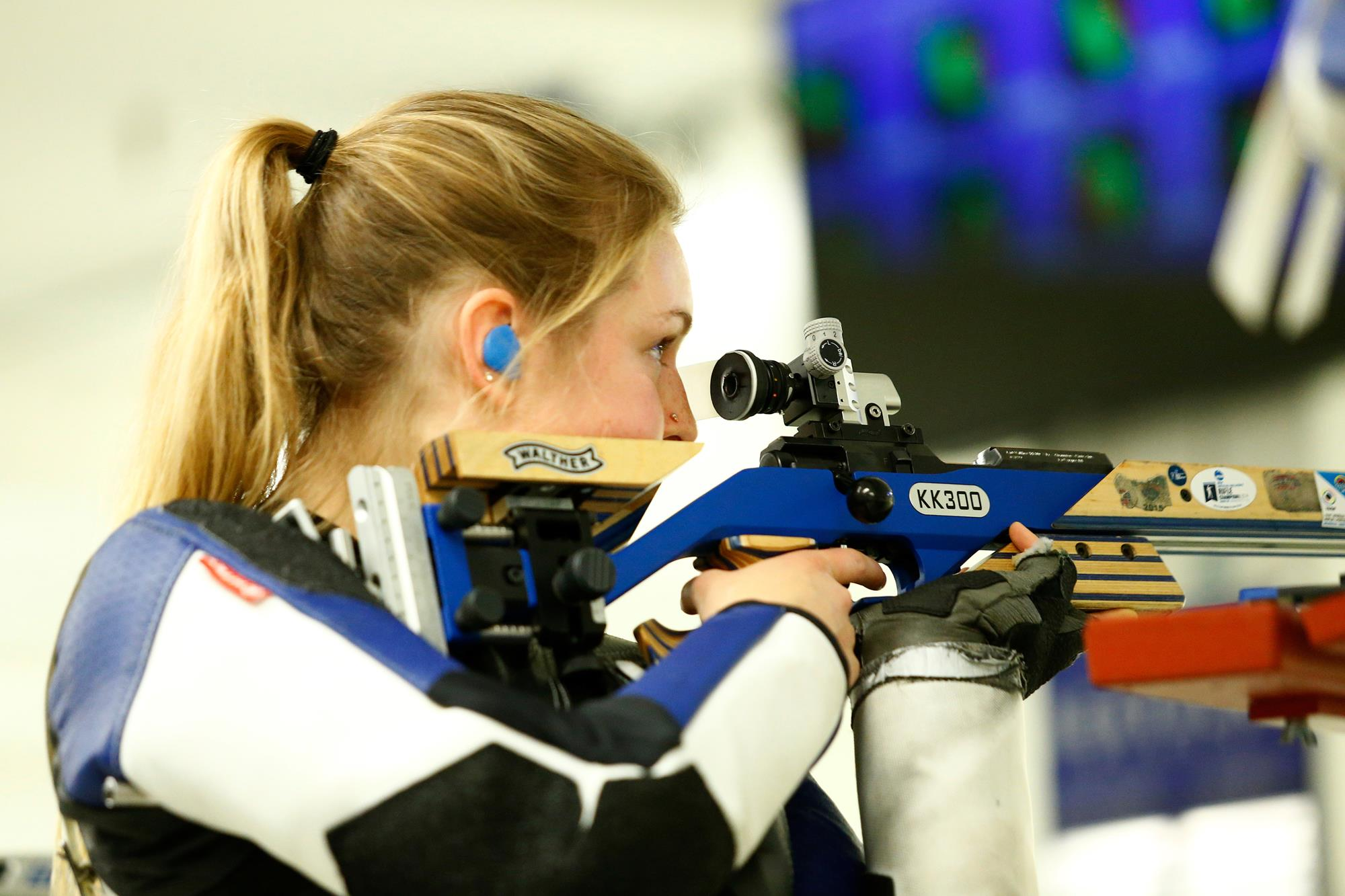 MORGANTOWN, W.Va. – The third-ranked Kentucky rifle team finished in second place at this weekend's Great American Rifle Conference Championships by more than 20 points after posting the highest air rifle score (2367) of any team on the day. UK fired 4686 for the championships. No. 1 West Virginia claimed another conference title with a 4699.
 
"I'm very proud of the effort that we gave today," head coach Harry Mullins said. "I'm very happy for the folks that made it to the finals. The atmosphere was intense and team scores were very close coming into today. The air team really worked through their trouble spots better tan we have in a while in this atmosphere. It was exciting all the way until the last shot."
 
Hailee Sigmon and Hanna Carr both made Saturday's air rifle final following scores of 594 and 592, respectively. Sigmon finished second overall in air rifle prior to the final, just one point behind Olympic Gold Medalist Ginny Thrasher from West Virginia. The freshman ultimately went on to finish fourth of the final eight.
 
Carr and Cathryn Papasodora both fired 592 in their Saturday showing, which fueled them to finish third and fourth overall in combined score for the championships. Carr, a junior from Versailles, Kentucky, finished in third with an 1177 aggregate, while Papasodora (1176) finished just one point of a tie with Carr.
 
Bill Azzinaro matched Sigmon in combined score with 1164 following his 589 in air rifle.
 
The Wildcats will close the season out with the NCAA Championships on March 9-10, in Charleston South Carolina.
 
"Overall we know the elements we have to strengthen going into NCAA Championships, so now it's time to get back to work," Mullins added. "We had a good effort this weekend, but I know we have more to give. We have to be able to drain the tank at the next one."
 
For the latest on the Kentucky rifle team, follow @UKRifle on Twitter and on the web at UKathletics.com.