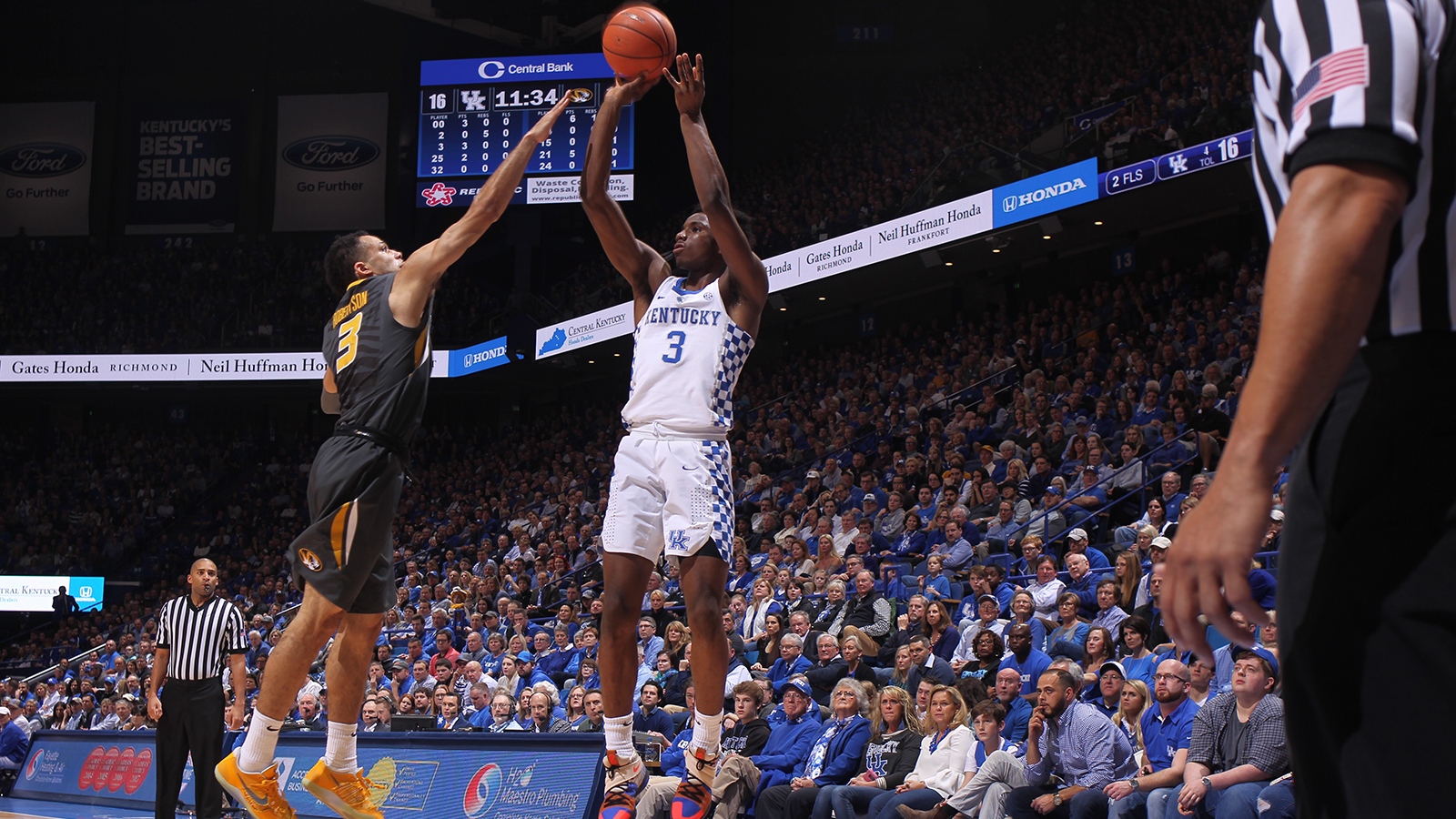 February 24, 2018 - 10:36 PM
Kentucky Blasts Missouri, 87-66
LEXINGTON, Ky. (AP) – Outside shooting helped get Kentucky going against Missouri before the Wildcats started hitting from inside the arc. On both fronts, baskets came consistently with many contributions.
Kevin Knox had 21 points, Shai Gilgeous-Alexander added 14 and Kentucky made 10 3-pointers and shot 55 percent to blow out the Tigers 87-66 on Saturday night.
The Wildcats (20-9, 9-7 Southeastern Conference) outscored the Tigers 16-6 over the final 4 1/2 minutes before halftime for a 44-32 lead. Several more spurts stretched the advantage to as many as 24 as they avenged a 69-60 loss three weeks ago, a game in which baskets were hard to come by.
This time, Kentucky seemingly couldn't miss.
Knox succeeded more from inside the arc than behind it, but his one 3 helped the Wildcats' strong start and symbolized his focus after a couple of rough days.
Mentioned Friday in a Yahoo! Sports story as having had a meal with an agent, the freshman forward started after an internal review determined there were no eligibility issues. He made 6 of 13 from the field and all eight free throws in a game that initially seemed destined to be decided from outside.
"With everything going on it has been a good week," Knox said, "just been blocking everything out. I had two good days of practice before this game. Last time they gave us a good one at their place, so we just made sure that we focused on the game going on.
Quade Green and PJ Washington each added 12 points, while Jarred Vanderbilt had a career-high 15 rebounds and 11 points for his first career double-double. Hamidou Diallo made all three 3s for 11 points as six Wildcats scored in double figures. Kentucky was 10 of 16 from long range and shot above 50 percent for the first time since Jan. 13 at Vanderbilt.
Kassius Robertson had 26 points including six 3s, and Jordan Barnett had 11 points for Missouri (18-11, 8-8), which made 10 of 31 from long but shot 36 percent in losing its third in a row.
BIG PICTURE
Missouri: The Tigers started with promise offensively, especially from outside, before cooling off to finish 21 of 58 from the field. Failing to contain Kentucky as well from the perimeter hurt the most, and getting beat 36-31 on the glass was an issue of toughness for coach Cuonzo Martin.
"They set a tone that we could never match their toughness level," he said.
Kentucky: The Wildcats followed up their impressive victory at Arkansas by doing many things right, especially with 27 defensive rebounds. Long-range shots got them going offensively and led to frequent chances at the foul line, where they made 21 of 28 free throws. They also shared the ball well with 17 assists, while their bench dominated 38-15.
More importantly for coach John Calipari, the Wildcats are coming together just in time for the postseason.
"Right before your eyes, we're becoming a better basketball team," he said. "It was only a month ago, three weeks ago, half the team, it was a fight to get them to play how we were trying to get them to play."
PORTER UPDATE
Freshman forward Michael Porter Jr. did not play after returning to practice Friday following back surgery. Martin said the team is going to make sure he's healthy enough to take contact before bringing him back and did not set a timetable for his return.
CHAMPS REMEMBERED
Members of Kentucky's 1978 NCAA championship squad held their 40th anniversary reunion this week and were recognized in a halftime ceremony. The Wildcats beat Duke to claim the program's fifth title and end a 20-year drought. Surviving members or their relatives, including MVP Jack "Goose" Givens, received replicas of the championship plaque that was displayed on a table. Former coach Joe B. Hall said, "it gets better and better every year."
UP NEXT
Missouri visits Vanderbilt Tuesday in the season's lone meeting between the schools.
Kentucky hosts Mississippi on Wednesday, seeking its ninth straight series win against the Rebels.