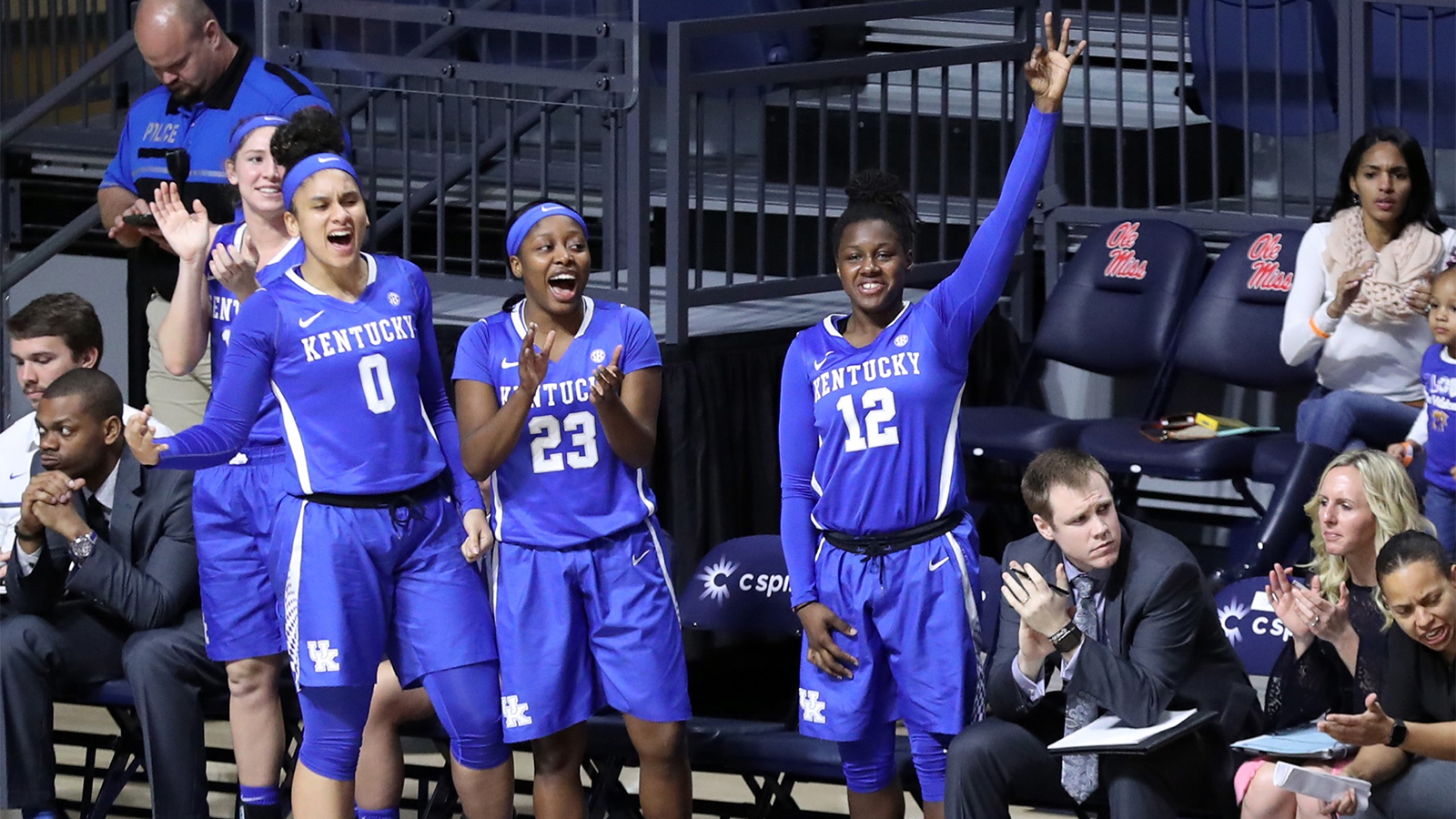 February 22, 2018 - 10:31 PM
Kentucky Gets SEC Road Win at Ole Miss
OXFORD, Miss. – Maci Morris scored 20 points as the Kentucky women's basketball team beat Ole Miss 79-71 on Thursday night at the Pavillion at Ole Miss.
For Morris, the junior from Bell County (Ky.) High School, it was her fifth straight game with at least 20 points, and her 10th 20-point+ effort this season. With her effort on Thursday, Morris moved into 25th place on Kentucky's career scoring list with 1,149 points.
Kentucky (14-15, 6-9 SEC) got 13 points from freshman Dorie Harrison, while junior guard Taylor Murray had her fifth career double-double with 12 points and a season-high tying 10 assists.
The Wildcats used pressure defense to force 17 Ole Miss turnovers, which Kentucky turned into 22 points. The Wildcats also took advantage of their chances at the free throw line, hitting 19 of 25, while Ole Miss hit just nine of its 13 attempts from the line.
 
Kentucky raced out of the gate, hitting its first four shots from the field, including three shots from behind the arc. In doing so, the Wildcats built an early 11-5 lead. But Ole Miss answered with an 8-0 run to take a 13-11 advantage. Kentucky would tie the game at 13 apiece before Ole Miss scored five straight to lead 18-13. However, Kentucky scored the last six points of the period to lead 19-18 after 10 minutes.
In the second period, Kentucky started with a 12-2 run to take a 31-20 lead with 7:05 left in the half. The Wildcats would continue to extend the advantage, taking their biggest lead, 42-29, at the break. Morris led the Cats with 13 points in the first 20 minutes. Kentucky hit 17 of its 27 shots from the field, good for a sizzling 63 percent. That included five of seven shots from behind the arc (71.4 percent).
Kentucky would stretch its advantage to 55-39 with 4:45 left in the third period. The Cats would maintain a double-digit lead through the period and led 61-51 with 10 minutes to play.
Both teams went cold to start the fourth quarter, with neither scoring until Harrison hit a jumper with 6:11 left in the game. Ole Miss didn't score until a pair of free throws from Kate Rodgers with 5:46 left in the game. The Rebels went nearly five minutes without a field goal, but Kentucky was nearly as cold and could not extend its lead. Ole Miss would get within eight points, 71-63, with 3:08 remaining, but the Rebels would get no closer until the final buzzer.
Kentucky returns to action on Sunday, as the Wildcats host No. 2 Mississippi State at Memorial Coliseum. Tipoff is set for noon ET and the game can be seen on ESPNU.