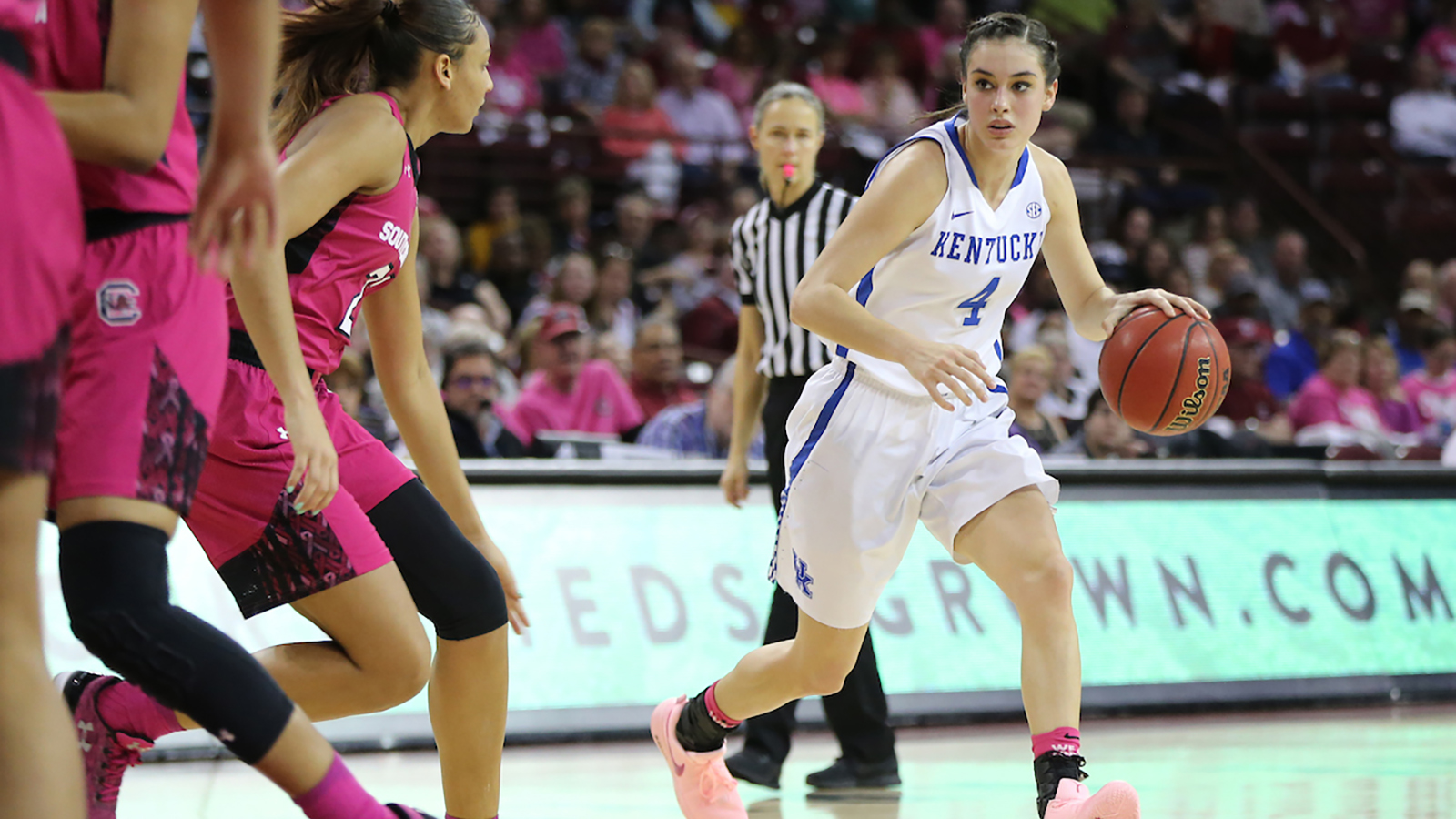 February 18, 2018 - 05:06 PM
Morris Scores Career High, But UK Falls to No. 8 South Carolina
COLUMBIA, S.C. – Maci Morris scored a career-high 35 points, but the Kentucky women's basketball team lost to No. 8 South Carolina 81-63 on Sunday afternoon at Colonial Life Arena.
 
Morris hit 13 of 23 from the floor, including five of nine from behind the arc. She made all four of her free throw attempts in the game. The junior from Bell County (Ky.) High School surpassed her previous career high of 29 points, set during her freshman season on December 11, 2016 against Arizona State.
Kentucky (13-15, 5-9 SEC) got nine points from senior Makenzie Cann and eight points from freshman Tatyana Wyatt. The Wildcats hit 22 of their 55 attempts (40 percent) from the floor, including six of 18 (33.3 percent) from behind the arc. South Carolina took advantage of its opportunities at the line, hitting 23 of 25 (92 percent) of its free throws. Kentucky hit 13 of 15 (86.7 percent) of its chances from the charity stripe.
The first quarter was a back and forth affair that featured three ties and 11 lead changes. Neither team led by more than two points, and the end of the period featured a duel between Morris and South Carolina All-American A'ja Wilson. Morris scored Kentucky's last 10 points of the period, while Wilson scored the last seven for the Gamecocks, who led 19-18 after the first period.
Kentucky struggled to start the second quarter, going more than five minutes without scoring. South Carolina went on a 10-0 run to take a 29-18 lead before Kentucky was able to get on the board. The Wildcats would cut the lead to seven points on a pair of occasions, but would trail 38-26 at the break, despite 16 points from Morris.
In the third period, South Carolina extended its advantage to as many as 22 points, taking advantage of hitting 11 of 12 from the free throw line. Morris did her best to keep the Cats close, scoring 10 points in the period, but the Gamecocks held a 67-44 lead after three quarters.
South Carolina (22-5, 11-3) would lead by as many as 29 points in the fourth quarter before Kentucky finished the game on a 14-3 run. Wilson led the Gamecocks with 29 points.
 
Kentucky returns to action on Thursday, as the Wildcats visit Ole Miss in Oxford. Tipoff is set for 8:30 p.m. ET and the game can be seen on the SEC Network.