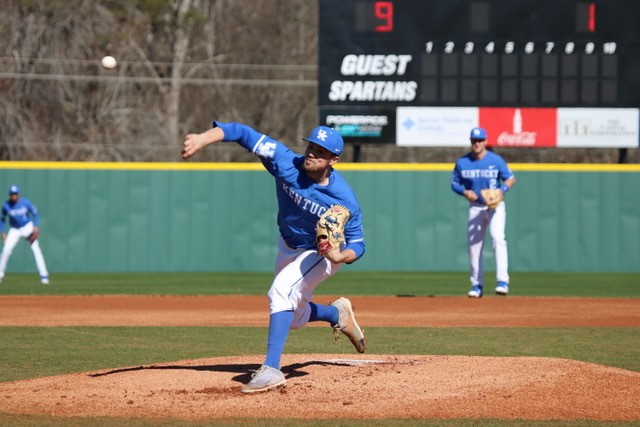 SPARTANBURG, S.C. – Tristan Pompey hit three doubles and freshman pitcher Daniel Harper was impressive in his first collegiate start as No. 8 Kentucky defeated Evansville 8-4 to close out a perfect opening weekend in South Carolina. It's the Wildcats' first 4-0 start on the road since 2007.
 
Pompey, a preseason First-Team All-American, did nothing to change that designation to start the season, smacking eight hits, scoring six runs and posting an OPS of 1.374. He was sensational on Sunday, going 4-for-4 with three doubles, three runs scored and a walk. He also homered earlier in the weekend.
 
Harper, a freshman from Fairway, Kansas, completed four innings, striking out eight Aces, including five in a row at one point. He allowed just two runs – one earned – and only walked one before turning it over to junior righty Aaron McGeorge, who ended up getting the win.
 
For the fourth time on the weekend the Cats secured their "biggie" inning – three or more runs – when junior outfielder Ryan Johnson pulled a three-run double into the right field corner to make it 6-1 in the third inning.
 
That was all the Cats would need.
 
Aside from one inning against USC Upstate on Saturday the Cats were nearly flawless on the mound all weekend, posting a 2.92 earned run average and allowing opponents to hit just .179 while striking out 49 in 37 innings of work.
 
The offense was just as devastating, counting 21 combined doubles and home runs amongst its 30 total hits. The Cats also drew 18 walks and were hit by 10 pitches, including five from senior Troy Squires.
 
 
 
 
SCORING 
Bottom 1st – Tristan Pompey walked. Luke Becker doubled into the LF corner, scoring Pompey. UK 1, Evansville 0.
 
Bottom 2nd – Troy Squires doubled to RCF, moved to third on a wild pitch and scored on Luke Heyer's groundout. UK 2, Evansville 0.
 
Top 3rd – Troy Beilsmith homered to LF. UK 2, Evansville 1.
 
Bottom 3rd – Pompey doubled into RF corner. Becker walked. Both moved up on a wild pitch. T.J. Collett doubled to LF, scoring Pompey. Kole Cottam walked to load the bases. Ryan Johnson doubled into the RF corner, scoring Becker, Collett and Cottam. UK 6, Evansville 1.
 
Top 4th – Travis Tokarek singled to RF and moved to second on a wild pitch. Tanner Craig reached on a throwing error, scoring Tokarek. UK 6, Evansville 2.
 
Bottom 4th – Pompey singled. Becker walked. Aklinski field out to CF, moving Pompey to third. Collett hit sacrifice fly to RF, scoring Pompey. UK 7, Evansville 2.
 
Bottom 6th – Luke Heyer homered to LF. UK 8, Evansville 2.
 
Top 7th – Pete Vaccaro singled, Beilsmith walked and Craig Shepherd singled to load the bases. Kenton Crews singled up the middle to score Cooper Trinkle, who pinch ran for Vaccaro, and Beilsmith. UK 8, Evansville 4.
 
 
 
 
 
NOTES
This is Kentucky's first 4-0 start since the 2012 season.

This is the first 4-0 start on the road since 2007.
Freshman RHP Daniel Harper started in his collegiate debut.

Harper pitched 4.0 innings, giving up one earned run and striking out eight.
Struck out five in a row at one point.
Junior RHP Aaron McGeorge made his Kentucky debut.

The Lexington native earned the win in his first appearance.
Junior OF Tristan Pompey went 4-for-4 with three doubles, three runs and a walk.

Pompey extended his streak of reaching base safely to 41 games.
With eight hits on opening weekend, he now has 141 career hits, good for 33rd on the UK all-time list. He passed former teammate Zach Reks (137) on Sunday.
Junior OF Ryan Johnson went 1-for-3 with a three-run double.

It was Johnson's first extra-base hit as a Cat.
Senior IF/OF Luke Heyer went 1-for-4 with a home run.

Heyer hit two home runs on the weekend, the only Cat to do so.
Sophomore C/1B T.J. Collett went 1-for-1 with a double, two RBI, walk and hit by pitch.

Collett had four hits and six RBI on the weekend.
Of his six career hits, five have gone for extra bases (three doubles, two home runs.
 
 
 
ON DECK
Kentucky opens the 50th and final season at Cliff Hagan Stadium when Xavier comes to town on Wednesday, Feb. 21 with a 4 p.m. first pitch. Fans can listen on the UK Sports Network via UKathletics.com and iHeart Radio, as well as on 98.5 FM. The game will air on the SECN+.