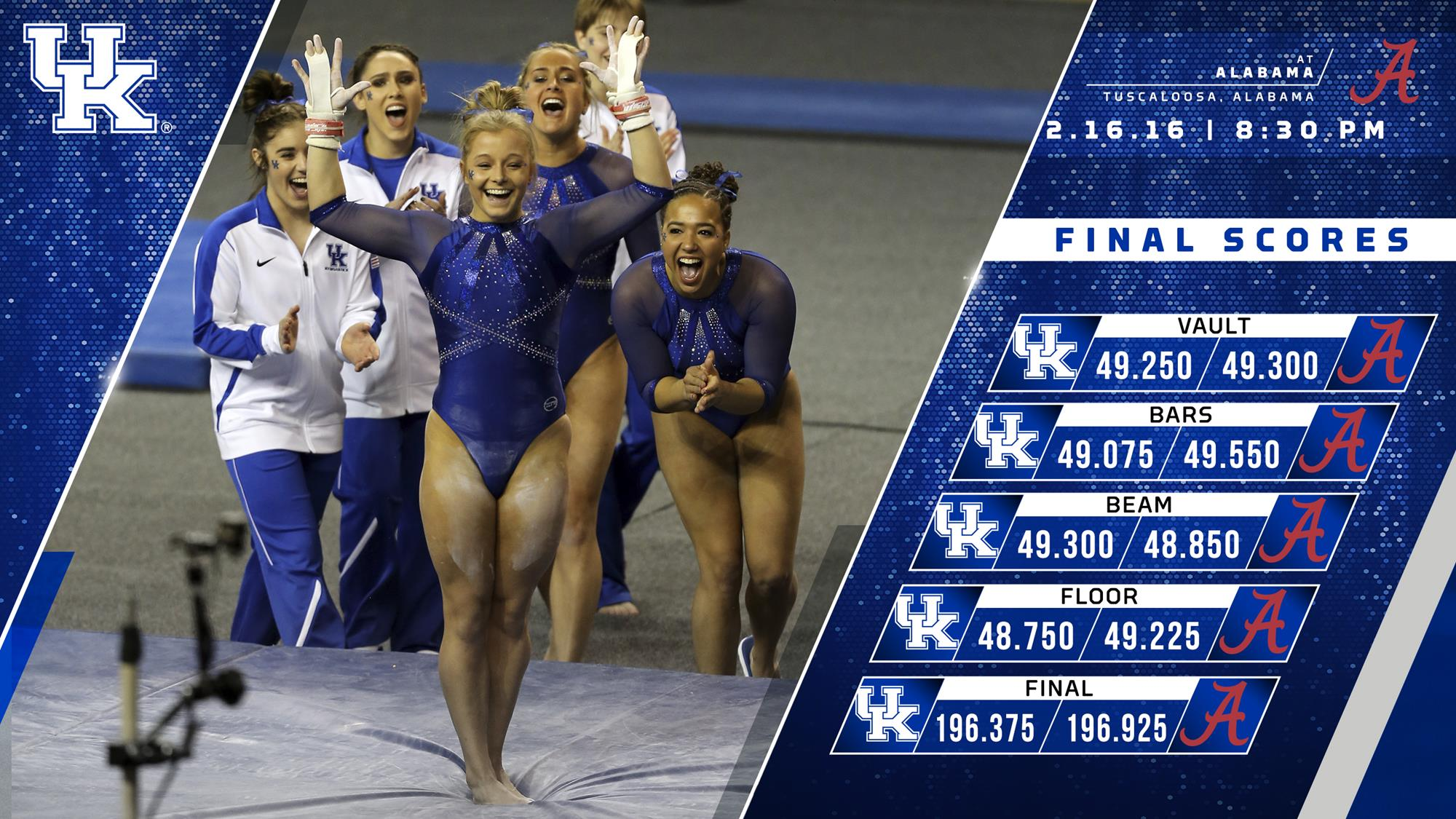 February 16, 2018 - 10:49 PM
Mollie Korth Wins All-Around as UK Falls to Alabama, 196.925 – 196.375
TUSCALOOSA, Ala. – The No. 9 Kentucky (5-4, 2-4 SEC) gymnastics team fell to No. 7 Alabama (4-3, 4-2 SEC), 196.925-196.375 inside Coleman Coliseum on Friday night. Sophomore Mollie Korth won the all-around in the event with a 39.550. Korth did not score below a 9.875 in the meet.
 
"This was a tough loss against a solid Alabama team," head coach Tim Garrison said. "I thought through the first two rotations that although we were making some mistakes, they were amplitude errors. We were not holding back. That is encouraging because it is impossible to compete tentative and improve. We had a couple of mistakes on the floor that we'd like to have back and the coaching staff made a compositional mistake that cost us .3.That's on us and we have to be better as a staff. We finished the meet strong on beam with solid performances by all six competitors. We are coming out of the meet with a lot to build on.
 
Kentucky started the meet on the bars and posted a 49.075. Sophomore Mollie Korth had the best UK score of the night with a 9.9 as the anchor. Junior Alex Hyland went 9.875, while freshman Ella Warren scored a 9.85. Senior Katie Carlisle put up a 9.8, and sophomore Hailey Poland rounded out the scoring after a 9.650. Alabama won the team event with a 49.550.
 
"Going into this meet I knew it was tough (to win the all-around), Korth said. "I stayed with it and with the team and coaches behind me I knew I could do it. Our landings could be sharper and we can focus on that in the gym this week."
 
UK posted its best vault team score of the season, 49.250. Two Wildcats – junior Katie Stuart and Korth – went 9.875 for the Cats. Junior Danaea Davis and Hyland each had 9.850s, and junior Aubree Rosa finished the scoring off for Kentucky with a 9.8. Both the scores of Davis and Stuart were season highs on the vault. The Crimson Tide won the team event with a 49.300 and led 98.850 – 98.325 after two rotations.
 
The Wildcats moved to the floor and went 48.750. Mollie Korth tied her season high with a 9.9 and earned a share of the event, while Dukes and Hyland each posted scores of 9.85. Warren had a 9.6, while Stuart rounded out the scoring with a score of 9.550. Alabama won the event with a 49.225.
 
UK finished the meet strong on beam. Led by UK's anchor Alex Hyland, she won the event with a 9.925. Hyland now has 15 beam event wins in her career. Korth had a 9.875, while Dukes went 9.850. Stuart and junior Alaina Kwan wrapped up the scoring with 9.825s. Kentucky had its best rotation of the evening, a 49.300 and won the event with after UA posted a 48.850.
 
"I just try to do what I always do on beam and I had a strong beam lineup in front of me today," Hyland said. "I was able to capitalize on the last rotation. I think we as a team can become more confident. The skills are there we just need to be more consistent in competition."
 
Four competitors and two from UK – Korth and Hyland – competed in the all-around. UK took the top two spots, as Korth posted a 39.550 and Hyland went 39.5.
 
For complete news and updates on the Kentucky Gymnastics program, go to UKathletics.com. Season tickets can be found on UKathletics.com/Tickets. News and updates on the team can also be found on Twitter at @UKGymnastics and at @UKCoachGarrison and Facebook at Facebook.com/UKGymnastics.