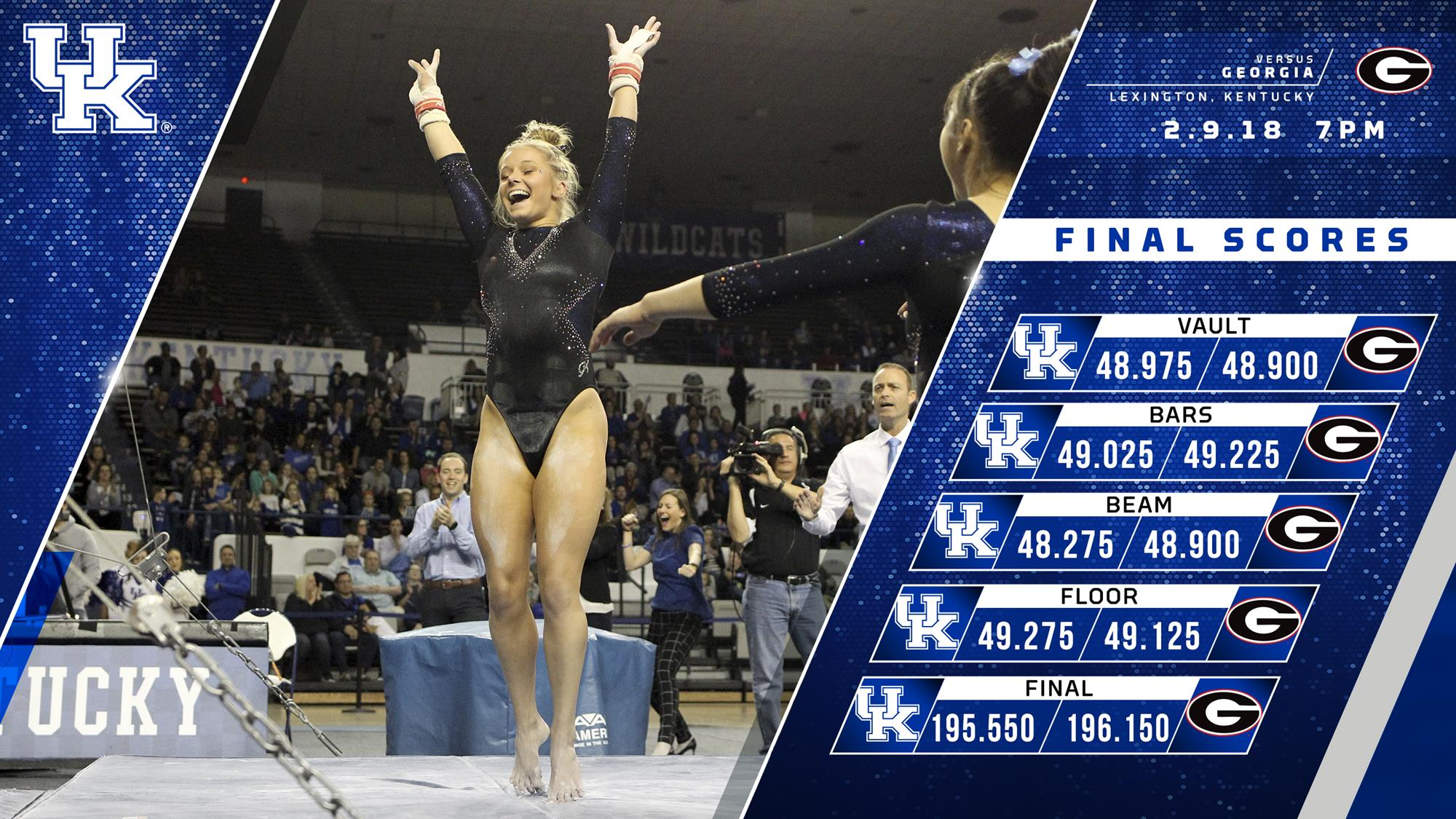 February 9, 2018 - 10:31 PM
No. 6 Kentucky Drops Top-15 Matchup With Georgia
LEXINGTON, Ky. – The No. 6 Kentucky (5-3, 2-3 SEC) gymnastics team fell to No. 13 Georgia (3-3, 3-3 SEC), 196.150 – 195.550, inside Memorial Coliseum on Friday night. The Wildcats won the vault and floor team titles in the meet.
 
"It's obvious to me, the staff and the team that we struggle to stay focused and execute at a high level in close competitions," head coach Tim Garrison said. "At this point, when the pressure increases, we blink. That needs to change."
 
Kentucky started the meet on the vault, where UK won the event as a team, 48.975 – 48.900. Junior Katie Stuart was the highest scoring Wildcat on the event with a 9.85, and that was her best vault of the season. Juniors Sidney Dukes and Aubree Rosa and sophomore Mollie Korth all posted 9.8s. Junior Alex Hyland also scored for the Wildcats with a 9.725. Lauren Johnson of UGA won with a 9.9.
 
UK went to the bars and put up a 49.025. Korth had the high score for UK with a 9.875, while Hyland had a 9.825. Senior Katie Carlisle scored a 9.8, while junior Katrina Coca scored 9.775. Freshman Ella Warren was the final scorer for UK with a 9.75. Marissa Oakley for UGA won the event with a 9.9 and Georgia scored a 49.225.
 
The Wildcats had a 48.275 on the beam. Hyland won her third beam title of the season and 14th of her career after splitting the title with a 9.875. Hyland now has 18 individual titles in her career. Stuart had a 9.825, while Korth posted a 9.750. Sophomore Hailey Poland scored a 9.625, while sophomore Alaina Kwan registered a score with a 9.2.
 
Kentucky finished the meet on a high note on the floor and won the event with a 49.275. Poland and Korth finished second in the individual standings with 9.875s. Warren and Hyland came in behind them with 9.850s. Stuart was the last scorer for Kentucky with a 9.825.
 
Two Wildcats – Korth and Hyland – competed in the all-around. Korth finished second with a 39.300 and Hyland placed third with a 39.275. Sydney Snead won the all-around with a 39.400.
 
Kentucky will continue SEC action next Friday when UK travels to Alabama at 8:30 p.m.
 
For complete news and updates on the Kentucky Gymnastics program, go to UKathletics.com. Season tickets can be found on UKathletics.com/Tickets. News and updates on the team can also be found on Twitter at @UKGymnastics and at @UKCoachGarrison and Facebook at Facebook.com/UKGymnastics.