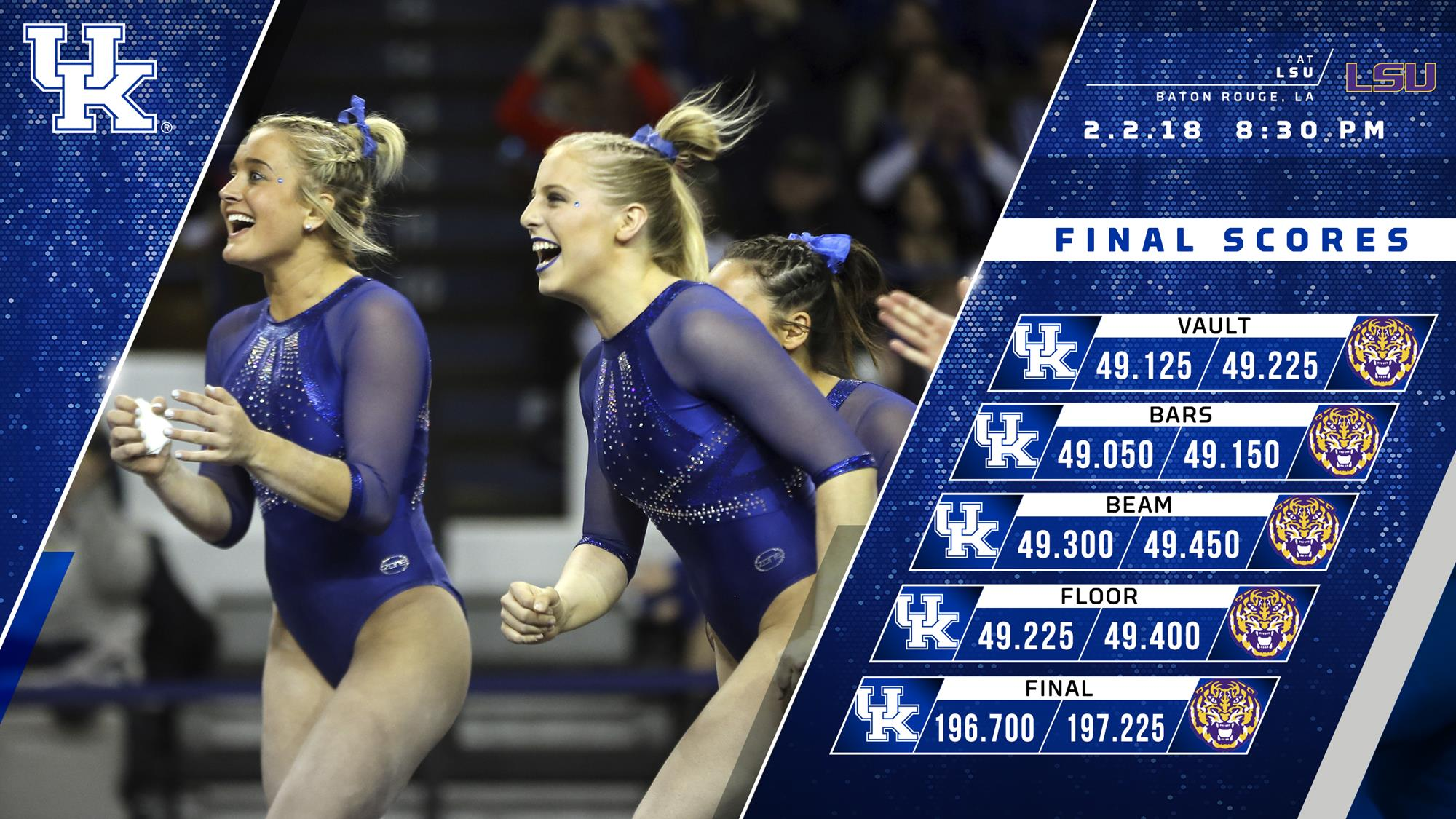 February 2, 2018 - 10:43 PM
No. 6 Kentucky Falls to No. 2 LSU, 197.225 -196.700
BATON ROUGE, La. – The No. 6 Kentucky (5-2, 2-2 SEC) gymnastics team posted its second straight 196.700, but fell to No. 2 LSU (6-1, 4-0 SEC) 197.225 -196.700 inside the Maravich Assembly Center on Friday night.  
 
"We got out of the gate a little slow on the bars struggling to handstands and landings, but we rebounded nicely with great amplitude and several sold landings on vault," head coach Tim Garrison said. "Floor and beam were pretty strong to finish the meet but unfortunately we came up a bit short. Although getting another solid score that we can use for the RQS is good, this team wants to win and are frustrated with the final results. This team has a lot of growth left in it and I am extremely encouraged with their desire to fulfill it."
 
Kentucky's team score of 196.700 ties the sixth-highest mark in school history. UK has hit that mark nine times in program history, and six of those have come on the road. Kentucky posted a score higher than 49 on every apparatus.
 
Kentucky started the night on the bars and posted a 49.050. Junior Katrina Coca led the Cats with a score of 9.875. Freshman Ella Warren followed with a 9.825. Junior Alex Hyland posted a 9.8, while seniors Katie Carlisle and Cori Rechenmacher also scored for the Cats with a 9.775. LSU won the team crown with a 49.225.
 
The Wildcats finished on the vault with a score of 49.125. Hyland won the vault crown after a career high of 9.925. Hyland was .05 better than any other competitor. Junior Danaea Davis was the second-highest scoring Wildcat with a 9.85, finishing tied for third. Junior Sidney Dukes put up a mark of 9.825, and junior Katie Stuart had a 9.8. Freshman Mollie Korth also scored for the Cats with a 9.725. The Tigers won the event with a 49.150.
 
"I love the leadoff spot on vault and tonight I was able to lead my team off strong," Hyland said. We've been working all week on sticking vaults and I'm glad we are seeing that pay off for the team. I've never won a vault title before so this was a great accomplishment but I'm really glad I could start the rotation off strong."
 
Kentucky moved to the floor and finished with a 49.225. Korth and Dukes each placed second in the event with scores of 9.875. Warren tied her career high with a 9.85, and Hyland a 9.825. Poland also scored for the Cats with a 9.8. LSU won the event with a 49.400.
 
UK finished the meet with its highest score of the night, a 49.300 on the beam. Poland and Hyland paced the Cats, who each scored a 9.875. Korth, sophomore Alaina Kwan and Dukes all scored 9.850s to round out the scoring.
 
Hyland and Korth both competed in the all-around for the Wildcats. Hyland finished third in the all-around with a 39.425.
 
For complete news and updates on the Kentucky Gymnastics program, go to UKathletics.com. Season tickets can be found on UKathletics.com/Tickets. News and updates on the team can also be found on Twitter at @UKGymnastics and at @UKCoachGarrison and Facebook at Facebook.com/UKGymnastics.