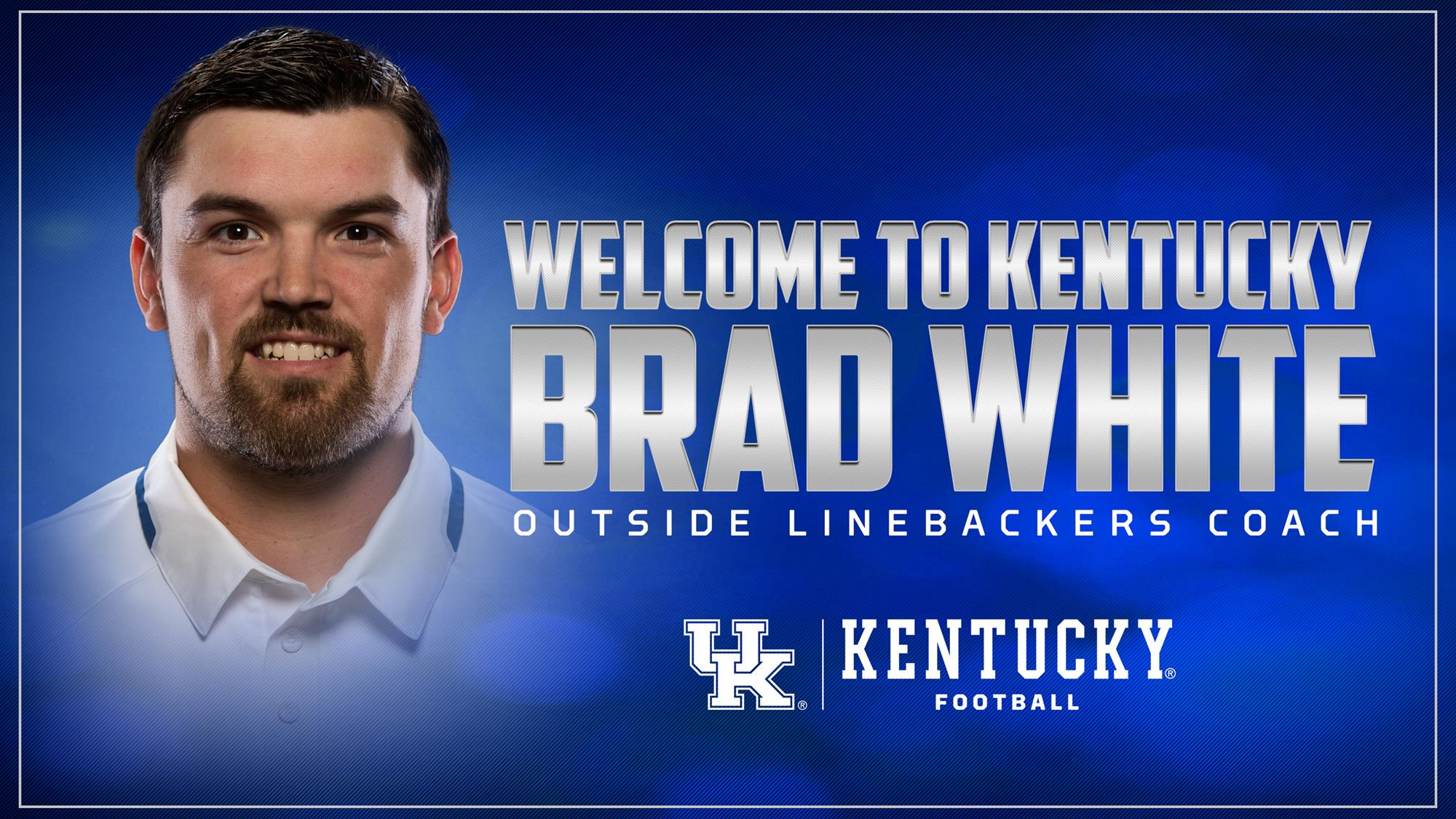 LEXINGTON, Ky. – Head coach Mark Stoops has announced today the hiring of Brad White as the tenth full-time assistant coach. White, who spent the last six years with the Indianapolis Colts, will coach the outside linebackers.
 
"My wife and I are really excited and grateful to Coach Stoops for the opportunity to join the Kentucky family," White said. "Kentucky is a program on the rise. I've been very impressed with how Coach Stoops is building this team. I'm especially impressed with the linebackers. They are a diverse group with rising seniors and talented young players all showing they can be successful in the SEC. I'm eager to get started."
In six seasons with the Colts, White served as the outside linebackers coach (2015-17), an assistant linebackers coach (2014) and the defensive quality control coach (2012-13).
"When I talked to Brad, he impressed me with his expertise, his NFL experience and what a very, very good technician he is," said Stoops, who did not know White prior to the hiring search. "Brad came highly recommended from people I know at Indianapolis. In addition to his knowledge of coaching linebackers, he has 'big picture' expertise.
"I'm also excited about hiring Brad because it will enable us to move Coach (Dean) Hood to the secondary, where he will assist Coach Clink (Steve Clinkscale). Dean has been a defensive backs coach for most of his career."
Hood coached the outside linebackers in 2017, his first year on the UK staff, and he will continue as the Wildcats' special teams coordinator.
Last season, outside linebacker Jabaal Sheard finished the season as the Colts' leader in sacks with 5.5. He also ranked fourth on the team in tackles (52) and forced two fumbles.
In 2016, White's unit accounted for 64 percent of the team's total sacks (21.0-of-33.0). White guided outside linebacker Erik Walden to the best season of his nine-year career. Walden led the Colts with a career-high 11.0 sacks and 9.0 tackles for loss, while tying for the team lead with three forced fumbles. He finished tied for eighth in the NFL (tied for fourth in the AFC) in sacks. Walden was one of only six linebackers in the NFL to record 11.0 or more sacks and three or more forced fumbles in 2016. Outside linebacker Robert Mathis finished second on the team with 5.0 sacks and tied for the team lead with three forced fumbles. White also received contributions from veteran outside linebackers Akeem Ayers and Trent Cole, who collected 2.0 sacks each. Outside linebacker Lavar Edwards, who spent time on the Colts active roster and practice squad in 2016, also contributed with 1.0 sack. 
In 2015, White directed a group that was boosted by the return of Colts all-time sack leader Mathis, who missed the entire 2014 season. Mathis tied for the team-lead with 7.0 sacks despite missing most of the 2015 offseason and the season opener while recovering from a torn Achilles tendon. Walden ranked fifth on the team with 57 tackles (43 solo) and tied for third with 3.0 sacks. White also coached the veteran newcomer Cole, who matched Walden with 3.0 sacks. The Colts defense finished the year with five touchdowns, which tied for the most in a single season in franchise history dating back to 1975 and 1994. White's unit helped the defense rank sixth in the NFL in interceptions (17) and tie for first in the league with four interceptions returned for touchdowns.
In 2014, inside linebackers D'Qwell Jackson (184) and Jerrell Freeman (144) finished first and second on the team in tackles and became the Colts' first linebacker pair with 100-plus tackles in the same season since 2011. Jackson earned his first career Pro Bowl nod after leading the team in tackles and posting career highs in sacks (4.0) and fumble recoveries (four). In addition, rookie outside linebacker Jonathan Newsome led the team with 6.5 quarterback takedowns while Walden finished second on the team with a then-career-high 6.0 sacks on the year.
In 2013, White helped coach a defense that ranked fourth in the AFC in points allowed (21.0), tied for fifth in sacks (42.0) and eighth in interceptions (15). Mathis led the NFL in sacks (19.5) and forced fumbles (eight), while Freeman tied for third in the league with six forced fumbles. Cornerback Darius Butler posted a team-leading four interceptions for the second straight year and led all AFC cornerbacks with eight interceptions from 2012-13.
In 2012, White assisted a defense that registered 32.0 sacks and 12 interceptions. The Colts defense returned four of those interceptions for touchdowns, which tied the single-season franchise record. White helped the development of 19 different starters on the defensive side of the ball, including Freeman, who joined the team from the Canadian Football League during the offseason and set a franchise record for tackles in a season (203).
Indianapolis was the AFC South champion in 2013 and 2014 and advanced to the playoffs in the 2012-14 seasons.
White, a native of Portsmouth, Rhode Island, joined the Colts after spending two seasons as the inside linebackers coach at the Air Force Academy (2010-11).
While at Air Force, White was instrumental in the development of linebackers Jordan Waiwaiole and Brady Amack, who were each first-year starters in 2010. Waiwaiole led the team in tackles with 96 in 2010, while Amack led the team with 136 in 2011. The Falcons advanced to post-season play in both 2010 and 2011, defeating Georgia Tech in the
2010 Independence Bowl and falling to Toledo on the 2011 Military Bowl.
Prior to coaching at the Air Force Academy, White spent the 2009 season as the safeties coach at Murray State University. He started his coaching career at Wake Forest, where he was a defensive graduate assistant for the 2007-08 seasons. He coached alongside Hood during the 2007 season when Hood was the defensive coordinator for the Demon Deacons. He also played under Hood from 2002-04.
A graduate of Wake Forest, White started at linebacker and finished his playing career with 227 tackles, 19.0 tackles for loss, 4.0 sacks and eight passes defensed, while starting 34-of-35 games played. White was a three-time Academic All-Atlantic Coast Conference selection and was named to the 2004 CoSIDA Academic All-District III team. He graduated from Wake Forest with a bachelor's degree in analytical finance and a master's degree in accounting.
White and his wife, Kate, have three children, Julia, Lincoln and Hudson.
Brad White Coaching Career
2018
Kentucky
Outside Linebackers
 
2015-17
Indianapolis Colts
Outside Linebackers
 
2014
Indianapolis Colts
Assistant Linebackers
 
2012-13
Indianapolis Colts
Defensive Quality Control
 
2010-11
Air Force
Inside Linebackers
2010 Independence Bowl
2011 Military Bowl
2009
Murray State
Safeties
 
2007-08
Wake Forest
Defensive Graduate Assistant
 
 
For more information on the Kentucky football team, follow @UKFootball on Twitter and Instagram, or like Kentucky Football on Facebook.