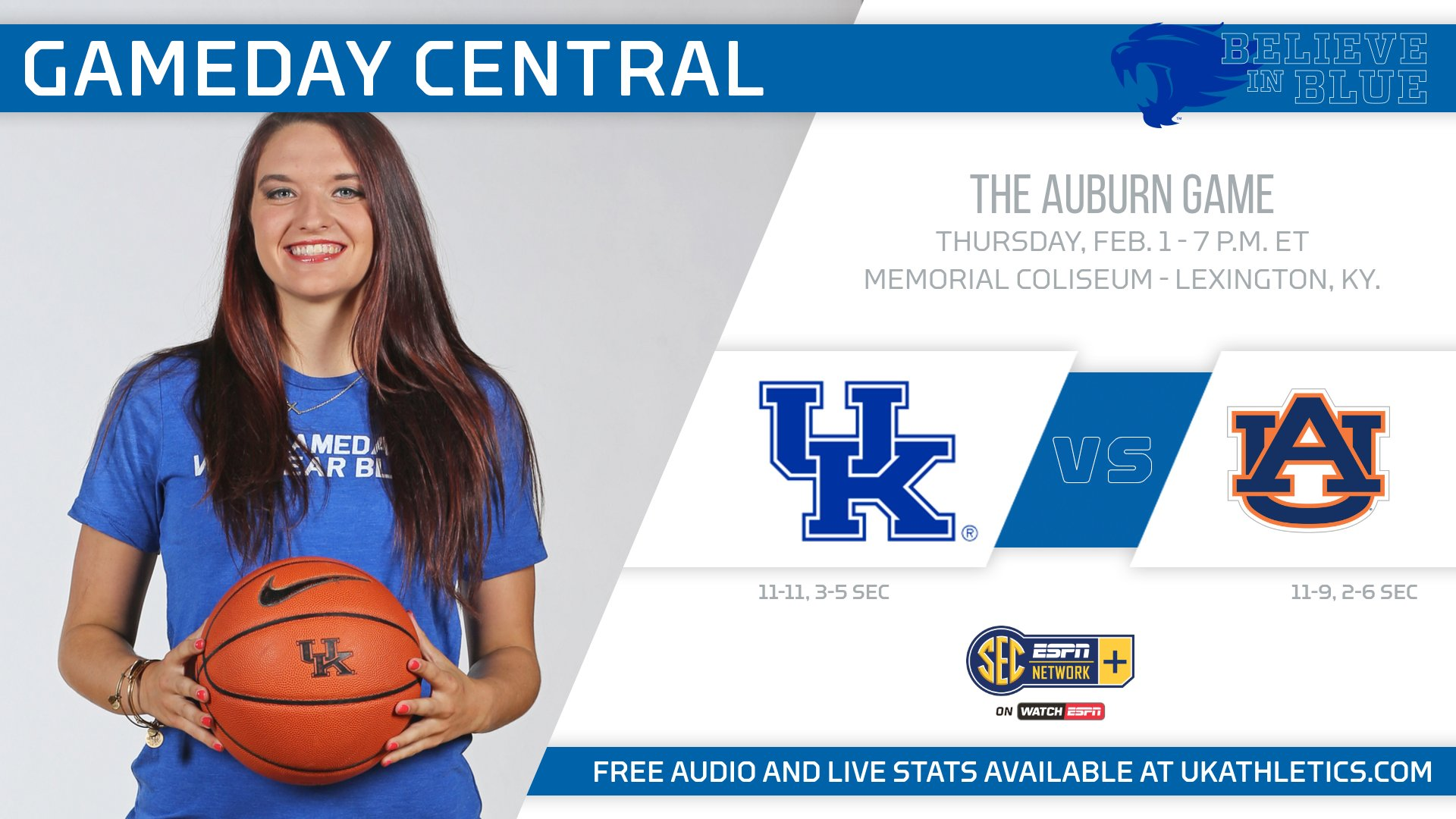 January 31, 2018 - 05:02 PM
Wildcats Look To Extend Winning Streak vs. Auburn Thursday
LEXINGTON, Ky. – After earning back-to-back wins for the first time since early December, the University of Kentucky women's basketball team looks to extend its winning ways Thursday as it plays host to Auburn at 7 p.m. ET inside Memorial Coliseum.
 
The game will be broadcast live on the SEC Network+ with Jeff Piecoro and Christi Thomas on the call. The action can also be seen through WatchESPN on computers, smartphones or tablets. Darren Headrick, in his first year with the program, will be calling the game on the UK Sports Radio Network. Fans in Lexington can hear Headrick's call on 630AM WLAP. Live stats and free audio will be available online at ukathletics.com.
 
Senior guard Makenzie Cann is scheduled to sign autographs following the game on the main concourse near the Lexington Avenue entrance. Young fans are encouraged to take advantage of the Kid Zone pregame with games, poster making stations, coloring stations and more.
 

Hot dogs are just $1 Thursday at Memorial Coliseum, while single-game tickets are $9 (all ages) in reserved seating areas and general admission tickets are $8 for adults and $5 for children (ages 6-18) and seniors (age 65+). Children ages five and under do not require a ticket in general admission areas.
 
Kentucky (11-11, 3-5 Southeastern Conference) is coming off two impressive performances in its last two games, defeating Alabama, 79-54, before a win at Arkansas on Monday, 76-65. The Wildcats have been hot from the floor its last 10 quarters, shooting 51.7 percent from the field in their last 100 minutes of basketball. Freshman post Dorie Harrison scored 15 points against Alabama and 16 against Arkansas to earn SEC Freshman of the Week honors. Fellow freshman post KeKe McKinney has scored 12 points in two of her last three games, including a career-high 12 rebounds at Arkansas. In her last five games, guard Taylor Murray is averaging 18.2 points per game with 24 assists and 16 steals.
 
Overall, junior guard Maci Morris leads Kentucky by averaging 15.4 points per game and has hit a season-best 44 3-pointers this season. Morris is just four points away from becoming the 33rd player in school history with 1,000 career points. Murray is averaging 11.5 points per game and 4.6 rebounds per game while leading the team with 89 assists and 50 steals. Freshman Tatyana Wyatt and seniors Makenzie Cann and Alyssa Rice are each averaging seven points or more this season.
 
Auburn leads the all-time series in games played against Kentucky, 26-21, including a 10-9 mark in games played in Lexington, Ky. The Wildcats have had recent success in the series, winning nine of the last 10 meetings including six straight at home. Auburn has not won a game against Kentucky in Lexington since a 71-57 victory in Rupp Arena on Jan. 19, 2006. Matthew Mitchell is 11-3 against Auburn as the head coach of the Wildcats.
 
Entering Thursday's contest, Auburn owns an 11-9 overall record, including a 2-6 record in SEC play. Auburn is coming off a 69-60 victory over in-state foe Alabama on Jan. 28. The win snapped a six-game losing streak for the Tigers. Its only additional victory in SEC play came against Florida on Dec. 31.
In the win over Alabama, junior guard Janiah McKay led all scorers with 18 points, while freshman Unique Thompson had her six double-double with 14 points and 11 rebounds.
 
McKay leads Auburn in scoring and assists this season, averaging 16.6 points and 4.5 assists per game. Thompson is averaging a near double-double in her rookie campaign with 11.3 points and 9.6 rebounds per contest. Sophomore guard Daisa Alexander rounds out the double-digit scorers, posting 14.3 points per game.
 
Kentucky and Auburn met just once last season with the Wildcats earning a 64-60 come-from-behind win at Auburn Arena. After the start of the game was delayed 30 minutes due to tornado warnings, UK bounced out to a lead before Auburn made a rally in the third quarter to take a seven-point lead. UK rallied back and the game was back-and-forth in the fourth quarter before a Makayla Epps and-one gave UK a 61-58 lead it would not relinquish.
 
Morris paced Kentucky with 18 points, nine rebounds and hit four 3s, while Epps scored 17 points with seven rebounds and four assists. Murray had 14 points and five assists as the Wildcats shot 45.8 percent from the field. Auburn was paced by 22 points from Brandy Montgomery and 16 from Katie Frerking. The Tigers had 23 points off 19 UK turnovers and had a 10-2 edge in fast-break points.
 
For more information on the Kentucky women's basketball team, visit UKathletics.com or follow @KentuckyWBB on Twitter, Instagram and Snapchat, or Kentucky Women's Basketball on Facebook.
 
Parking
Spectator parking is located in all of the E-lots surrounding Memorial Coliseum, all lots are off control three hours prior to tip. Additionally, the South Limestone Garage (PS#5) and the Rose Street Garage (PS#2) are available two hours prior to tip.  See the shuttle map and route information diagram at this link for all available women's basketball spectator parking options.
The Lexington Parking Authority Transit Center Parking Garage, located between High Street and Vine Street is available for parking after 5 p.m. during the week and all day on the weekends.  Additionally, a free shuttle service will pick up by the Transit Center bus stop, near the corner of High Street and Martin Luther King beginning two hours prior to tip. UK Athletics Event Staff will be at the Transit Center Garage Entrance to assist with directing patrons to the correct shuttle pick-up location.
Parking is prohibited in any R (Residential) lots.  Vehicles parking in R lots without a proper permit, along yellow curbs, grass spaces, or other non-specified and unapproved areas may be subject to ticket and/or tow.
Disabled spectator parking is available with a valid, state issued disabled hang tag in the E-Lot (Employee Lot) North of the Craft Center.  These spaces are available on a first-come, first-served basis until full.
 Transit Center Parking Garage
UK women's basketball fans can avoid traffic and congestion around Memorial Coliseum and park for FREE at the Transit Center Garage – available after 5 p.m. on weekdays and all day for weekend games.
The Transit Center Parking Garage is accessible from Vine Street of High Street.
Push the green flashing button upon entry, take the yellow token and store it in a safe place. Park in the garage and find the UK Athletics event staff member at the entrance of the garage near Lexington Avenue for a free parking token to use after the game when you exit the garage. Staff will remain on site until 20 minutes after tip.
Please do not lose your token. If you lose your token, you will be charged an $8 fee for a lost token fee. If you lose your token, visit the pay on foot station located in the seventh floor elevator lobby of the garage and choose "lost token." You will be charged $8 and given a new token that can be used to exit the garage.
 Shuttles
Shuttles are available beginning two hours prior to tip and pick up and drop off near the South Limestone Garage (Parking Structure #5) (blue route) and near the Transit Center Parking Garage and High Street Lot (green route).
Shuttles will start back up after halftime to return guests to their parking areas, the shuttle will discontinue service one hour postgame.
A shuttle map with route information is available here.
 Game Day Information
Doors to Memorial Coliseum open 1.5 hours prior to tip.
UK Athletics encourages women's basketball fans to arrive early to ease traffic and parking congestion around the Coliseum.
For more information on parking around Memorial Coliseum and other game-day questions visit ukathleticsgameday.com.
Kentucky WBB Pre-Auburn News Conference
Memorial Coliseum – Lexington, Ky.
Wednesday, Jan. 31, 2018
Head Coach Matthew Mitchell
Opening Statement …
"Well, we have a big challenge ahead tomorrow night. Auburn is a team that plays so incredibly hard. They'll pressure you for 40 minutes. So, we're in for a real battle tomorrow night and huge opportunity for us to see where we are in our effort and our energy because Auburn brings that for 40 minutes and they're very disruptive. It'll be a big challenge for us, but we'll have some real satisfaction if we can walk off the court and say we played harder than Auburn, because they play so hard. And that's what we need to do tomorrow night and see if we can earn a victory."
 
On whether he expects Tatyana Wyatt to play …
"She's available, unless something goes wrong in practice today but she'll be practicing full speed. We'll see how that goes. It'll be the first time she's gone full speed in quite some time, so glad to have her back and we'll just try to work her back in as she seems to be able. It's good to have her back in practice today."
 
On what the situation is with Jess Hardin injury wise …
"She has battled some leg pain. She was out for a while as far as games go, but she's modified practice and we're just trying to work her back in. It's a situation where she hasn't been able to get a lot of reps, but she's progressing and getting better. So, we hope we can get her on the court soon."
 
On what Dorie Harrison's improved free throw shooting can be attributed to …
"Well, we've been working hard just on Dorie's progress and just trying to help her become a better player and I think a lot of it is confidence. She's had some success, been able to get out of her own way, not overthink things. We have been working on her free throw shot, just a little bit on her pre-shot routine. You'd have to ask her whether that was a big factor or not. I think it's more just her general outlook on how to come to practice every day and how to work. Then, also you get a spot where finally the reps begin to show up in a game. So, you know, it didn't happen overnight. She's been working hard since she got on campus, but you know, the results are slowly but surely starting to reveal themselves."
 
On other players stepping up since Maci Morris was injured …
"Well, I think when we didn't have her at Vanderbilt, I thought we sort of pulled back from the opportunity and people didn't put their best foot forward that night. So, we benefited from not having a game that Thursday and were able just to try to see where everybody was. Try to see where everybody was mentally and try to get everything verbalized to a spot where we knew what people were thinking. Had a lot of folks who, after that, were able to embrace the role that we needed them to fill and I think that was more than anything was just being able to understand where you can impact the team and what you needed to do and trying to help them define roles and trying to just say, 'Hey, listen, this isn't going to get better unless you start doing certain things,' So, you look at someone like KeKe (McKinney) who just thought her value to the team was to try to make 3s, and she's a stretch four and she had to make 3s and if she didn't make 3s she was really of no value to the team. That's an example of just trying to fix that thinking that you don't have to make 3s for us to be successful, but you do have to go to the boards and you do have to move the ball and you do have to be tough and show effort and show energy. So, to her credit and to a lot of player's credit, they came out of that and decided they were going to embrace the role, and that's just not in games, that's in practice every day. What you do in practice is what's going to show up in games. So, I think that's been the biggest help is just the mindset. The mindset, we were able to as a team change the way we were thinking, and that's hard to do. That's a real credit to the players. That's really hard to do, especially in the midst of a lot of disappointment that was on the verge of turning into discouragement, and to their credit they didn't let that happen. So, really proud of them and we've been enjoying some benefits from that mindset change and we've got to stay at it."
 
On a specific moment in the last few weeks where he's saw the change in mindset …
"I think the poor shooting started to weigh on everybody's shoulder and had them discouraged. You know, the South Carolina game was really, really poor transition defense and focus and the second quarter that really, kind of, where they distanced themselves. And, I thought that we showed a little bit of fight there in that second half. But still, you know, the defense wasn't great but we did start making some hustle plays and showed some fight. And, while we couldn't stop them in the third quarter they couldn't stop us either. So, I thought that was maybe, or hopefully the point where we sort of turned it back going in the right direction. And then, although we lost that game I just thought the young players, having some success in that game, it led into some good practices last Tuesday and Wednesday and then you know, the good result versus Alabama. It's so hard to tell right now, you know, we are so focused on trying to beat Auburn, which is going to be a really tough task. But, I would say that last week was a really good week of practice."
 
On the short turnaround from the Arkansas game …
"Yeah, it's just a part of where the schedule makers put you and you have zero control over that. There are things you don't have control over… how they make the schedule. You don't have control over officiating, you don't have control over the weather when you travel, I mean you just don't have control over these things so, it's a challenge, yes, but you know the team understands they need to go out and practice well today and we need to see if we can do that. The key to this game is if you can take care of the ball and attack and be real aggressive and tough, you have a chance to win. It's easier to sit up here and talk about than it is do. They're so prolific at forcing turnovers and that's been a real key here in the last couple of games of trying to take care of the ball and win that turnover battle. It'll be another huge key in this game tomorrow night. And also you've got to make some shots against Auburn. Sometimes you get some open looks because they're a little bit out of whack, but they have rushed and have forced you into maybe a shot that you didn't want to take, so you just have to try your best – try your very best to be aggressive and tough and make good decisions and keep your poise and we'll try to practice that today."
 
On the impact winning a few games in a row has on this team …
"Well you know the physical effort has always been pretty steady and pretty good to their credit. We haven't had a lot of just laziness going on in practice. It was more just a mindset of kind of getting beaten down and not believing in yourself and feeling like things were happening to you and so that has been the biggest challenge and I think it's certainly more fun to win than it is to absorb those losses, and so you certainly hope that it's going to be something that helps us. But, we have I think, tried to stay really focused on what we need to do to improve as a team. So, from my standpoint right now and the coaches standpoint, we still go into practice with a pretty clear message of we need to get better today because we're certainly not a finished product and there's a lot to improve. But, you have to believe that it's a lot more fun to come to practice after you've put a couple wins together. But, we have to stay at it right now. It's a tough, tough road ahead."