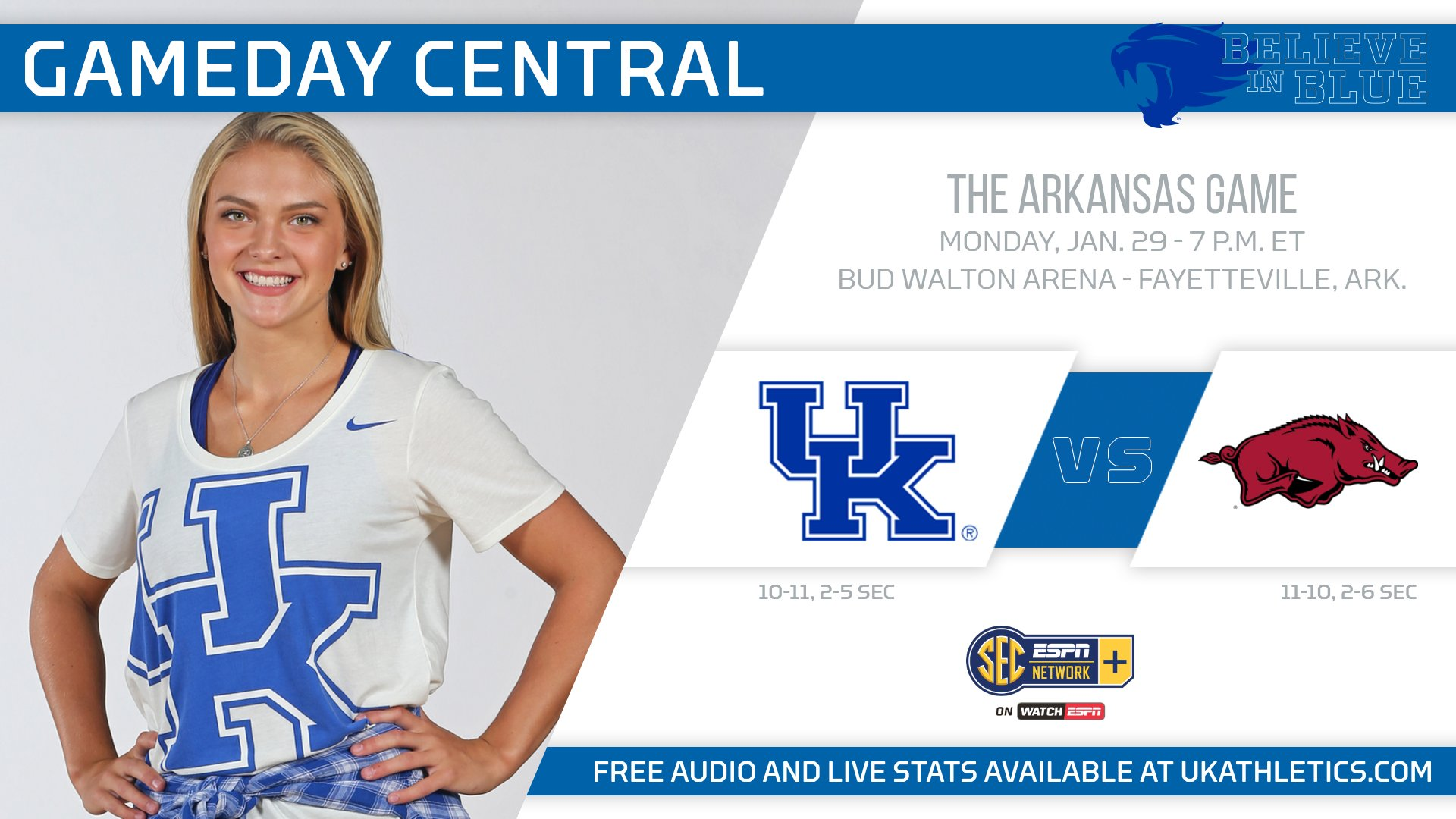 January 28, 2018 - 12:51 PM
Wildcats Hoping Momentum Continues Monday at Arkansas
LEXINGTON, Ky. – Coming off arguably its best performance of the season Thursday against Alabama, the University of Kentucky women's basketball team looks to continue its momentum Monday as it travels to face Arkansas at 7 p.m. ET inside Bud Walton Arena.  
 
The game will be broadcast live on the SEC Network with Brenda VanLengen and Carol Ross on the call. The action can also be seen through WatchESPN on computers, smartphones or tablets. Darren Headrick, in his first year with the program, will be calling the game on the UK Sports Radio Network. Fans in Lexington can hear Headrick's call on 630AM WLAP. Live stats and free audio will be available online at ukathletics.com. Due to the John Calipari Call-in Show, there will be no pregame show Monday.
 
Kentucky (10-11, 2-5 Southeastern Conference) enters Monday's game after one of its best performances of the season, taking down Alabama 79-54 inside Memorial Coliseum. UK shot 64.7 percent from the field which was the second-best field-goal percentage in a game in program history. The Wildcats had 28 points off 16 Alabama miscues, earned a 36-20 advantage in points in the paint and had 19 assists. For the second straight game, four Wildcats scored in double figures. UK has now scored 44 points or more in the second half in back-to-back games. The Wildcats outscored Alabama 25-5 in the fourth quarter.
 

Junior guard Taylor Murray was the star for UK against Alabama becoming the only player in school history to record 20 points and 10 assists in a SEC game. The double-double was the fourth of her career and the first point-assist double-double for a UK player since Feb. 2016. The impressive offensive showing against Alabama comes after UK had a strong second half against South Carolina, scoring 44 points in the second half, including 28 in the third quarter.
 
Kentucky and Arkansas will meet twice this season as the Wildcats look to increase their winning record in the all-time series against the Razorbacks from the current 21-13 edge. The Wildcats have won seven straight games in the series and 15 of the last 16 meetings. Arkansas' last win in the series was a 78-67 victory over UK on Jan. 6, 2011 in Fayetteville. UK's recent success in the streak came after the Razorbacks dominated the series for several years. Prior to 2005, Arkansas had won 12 of the last 15 games in the series. Matthew Mitchell is 11-1 as a head coach against Arkansas with all 12 games coming during his time at UK.
 
Entering Monday's game, Arkansas has a 11-10 record including a 8-2 mark at home and 2-6 record in SEC play. The Razorbacks have lost three straight games – two to top-15 teams in South Carolina and Missouri. Arkansas' two SEC wins this season have come against Ole Miss at home and at Auburn. As a team, Arkansas is scoring 67.4 points per game while allowing opponents to score 70.9 points per game. The Razorbacks are hitting 36.4 percent from the field, 28.5 percent from 3 and 66.6 percent from the charity stripe. Arkansas is attempting 26.0 3-pointers per game and hitting 7.4 per game.
 
Junior guard Malica Monk leads the team in scoring with 16.2 points per game adding a team-best 78 assists and 34 steals. Graduate transfer guard Devin Cosper is averaging 14.6 points per game with 6.5 rebounds per game and has hit a team-high 42 3s. Sophomore point guard Jailyn Mason is earning 10.4 points per game with 4.0 rebounds per game and 58 assists.
 
Kentucky and Arkansas met only once last season with the Wildcats earning a 69-62 win in Fayetteville. The Wildcats got a strong performance from Taylor Murray, who scored 16 points with eight rebounds, six steals and five assists. Makayla Epps scored 14 points while Evelyn Akhator had 12 points and 11 rebounds. Arkansas shot 45 percent from the field in the game, including 7-of-13 from long range while the Wildcats shot just 40.4 percent from the field but went 8-of-20 from 3 and 15-of-19 from the charity stripe. UK also had 15 fast-break points to Arkansas' zero.
 
For more information on the Kentucky women's basketball team, visit UKathletics.com or follow @KentuckyWBB on Twitter, Instagram and Snapchat, or Kentucky Women's Basketball on Facebook.
Head Coach Matthew Mitchell Pre-Arkansas Video