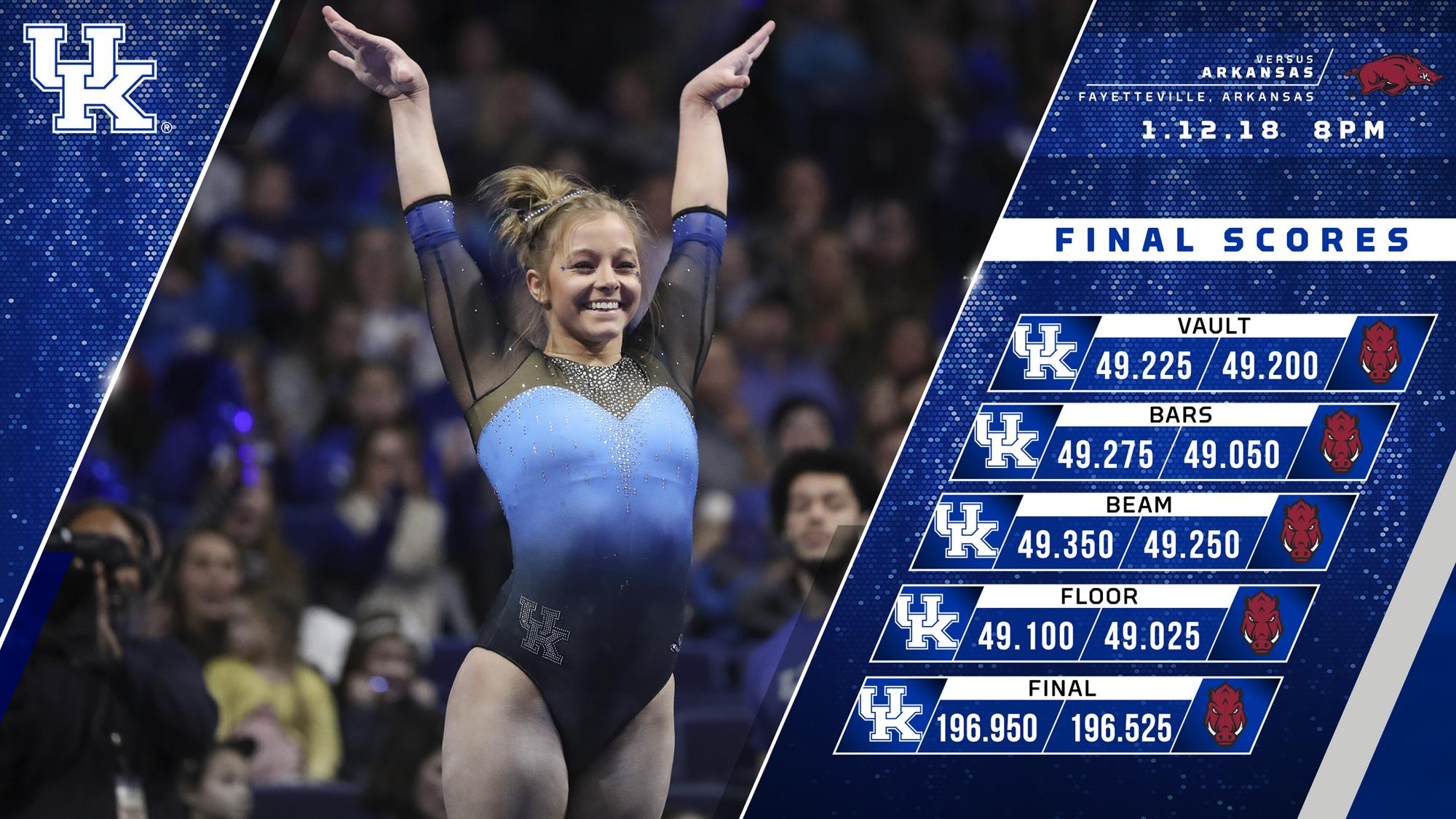 January 12, 2018 - 10:42 PM
Kentucky Gymnastics Posts 196.950, Defeats Arkansas
FAYETTEVILLE, Ark. – Behind the third-highest score in school history, the No. 6 Kentucky gymnastics program earned a 196.950 – 196.525 win over No. 11 Arkansas on Friday night in Barnhill Arena. UK also posted a 196.950 against Florida last season to open SEC play.
 
The Wildcats earned their first road win in program history over the Razorbacks and sixth overall. With the victory, the Wildcats improve to 4-0 and 1-0 in the SEC, while Arkansas falls to 0-2 and 0-1 in the league.
 
"The big thing we've been talking about in the gym is that we need to go on the road, in the SEC, and put up this type of performance," head coach Tim Garrison said. "We were just sharper this week. There's some things to clean up and fix but I feel pretty good about where we are."
 
Kentucky started on bars and did not disappoint. UK posted a 49.275, and were led by event winner junior Katrina Coca, who posted a 9.9. Coca shared the crown with Arkansas' Amanda Wellick. In her first road meet, freshman Ella Warren matched senior Katie Carlisle with 9.875s. Freshman Mollie Korth posted a 9.825, while senior Cori Rechenmacher scored a 9.8.
 
The Wildcats kept it going on the vault, besting the Razorbacks 49.225-49.200.  Korth won the vault title after tying her career high score of 9.950. Junior Aubree Rosa tied her career best with a 9.9, while junior Alex Hyland and junior Sidney Dukes each posted 9.8s. Junior Danaea Davis rounded out the scoring with a 9.775.
 
"I think the team did amazing in the first road meet," Korth said. "We showed up really well and did our job. I've been doing bigger and better vaults every day and been consistent in practice, that's what helped tonight."
 
On the floor, UK posted a 49.100, with Korth pacing the Wildcats with a score of 9.9. She also earned the event title. Hyland posted a 9.85, while Dukes and Warren each went 9.8. Poland rounded out the scoring for the Wildcats with a 9.75.
 
Kentucky saved the best for last on the beam, going 49.350. No Wildcat scored below a 9.775 on the event. Dukes posted a 9.9 and shared the event championship with Sophia Carter. Hyland and Stuart each posted scores of 9.875, while Korth and Poland had 9.850s.
 
"I think I came in tonight with confidence from Excite Night," Dukes said. "Tim was talking about taking that next step and that's what we did. Individually we went one notch up, and that's what we're going to keep doing."
 
Korth, the only all-around competitor for the Wildcats, won the all-around with a 39.525. Sarah Shaffer finished second in the all-around with a 39.325.
 
Overall, the Wildcats won every team individual title, and had at least a share of every individual event title.
 
Kentucky will continue SEC play next Friday when the Wildcats welcome Florida to Memorial Coliseum.