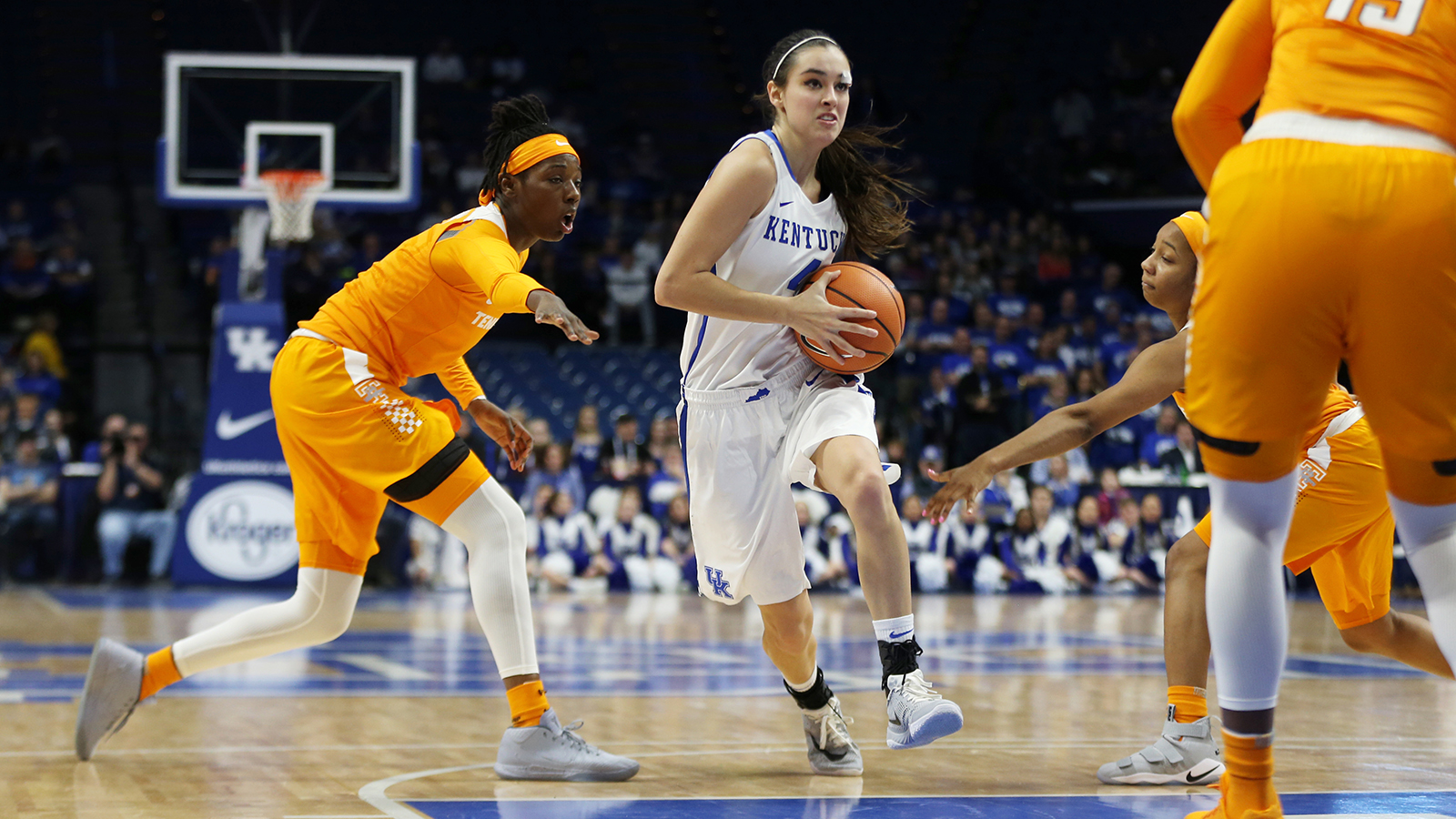 December 31, 2017 - 01:49 PM
Kentucky Falls to No. 7 Tennessee
LEXINGTON, Ky. – Junior Maci Morris scored 18 points, but the Kentucky women's basketball team could not overcome a slow start, as the Wildcats lost to No. 7 Tennessee 63-49 on Sunday at Rupp Arena.
 
Morris scored in double figures for the 14th time in 15 games this season despite suffering a cut above her left eye in the second quarter. Morris returned and played the remainder of the game with a bandage over the cut.
 
Kentucky (8-7, 0-1 SEC) got nine points from freshman Dorie Harrison, while senior Alyssa Rice had six points and a team-high eight rebounds. The Wildcats held the advantage in bench points, 18-4, and forced the Lady Vols into 21 turnovers.
 
Tennessee (13-0, 1-0) scored the first 10 points of the game as Kentucky missed its first six shots from the field. The Cats got on the board with 5:45 left in the period on a jumper by Morris, but the Lady Vols were able to extend the lead, holding a 26-7 advantage after one period.
 
Kentucky scored the first five points of the second period on a layup by Jaida Roper and a three-pointer by Makenzie Cann. Tennessee answered with the next six points to take a 32-12 lead, but Kentucky was able to cut the lead to 16 on two occasions. When Harrison scored with 4:00 left in the period, Tennessee's lead was 36-20. Neither team would score for the remainder of the half.
 
The Lady Vols led by as many as 23 points in the third quarter and led 51-31 after three periods. In the fourth quarter, Kentucky was able to cut the lead to 14, but the Cats would get no closer.
 
Kentucky returns to action on Thursday, as the Wildcats head to College Station to play Texas A&M. Tipoff is set for 7 p.m. ET and the game can be seen on the SEC Network.