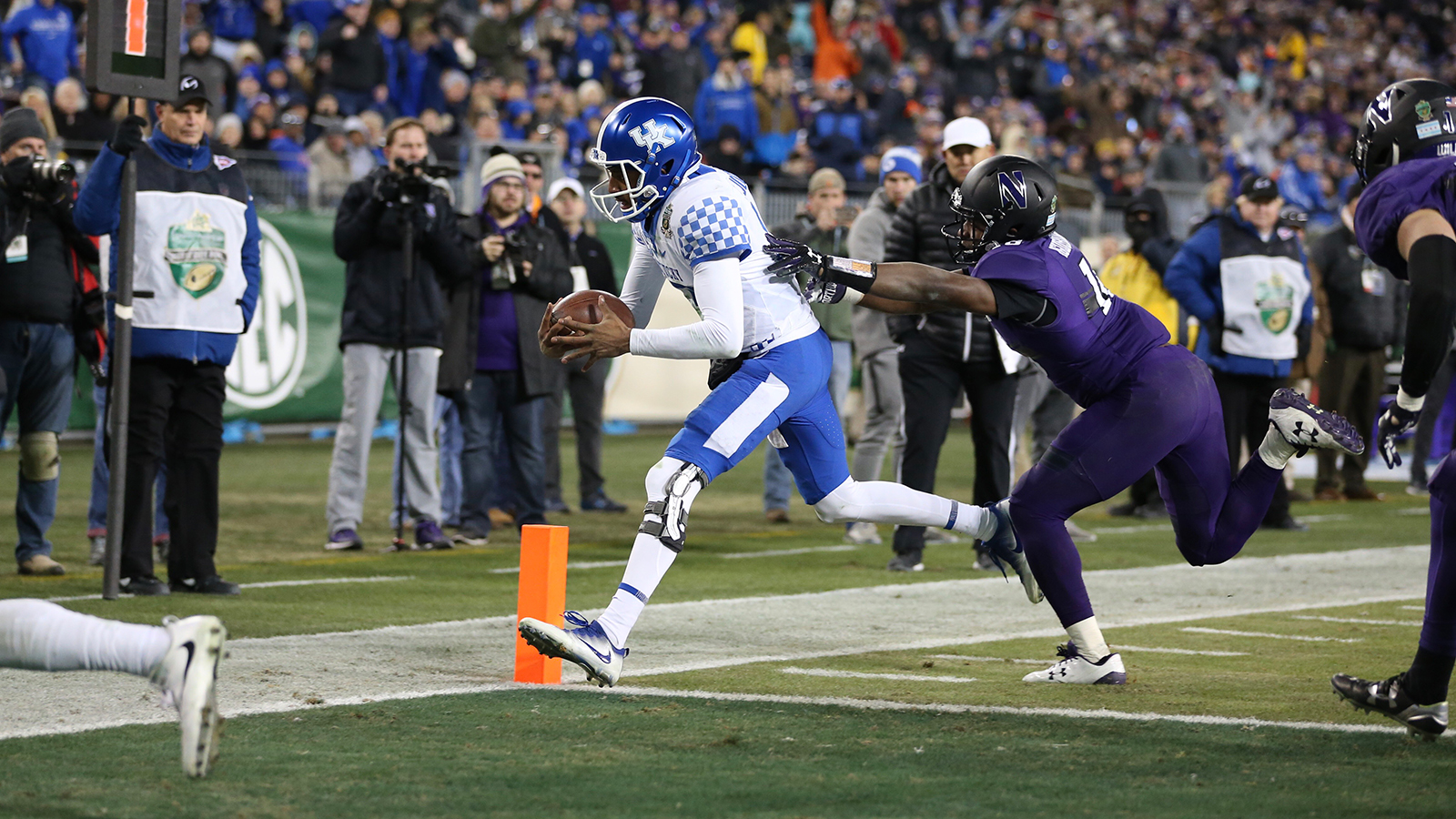 NASHVILLE, Tenn. – The Kentucky football team rallied from a 10-point deficit to get within a point, but failed on a two-point conversion with 37 seconds left in the game, as the Wildcats fell to Northwestern 24-23 on Friday in the Franklin American Mortgage Music City Bowl at Nissan Stadium.
Kentucky (7-6) trailed 24-14 with 7:49 remaining when the comeback began. The Wildcats drove 43 yards in 10 plays, capped by a 48-yard field goal from Austin MacGinnis to cut the lead to 24-17.
Northwestern took over with 4:24 to go, and the Wildcats from Evanston rushed for a first down on the first play of the drive. But Kentucky's defense stood tall, stopping Northwestern on a fourth-and-one from the Kentucky 39 yard line, giving UK the ball in good field position with 2:31 remaining.
Kentucky drove down the field, and quarterback Stephen Johnson scored on a nine-yard rush to cut the lead to 24-23 with just 37 seconds left. UK decided to go for the win, but Johnson's pass on the conversion attempt was broken up. Northwestern then recovered UK's pooch kick, sealing the victory.
Johnson, who was knocked out of the game on multiple occasions but kept coming back, connected on 19 of his 36 passes for 257 yards. He also rushed six times for 17 yards and a pair of touchdowns.
Kentucky played the majority of the game without starting running back Benny Snell, Jr., who was ejected in the second quarter. Snell carried six times for 15 yards and a touchdown, which gave Kentucky an early 7-0 lead.
Northwestern (10-2) scored the next 17 points of the game and took a 17-7 lead into the break.
In the third quarter, Kentucky chiseled into the lead on a three-yard Johnson touchdown run, making it 17-14, which would be the score after three quarters.
Kentucky stopped Northwestern on a fourth-and-one from the UK two yard line in the fourth quarter. But on the ensuing drive, Johnson was intercepted by Kyle Quiero, who returned the pick 26 yards for a touchdown to give Northwestern a 24-14 lead.
Tavin Richardson had a big day for Kentucky, catching a career-high five passes for a career-best 89 yards. Kayaune Ross caught three passes for 67 yards in the game.