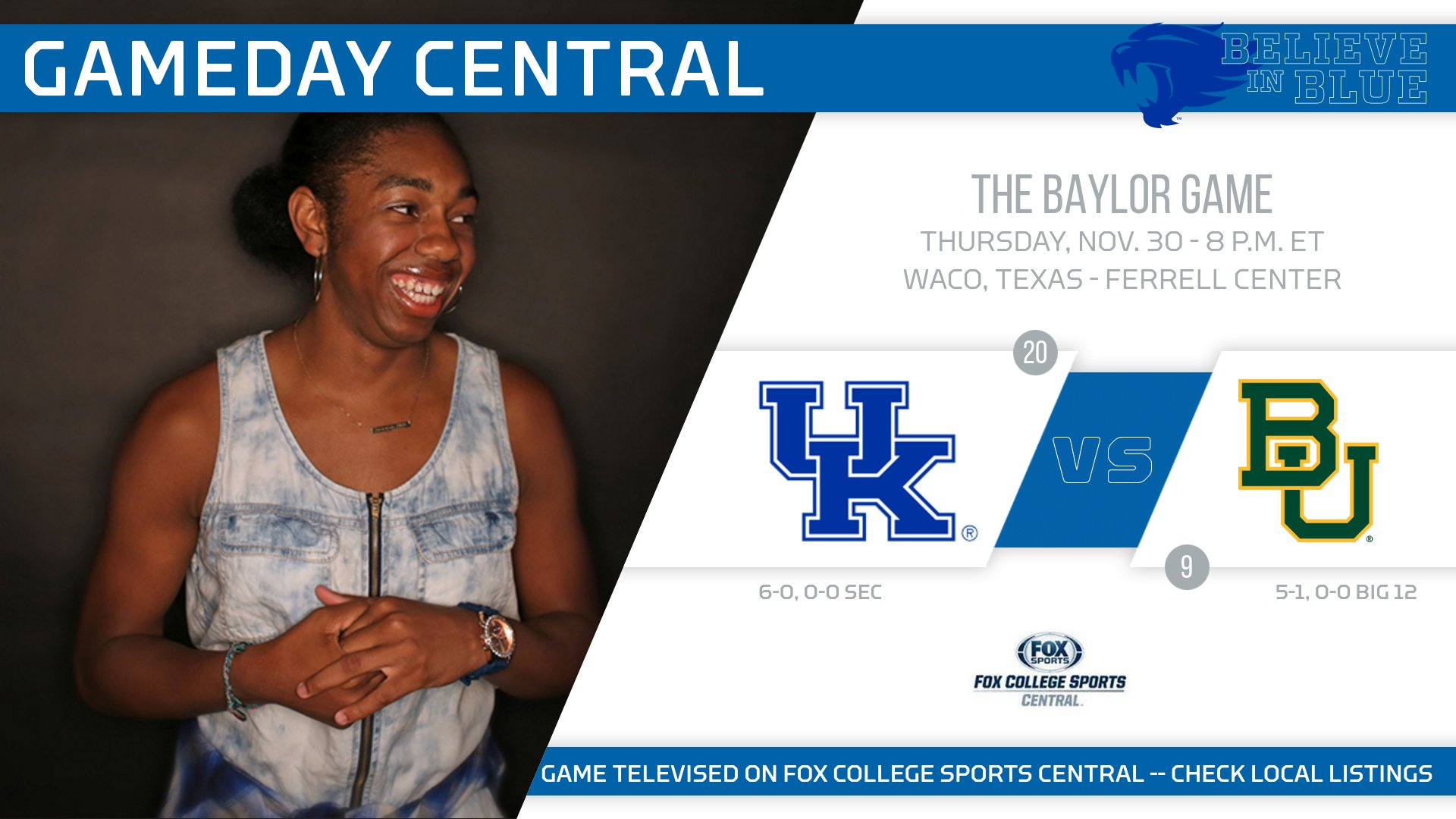 November 29, 2017 - 02:35 PM
No. 20 Kentucky Plays at No. 9 Baylor in Big 12/SEC Challenge
LEXINGTON, Ky. – The No. 20 University of Kentucky women's basketball team will face its first ranked opponent of the season Thursday when it travels to Waco, Texas to face No. 9 Baylor for an 8 p.m. ET tip inside the Ferrell Center.  
 
Thursday's game will be televised live regionally on Fox College Sports Central and streamed online at BaylorBears.com (subscription required). The game can also be heard on the UK Sports Radio Network with the Voice of Kentucky WBB Darren Headrick on the call. Fans in Lexington can hear the call on 630AM WLAP. Free audio and live stats will be available on ukathletics.com.
 
Thursday's game is part of the Big 12/SEC Challenge, which features every team from the Big 12 against 10 squads from the SEC. This is the second season in which 10 games will be played. The format consists of five home games on campus sites for each conference. Half of the contests feature at least one team that was ranked in the final 2016-17 USA Today/Coaches Top 25. In 2016, the SEC edged the Big 12, 6-4, in the first 10-game slate. Kentucky was one of the wins for the SEC, taking down No. 12 Oklahoma 82-68 inside Memorial Coliseum.
 
Kentucky (6-0) is coming off a 2-0 week with wins over Morehead State and Marshall inside Memorial Coliseum. Junior guard Maci Morris paced Kentucky in the win against the Eagles with 19 points and three assists, while senior guard Makenzie Cann posted her second career double-double with 15 points and 10 rebounds. Against Marshall, senior center Alyssa Rice shined by posting a career high 19 points with a career-high 10 rebounds for her first career double-double.
 
The Wildcats showed their defensive ability against Marshall, limiting the Thundering Herd to just 29.8 percent from the field, including zero field goals made in the fourth quarter. Kentucky outrebounded Marshall 47-22 in the game and had 18 second-chance points. The strong performance helped Kentucky rank 13th nationally and third in the SEC in scoring defense allowing just 53 points per game.
 
UK is off to a 6-0 start for the fifth time under 11th year head coach Matthew Mitchell. The strong start has helped Kentucky move into the top 25 of both national rankings. The Wildcats moved up two spots to No. 20 in the latest Associated Press Top 25, while UK moved into the USA Today/Coaches Top 25 for the first time this week at No. 22.
 
Morris is leading the Wildcats in scoring averaging 15.3 points per game with 4.5 rebounds per game and a team-best 16 made 3s. Junior guard Taylor Murray is averaging 13.5 points and 6.0 rebounds per game with a team-best 25 assists, while Cann is averaging 13 points and 6.2 rebounds per game. Rice is nearly averaging a double-double this season with 9.7 points and 8.3 rebounds per game. As a team, UK is averaging 78.7 points per game, hitting 45.6 percent from the field and outrebounding teams by 12.3 rebounds per game.
 
Baylor enters the game with a 5-1 record, sitting 3-0 at home, 0-1 on the road and 2-0 in neutral-site games. The Bears started the season with a 121-62 win over Lamar before a 100-54 win over Coppin State and 86-55 victory over Central Arkansas. Baylor's lone loss of the season was an 82-68 setback at No. 8/7 UCLA. Most recently, BU got back to its winning ways by taking down Missouri State 100-58 and Georgia Tech 80-57 as part of the Junkanoo Jam Title.
 
Junior center Kalani Brown leads the Bears this season by averaging 24.2 points per game and 10.3 rebounds per game. Brown is hitting at a .766 clip from the field this season, including 27-of-34 from the free-throw line. Sophomore forward Lauren Cox is second on the team averaging 17.4 points per game and 10.4 rebounds per game adding a team-best 18 blocks and seven steals. Senior forward Dekeiya Cohen is the only other Bear averaging double figures with 10.0 points and 7.7 rebounds per game. Sophomore guard Natalie Chou has a team-best 10 3-pointers hit this season, while senior guard Kristy Wallace paces the team with 29 assists.
 
Women's Basketball Hall of Fame member Kim Mulkey is entering her 18th season as the head coach at Baylor with 500+ victories, ranking her second among active Division I head coaches in wins. Last season, Baylor finished 33-4 overall, including 17-1 in the Big 12. The Bears advanced to the NCAA Tournament Elite Eight last March and return six returning letterwinners from that team while adding four newcomers.
 
The all-time series in games played between Kentucky and Baylor is tied 2-2. This is the first time the two teams have met since the Wildcats posted a 74-64 victory over the Bears on Nov. 17, 2014 in Rupp Arena. Baylor leads the all-time series in games played in Waco, 1-0 when it defeated UK 85-51 on Nov. 13, 2012. Baylor's second win in the series came in the 2014 Sweet 16 in South Bend, Ind., when Baylor posted a 90-72 win over the Wildcats.
 
The two teams played one of the best college basketball games ever on Dec. 6, 2013 when Kentucky posted a 133-130 overtime win over Baylor in Dallas. At the time, the 263 combined points set a new NCAA record and UK set school records for points (133), free throws made (49) and free throws attempted (66).
 
Kentucky holds a 9-8 all-time record against teams from the current alignment of Big 12. Baylor is the only Big 12 opponent the Wildcats are scheduled to play this season.
 
For more information on the Kentucky women's basketball team, visit UKathletics.com or follow @KentuckyWBB on Twitter, Instagram and Snapchat, or Kentucky Women's Basketball on Facebook.
Head Coach Matthew Mitchell Pre-Baylor News Conference
Opening Statement…
"Well, before our Baylor game, I just want to congratulate Coach (Craig) Skinner and the volleyball team on winning the SEC championship and now playing in the NCAA tournament. And what a great team they have and it is so important that people understand how big a difference that you can make playing in Memorial Coliseum. So many days, there have been so many days that a big crowd has helped us and it has helped our energy and I just hope that everyone will get out and support the volleyball team because they are an amazing group of athletes. They're a really great team and we want to see them continue to march on in the NCAA tournament. So, we really encourage all of Big Blue Nation to get out and watch our volleyball team play.
Baylor is going to be a big test for us. It is going to be a game that we need right now. It is a great time in the progression of our season to have this kind of challenge. They are extremely talented and always a hard-nosed team, always great coached. They have tremendous size, speed, athleticism and this is one of the top teams in the country. So, for us to have a chance to go down and try to earn a victory on the road is a great test for our team and one that we need right now and looking forward to continuing our preparation and going down there and playing Baylor."
On this game being a measuring stick for the national level …
"Well, this is a good measuring stick to see where we are, win or lose. We're not where we hope we are going to be. So, it is just a great opportunity to get in against an extremely talented team on the road. It's always a tough place to play, so that is the experience. How are we going to deal with teams with great size? They are a lot bigger than we are on the front line and in some of the positions, but we are going to see that in our league. We are going to see that with South Carolina. We are going to see that with Tennessee and we are going to see that other teams like Mississippi State. So, there are teams in our league that have really big and dominant front court players. So, we definitely have a plan to try to attack Baylor there, but you find out a lot about what will work and what might not. So, just the overall experience and a road win against a ranked team or really any team is like a piece of gold at any point in the season. So, a lot to play for, but the experience is going to be really great."
On Alyssa Rice this season…
"Sure. She is playing well in games. She had a really good practice yesterday. She is going to have to use her head. We can't go chest to chest. We can't face up on those big shot blockers. You've got to use your skill.  You've got to square up. You've got to use your jump hooks and your skill and your mind to overcome their physical size. We don't have anybody as big as a couple of kids on their front line. But again, Alyssa is going to have to figure that out as we move into Southeastern Conference play. So, we have a very healthy end of November and December in the non-conference to get us ready, and this is part of that schedule that we will find out what we need to do and what we need to improve and what we are doing well and hopefully we are doing more well than things we need to improve because we will have to play well. They're a good team."
On whether there are any updates on Tatyana Wyatt…
"Yes, a great update on Tatyana Wyatt. I probably should've said that right off the bat. Some of the best news I've heard. She's going to go and practice today, so that's great for our team and great for her. She clearly has the capabilities to be a real weapon for our team, so great to get her back. Tough place to reenter and play your first road game as a freshman, but it's all good. The fact that we have her back will help us and give us a boost. So glad she can get back in practice and try to get back into the swing of things. She's such a smart player. Just really intelligent. She's been in non-contact drills and I've been really, really pleased with her ability to process information and retain information and that's a huge help for a freshman. So, very intelligent player."
On what some of the freshmen can get out of a big game like this…
"Well, there's just no way you can put a price on the experience. What you do with this game, what success they have, you build on that. There's so many things they have to learn as far as how to really take advantage of what their gifts are. They have some speed, quickness, some athleticism, some explosiveness, but they've never really had to use it the way that it's required now play after play. That's the biggest area for growth, and in this game if you don't load your hips, and play explosive and play with some intelligence, you just run into shot blockers, they can do a number on you. So, just learning how to play. They will have more knowledge after the 40 minutes in Waco that they had before, and that's just exactly what this last day of November and December needs to be, just continuing to learn and get better every day. And it's the beauty of basketball, you get a game like this early in the season, if you win it, it's a feather in your cap. If you don't, you have the experience to learn from and by the end of the season nobody really remembers it. So, it's a great, great time for these young players to get in against big-time post players and see what it's all about and figure out where are their gifts and how can they shine."
On whether he does anything differently to prepare for having five games in 11 days…
"Well, I don't even think of it, so I don't do anything different. I may need to do something different since you brought it up now that it's five games in 11 days because I was just thinking we're going to play Baylor tomorrow and we'll need to practice real hard today. That's a little bit of a joke there. I really don't give a lot of thought to it. Right now, where we are it's just trying to get better every day. So certainly we're paying attention to where they are day to day physically and mentally. With the young players you can't overload them mentally either. So, you just pay attention. But right now, I think clichés are used a lot because they're so true, but we're really focused day to day and I don't give a lot of thought to five in 11. I'm not looking much further, I'm not really looking any further than tomorrow night. But we've got a day scheduled off which now puts a premium on one day of prep for Tennessee Tech. So, yeah, we have those plans, but you know, my mind is not really going to that a whole lot. It's really been, what can we do to try to simplify the game plan for Baylor to try to go down and keep it simple and do it well and try to earn a victory."