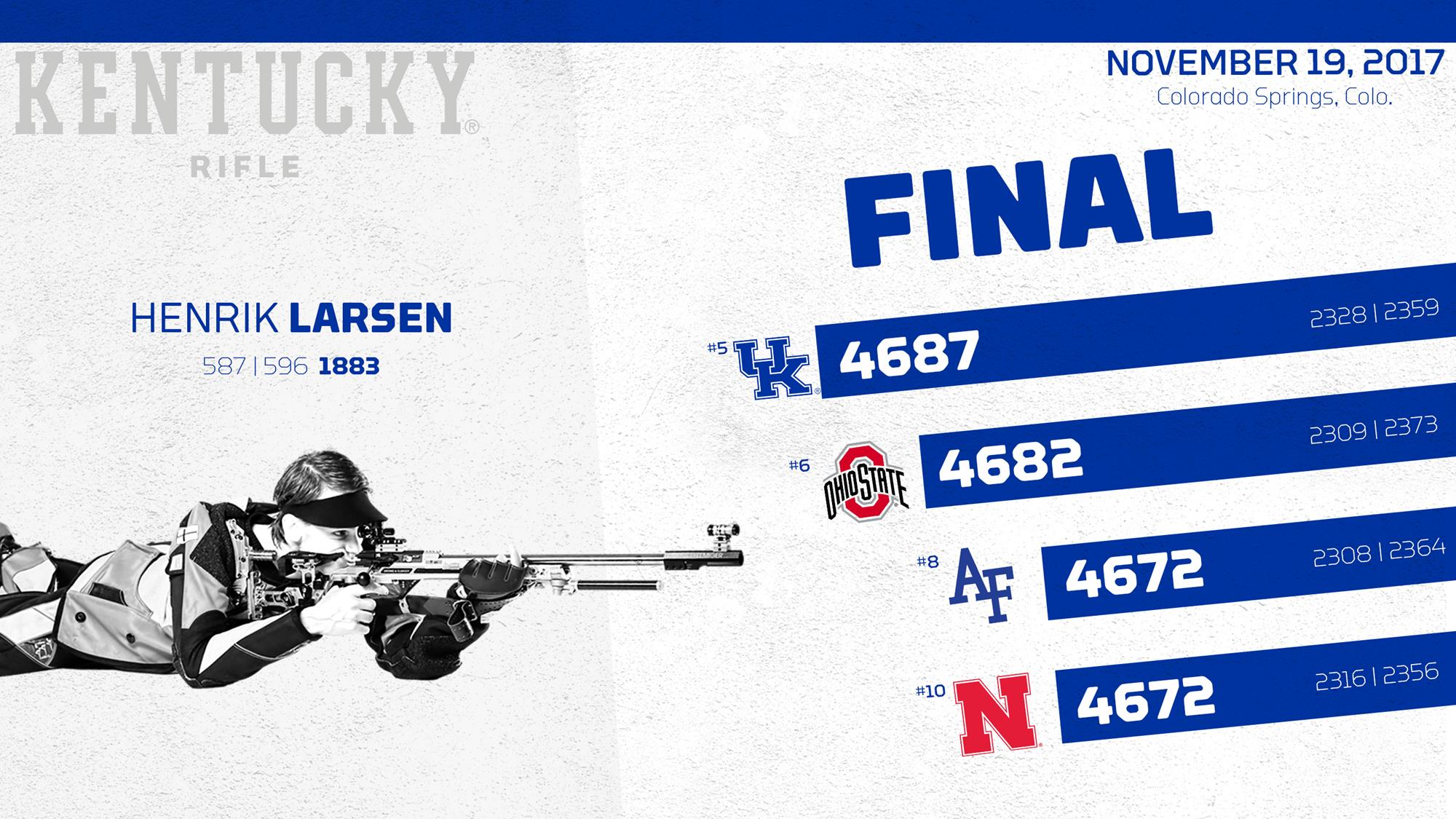 COLORADO SPRINGS, Colo. – Despite not having the greatest of performances, the fifth-ranked Kentucky rifle team wrapped up the fall portion of the 2017-18 season on Sunday with the addition of three more top-10 wins along with another conference win. The Wildcats defeated No. 6 Ohio State, No. 8 Air Force and No. 10 Nebraska for the second day in a row.
 
UK fired a 4687 aggregate, which was comprised of a 2328 in smallbore and 2359 in air rifle.
 
"The numbers were definitely not where we wanted to see them," head coach Harry Mullins said. "Shooting back-to-back matches and performance expectations were good tests for our young group. Henrik (Larsen) had a good match, and we saw some new things from one of our other freshman, Hailee Sigmon, who had a 591 in air rifle on the first day. Now that finals are approaching, it's time to get the plan settled for the spring. Coming home with some wins is always nice, but we really need to work on challenging ourselves to reach the level we desire."
 
To no surprise, Larsen capped off his fall action by finishing as the top individual with an 1183 aggregate score. He started slow for his standards with a 587 in smallbore but ramped it back up shortly after with his second 596 in air rifle this season. The freshman star has yet to drop below 595 in air rifle this season. Larsen leads the nation in both aggregate (1188.86) and smallbore (592.29) averages and ranks third in air rifle average at 596.57.
 
Senior Billy Azzinaro fired 587 in air rifle for the second time this season and shot his third-highest smallbore score (581) to finish in ninth place overall. Junior Hanna Carr finished one point behind Azzinaro at 1167, rounding out the top-10 individuals. The Versailles, Kentucky, native notched a 588 in air rifle.
 
The Wildcats finish the fall portion with a record of 20-1 overall and an undefeated 9-0 in the Great American Rifle Conference. UK will break until January 13 when they travel to West Point, New York, to take on Army in a spring conference opener.