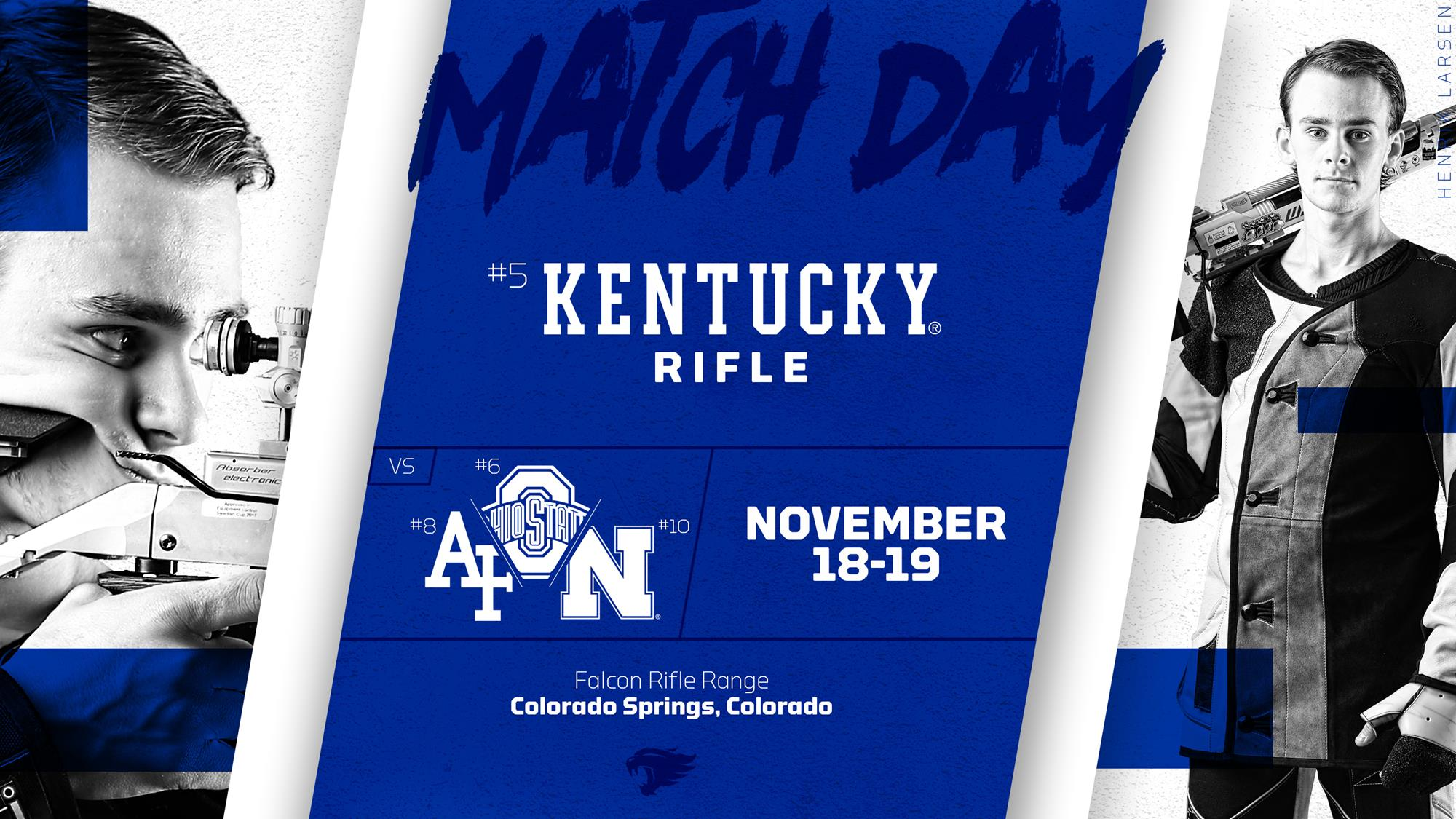 LEXINGTON, Ky. – Fresh off a week of rest, the fifth-ranked Kentucky rifle team will face three top-10 teams over the span of two days for its final contests on the fall portion of the schedule. The Wildcats travel to Colorado Springs, Colorado, to face No. 6 Ohio State, No. 8 Air Force, and No. 10 Nebraska in two separate quad-matches on Saturday and Sunday. All four of the matches' squads competed in last season's NCAA Championships. Saturday's match time is set for 10 a.m. ET inside the Falcon Rifle Range.
 
On Saturday, UK will start Billy Azzinaro, Hanna Carr, Henrik Larsen, Cathryn Papasodora, and Jason Spaude in smallbore. Freshman Hailee Sigmon will switch places with Spaude in air rifle.
 
UK takes to the range on a four-match win streak. Last time out, the Wildcats took down Ole Miss in Lexington, 4689-4664, and Henrik Larsen tied his own school record in smallbore with a 595. He finished as the top individual, as he has in every match to date, and ultimately shot another 1191 aggregate. Overall, the Wildcats have a record of 13-1 this season.
 
The Buckeyes enter this weekend's contests after firing their second-highest aggregate score of the season. OSU finished second in a tri-match with Murray State and UTEP but also had a win against UTEP in the following match. UK and OSU met twice last season with the Wildcats getting the better of the Buckeyes at the NCAA Championships, 4682-4670.
 
The Falcons, who will host this weekend, fired 4656 in a win over VMI, defeating both the Keydets' coed and women's teams. Air Force finished in eighth place at last season's NCAA Championships (4653) while UK finished in third.
 
The Wildcats faced Nebraska three times last season, once at home in the regular season and two postseason matchups at the Great American Rifle Conference Championship and the NCAA Championships. UK came out on top in the regular season (4683-4675) and at the NCAA Championships (4682-4676). The Huskers defeated Memphis in their last match by a score of 4665-4640.