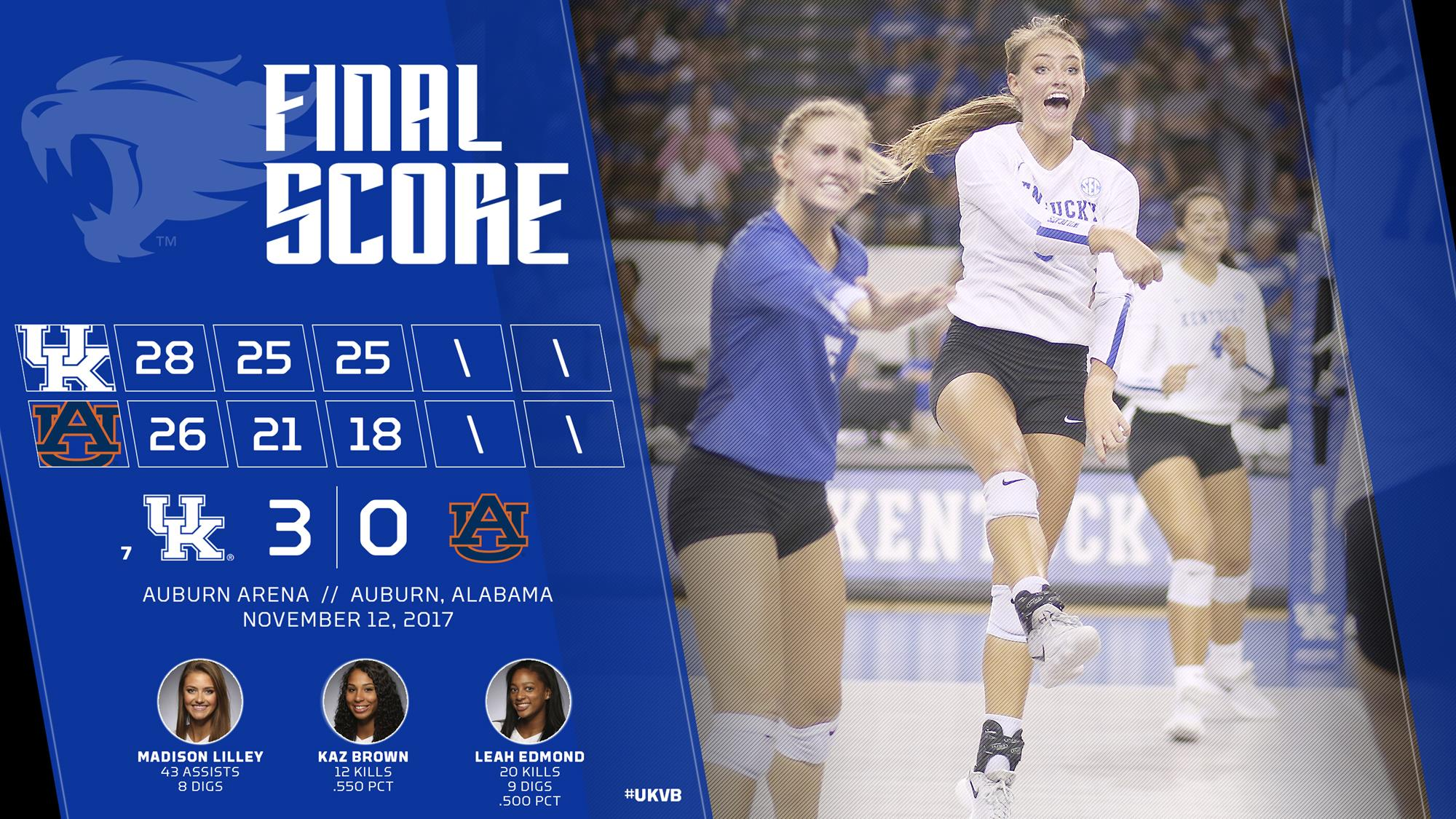 November 12, 2017 - 05:16 PM
No. 7 Kentucky Racks Up 53 Kills, Sweeps Auburn
AUBURN, Ala. – Another stellar offensive output from the No. 7 Kentucky volleyball team helped sweep Auburn, 3-0 (28-26, 25-21, 25-18) inside Auburn Arena on Sunday afternoon. Kentucky utilized a .397 attacking percentage in the win to go along with 53 kills.
 
"I was really pleased with how clean we played today," head coach Craig Skinner said. "Our serving was very good which allowed us to get a lot of transition kills. It was good to get our offense firing on all cylinders and Kaz (Brown) and Leah (Edmond) were big time today scoring points for us."
Sophomore Leah Edmond led the way for the Wildcats with 20 kills, her sixth match with 20 or more this season. Edmond committed just two errors in the win, and hit .500, her second-highest attacking percentage of the year. Senior Kaz Brown had 12 kills in the win and has now hit the double-digit mark eight times this season. Brown committed just one error on 20 swings, hitting .550. Senior Darian Mack chipped in eight kills, while classmate Emily Franklin added seven on 15 attacks and no errors. Junior Brooke Morgan had five, while freshman Madison Lilley had one.
 
Lilley directed the offense to the tune of 53 kills while averaging 14.33 assists per set. Her 43 helpers is her 13th with over 40 this season, and her second with over 40 in a three set match. The Cats hit .357 as a team, and committed just seven errors on 116 swings. Senior Ashley Dusek chipped in five assists, while Franklin had two and Edmond and freshman Gabby Curry each grabbed one.
 
Kentucky outdug the Tigers, who are second in the league in digs per set and have the league leader in that category. Senior Ashley Dusek had a match high 22 digs. Seven other Wildcats recorded at least one scoop. Edmond was one off a double-double with nine, while Lilley and junior McKenzie Watson each produced eight. Mack and Morgan had two a piece, and Franklin had one.
 
UK had six team blocks, with five of those coming in the third set. Brown had three blocks, all in the third set, while Mack, Franklin and Lilley each had two. Edmond and Morgan had one.
 
Set 1
An Auburn attacking error led to the first point for UK. Teams traded points before Auburn went on a four-point run to go up 5-2. UK stopped the run after an attacking error and a Morgan kill. Kentucky was able to tie the frame at 6-6 after another attacking error. Auburn would take an 11-7 advantage before UK called its first timeout. Mack and Edmond gave UK three kills out of the timeout to cut the AU advantage to 11-10. Play would seesaw until the Cats were down 13-12. Auburn rattled of two straight to go up 15-12, but UK responded with a five-point run, capped by a Franklin hammer, that put Kentucky up 17-15. Teams traded points all the way to 20-18, where Auburn then tied the set 20-20 and took the lead at 21-20, which forced UK to burn its second timeout. An Auburn service error allowed UK to trim the lead to 22-21, but Auburn would extend its lead to 24-21. A Brown kill and attacking error trimmed the Auburn lead to 24-23, and another attack error tied the set at 24-24. Edmond tied the set at 25-25. Auburn tied the set at 26, but UK would win on a Franklin kill and an attacking error, 28-26.
 
Set 2
Auburn scored the first four points of the set, and the run was ended by a service error. Kentucky scored two more points off of kills from Brown and Edmond to cut the lead to 4-3. AU stopped the run, but UK responded after UK won a challenge and Edmond then tied the set at 5-5. Kentucky knotted the set up at 8-8 after an Edmond ace, and play seesawed all the way to 12-11, when a Brown kill and Dusek ace gave UK a 13-12 lead. AU regained the lead at 14-13, and the Tigers led 15-14 at the media timeout. Kentucky was able to draw even at 17 after a Mack kill. Neither team could gain an advantage until UK forced an Auburn timeout at 20-19 after an attacking error. The Tigers burned another timeout at 22-20 after an Edmond kill. Auburn scored out of the timeout, but UK won 25-21 after a Lilley block and back-to-back kills from Edmond.
 
Set 3
Kentucky started the third set with two kills from Brown and one from Lilley. Auburn responded with two kills of its own. Edmond grabbed two kills after Auburn scored to go up 5-3. After Auburn had a kill, UK rattled off three straight from kills from Mack and Morgan and a Brown and Mack stuff to force Auburn to use its first timeout. Brown and Mack got another stuff out of the break to put UK with a 10-5 advantage. Auburn went on a three-point run to make the frame 10-8. A kill from Brown and a block from Brown and Lilley pushed the lead back to 12-8. Teams traded points until 14-11, when UK rattled off four straight points, capped by Franklin and Morgan block to take an 18-11 advantage. Kentucky would sustain its advantage throughout the rest of the set. Brown earned a kill to make the match 23-17. Kentucky won the set, 25-18 with a kill from Edmond.
 
Follow along with the Wildcats on Twitter, Facebook and Instagram, and on the web at UKathletics.com.