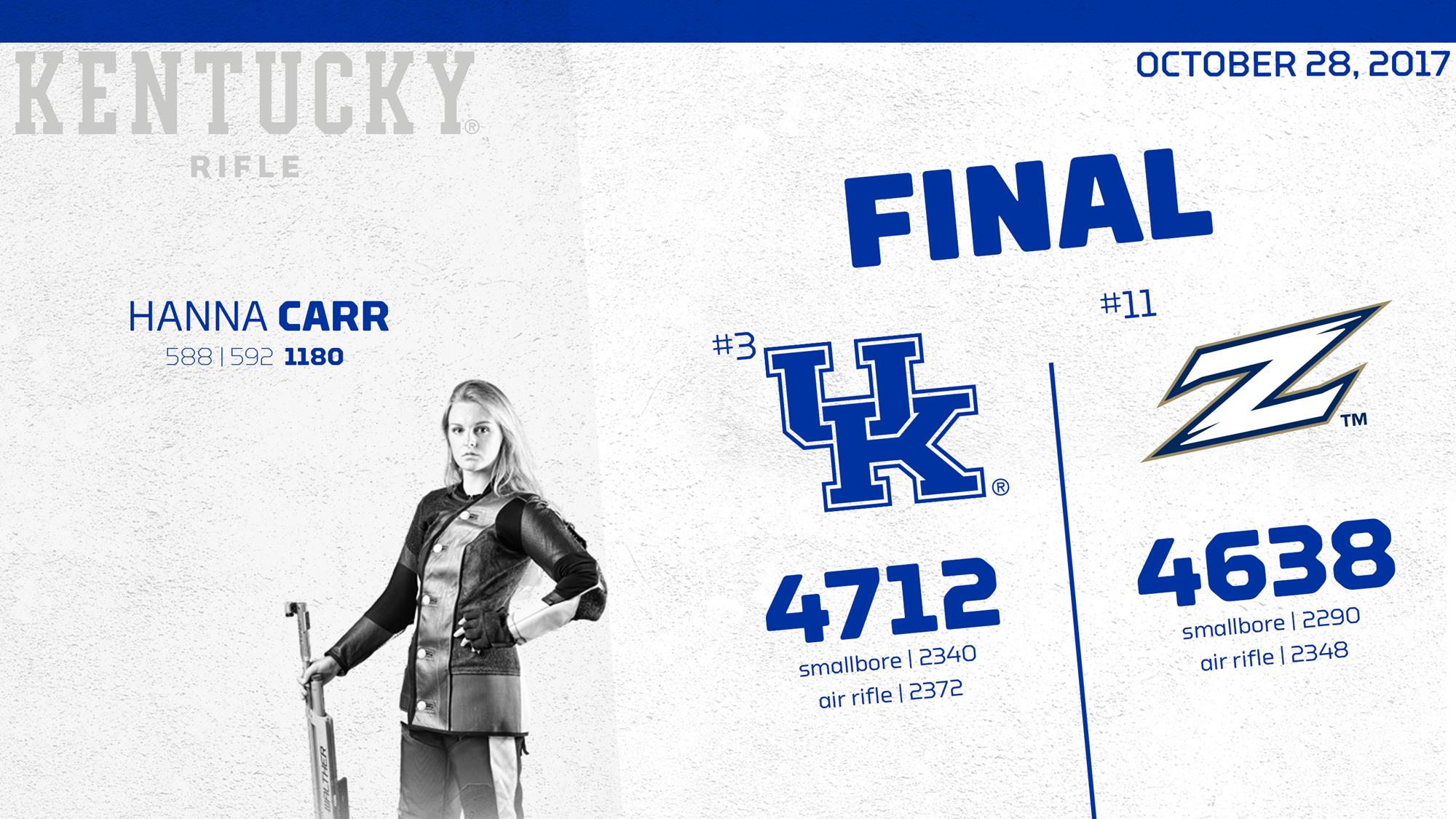 AKRON, Ohio – The third-ranked Kentucky rifle team fired its second-highest aggregate score of the season (4712) despite leaving some points on the board on its way to its third consecutive win. The Wildcats defeated the Akron Zips 4712-4638 inside the Robert A. Pinn Shooting Range on Saturday for their first head-to-head road win of the season.
 
UK posted a 2372 in air rifle and 2340 in smallbore.
 
"It's nice to get out on the road and stay consistent like we have been," head coach Harry Mullins said. "I think we left a bunch of points out there today, but if we refine a few things we'll be able to move on and get those points back. We couldn't put some points together to match the center-shot count, but we'll continue to work in training. Henrik (Larsen) and Hanna (Carr) had great performances. Overall, the group did well given that we were going out on the road in different conditions."
 
Freshman Henrik led all shooters with an 1189 aggregate comprised of his second-highest scores of the season in both air rifle (596) and smallbore (593). Hanna Carr put on her best performance of the season in smallbpre at 588, which is just two points from her season-best score from 2016-17. The Versailles, Kentucky, native followed with a solid 592 in air rifle for a 1180 aggregate. Cathryn Papasodora almost tied her career-high air rifle score like she did against Navy in the home-opening match but came up just one point short at a staunch 593. Senior Billy Azzinaro – the fourth of five Wildcats to shoot 590+ in air rifle – fired his second-highest score in the discipline at 591.
 
The Wildcats will be back in action at home on Nov. 4 when they welcome Ole Miss to Lexington.
 
For the latest on the Kentucky rifle team, follow @UKRifle on Twitter and on the web at UKathletics.com.