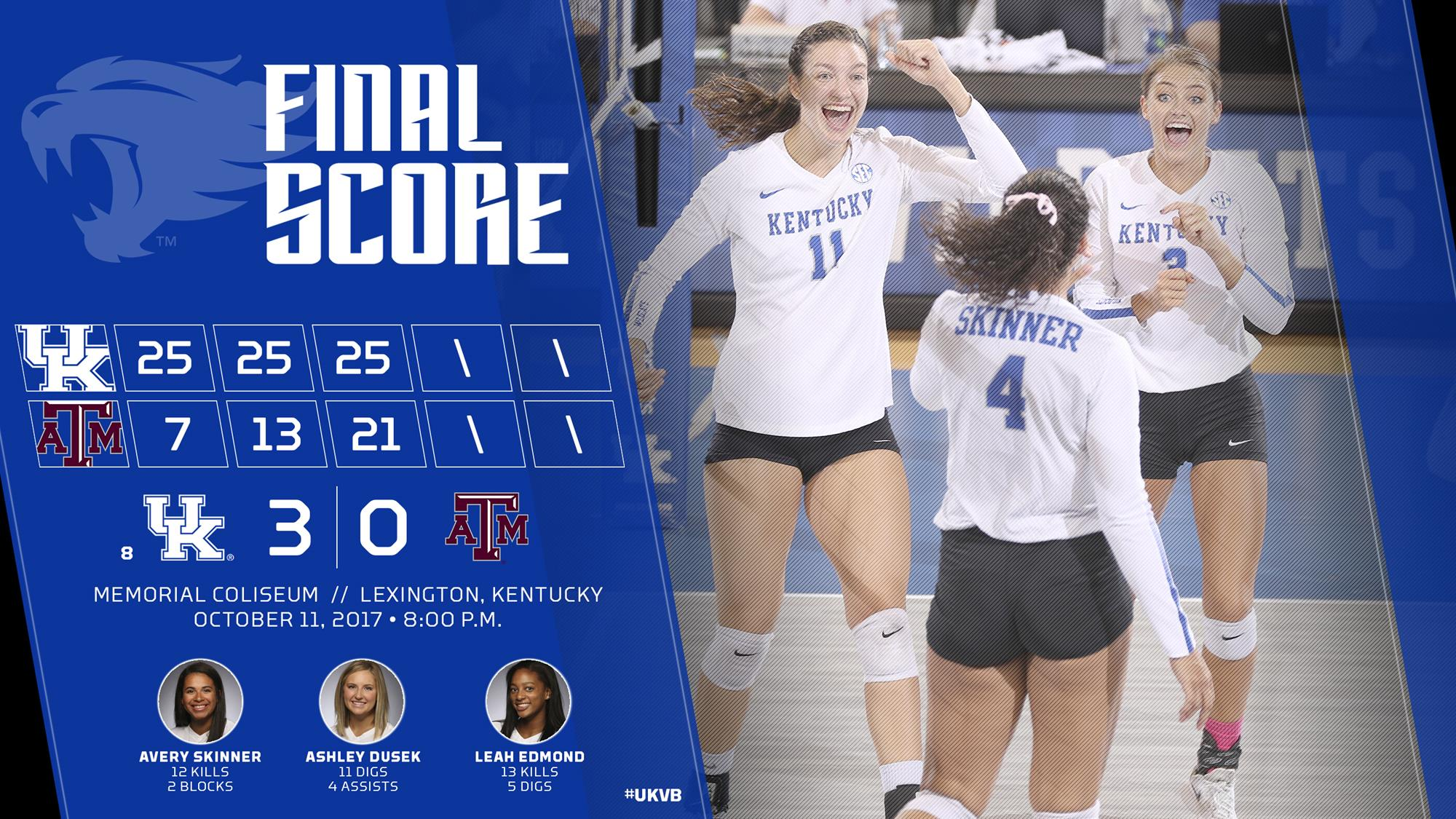 October 11, 2017 - 10:27 PM
No. 8 Kentucky Cruises to 3-0 Sweep of Visiting Texas A&M
LEXINGTON, Ky. – The No. 8 Kentucky volleyball team jumpstarted its night by utilizing a 12-0 run to begin the match to cruise to a 3-0 (25-7, 25-13, 25-21) sweep of visiting Texas A&M on Wednesday night in Memorial Coliseum. Kentucky logged a .410 hitting percentage in the match and dominated in all phases to remain perfect in Southeastern Conference play.
 
"I was very impressed with our team tonight," head coach Craig Skinner said. "It started in practice yesterday, we had really good focus in practice. To be able to execute the game plan like that right out of the gates was pretty impressive. You've got to attribute a lot of that to our leadership and keeping us focused. I thought we did a really good job of keeping focused for those three sets."
 
The win moves UK's record to 15-2 overall and 6-0 in league play. The Aggies fall to 5-8 and 2-4 in conference action. Kentucky resumes action at No. 1 Florida on Sunday. The match is set for a 1 p.m. first serve and will air on the SEC Network.
 
Kentucky dominated all phases of the match including kills (43-24), hitting percentage (.410-.075), digs (34-26), blocks (7-4) and aces (3-0) en route to a complete effort.
 
Sophomore Leah Edmond and freshman Avery Skinner both posted double-figure kill efforts. Edmond amassed 13 and Skinner added 12. Seniors Kaz Brown and Emily Franklin combined for 11, while senior Darian Mack added five.
 
Freshman setter Madison Lilley directed the offense to the tune of 43 kills on a .410 hitting percentage with 33 assists and a pair of kills. It marked the fourth time this season the Wildcats boasted a .400 hitting percentage or better.
 
"We're definitely really close off the court," Skinner said on Lilley. "I think that definitely helps on the court. I trust her, she trusts me. I think that really helps."
 
Senior Ashley Dusek had a match-high 11 digs, while freshman Gabby Curry added eight. Lilley contributed seven scoops and Edmond had five. Lilley also was serving when the team jumped out to a 12-0 lead in the first. Brown and Franklin led the way at the net with four and three rejections, respectively.
 
"We work on serving every day, so that's something we really focus on," Dusek said. "So I really tried hard to get us going."
 
Set One:
The Wildcats opened the match with Dusek at the service line and immediately put on the pressure. UK utilized an incredible 12-0 run to open the match. Within that run were four kills from Skinner, two from Franklin, two combined blocks and an ace from Dusek. Texas A&M burned through both of its timeouts during the home team's impressive stretch. Kentucky kept the pressure on and maintained a 12-point advantage throughout the frame. The lead stretched to 17 on back-to-back errors from the Aggies at 21-4. Franklin's third kill of the set was the winning point as UK cruised to a 25-7 win. The Cats posted 12 kills on a .526 hitting percentage, while limiting Texas A&M to a -.200 clip and just three kills. Skinner had five kills and hit .444 for the frame. Edmond had four digs, while Franklin led the way with a pair of blocks.
 
Set Two:
Skinner rifled a shot cross-court to score the second set's first point, but the Aggies immediately answered with a kill of their own. A back-and-forth battle ensued until the Wildcats shook loose for two straight behind a block from Edmond and Brown and an erroneous attack from the visitors. The lead swelled to three at 8-5 with a kill from Brown. Texas A&M responded with a four-point run of its own to reclaim the lead at 9-8. Kentucky wasted little time in recapturing its lead. Franklin began the string of points with a kill and then teamed up with Skinner for a block for a 12-10 edge. Kentucky took a 15-12 lead into the media timeout. Following the break, UK would score 10 of the set's final 11 points to life UK to a 25-13 win. Brown combined with Edmond and Lilley for blocks and trounced the Aggies with a pair of kills of her own to highlight the surge. Edmond had five kills and Brown four in the frame. Curry had six digs, while Brown led the way with three blocks. UK posted 15 kills on a .367 average, while the visitors managed six at a -.040 clip.
Set Three:
The Aggies began the scoring to start the third, but Skinner immediately responded with a kill to tie things at one apiece. Play seesawed all the way to the media break where UK took a one-point edge at 15-14 following an Aggie service error. But, out of the break the visitors immediately scored off of a kill to tie things up once again. Consecutive kills from Skinner enabled the Wildcats to break free for two-straight and a 17-15 lead. It was all the more room the Wildcats would need to claim a 25-21 set victory and the 3-0 sweep. UK had a .382 attacking percentage in the set and the Aggies had a match-high .314.
Follow along with the Cats on Twitter, Facebook and Instagram, and on the web at UKathletics.com.