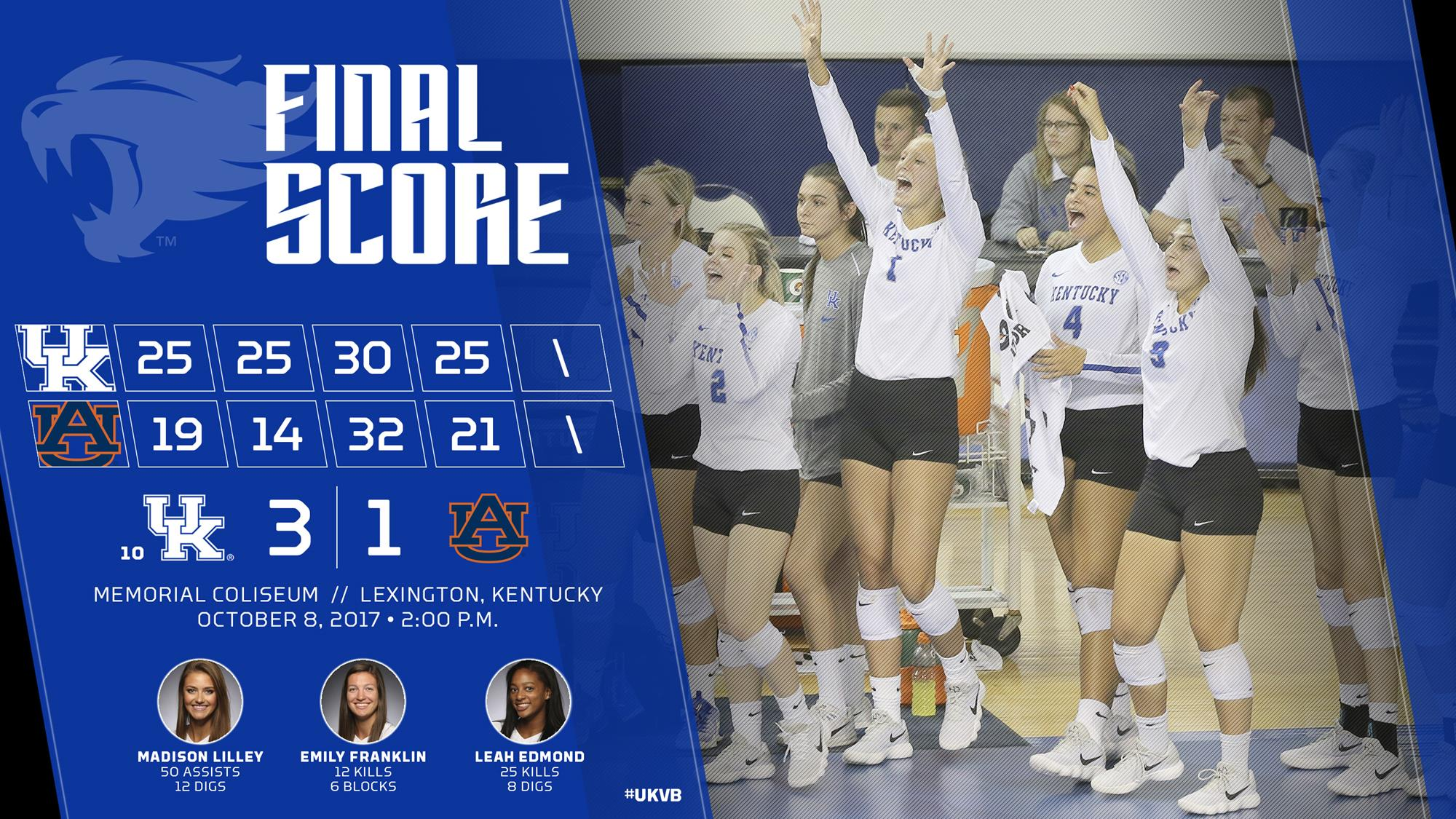 October 8, 2017 - 06:22 PM
Kentucky Prevails in Four Over Visiting Auburn
LEXINGTON, Ky. –  The No. 10 Kentucky volleyball team prevailed in four sets (25-19, 25-14, 30-32, 25-21) over visiting Auburn on Sunday in front of 2,095 fans inside Memorial Coliseum. Sophomore outside hitter Leah Edmond blasted 25 kills on a .438 hitting percentage to lead the way for the Wildcats. The kill total was one off her career high.
 
With the win, Kentucky moves to 14-2 overall on the season and 5-0 in Southeastern Conference play. Auburn falls to 11-4 and 4-2 in league competition. UK remains at home for a date with Texas A&M on Wednesday. First serve is set for 8 p.m. ET and the match will air live on the SEC Network.
 
"We expected Auburn to give us a great match," head coach Craig Skinner said. "Although you get up 2-0 like that in pretty dominating fashion, it is just never over in our sport. You just have to keep battling. I told the team before the fourth set, 'great job fighting back after being down 20-15 in the third.' I'm proud of the fight and the effort."
 
Edmond paved the way for the Wildcats, but consistency continues to be the x-factor for UK. Freshman
Madison Lilley registered her second double-double in as many matches with 50 assists and 12 digs. Lilley now has seven double-doubles this season. Lilley helped Kentucky's offense tally 66 kills on a .361 hitting percentage, while UK limited Auburn to a .183 attacking clip. The Tigers hit negative during the second stanza.
 
"I just completely forgot about Friday's game," Edmond said. "Today was a new game and a new opportunity. So I just focused on the basics, like swinging high and getting my feet to the ball. It worked out for me."
 
Senior Emily Franklin followed a breakout performance on Friday with 12 more kills on .476 hitting and a match-high six blocks against the Tigers. Franklin had 26 kills in both matches this weekend and 11 total blocks. Senior Kaz Brown added nine kills on .444 hitting and tied Franklin with six blocks.
 
"The chemistry is really good and we're really lucky that, regardless of the age or position, we're all really close," Brown said. "You can see that when we're playing and it's really something special to be a part of."
 
Freshman Avery Skinner had nine kills, four blocks and three digs. Senior Darian Mack chipped in with five kills, while junior Brooke Morgan and junior McKenzie Watson each logged a kill. Watson's was the first of the season and third of her career.
 
Defensively, senior Ashley Dusek produced a team-high 18 digs. Freshman Gabby Curry had an SEC-high 15 scoops. Junior McKenzie Watson logged nine, while Edmond chipped in with eight.
 
Kentucky's offense tallied 66 kills on a .361 hitting percentage, while UK limited Auburn to a .183 attacking clip. The Tigers hit negative during the second stanza.
 
Set 1
Kentucky grabbed the first three points of the set after kills from Franklin and Edmond and a block from Brown and Edmond. UK ended up starting on an 8-1 run. Auburn cut the lead to 9-5, but UK had two points on a service error and Franklin kill to up 11-5. Play seesawed until the Cats went up 16-8 after an Edmond termination. At 17-11, Watson showed her hustle and earned her first kill of the season and third of her career. The Tigers got the lead down to 18-14, forcing a UK timeout. Kentucky pushed the advantage back to 21-15 after a triple Big Blue Block from Skinner, Mack and Franklin. Play would rock back-and-forth until UK won 25-19 on a service error.
 
Set 2
The Wildcats started the set on a four-point run, capped by an Edmond termination. Auburn responded with two points, and then play seesawed. Kentucky extended its lead to 9-4 with a block from Skinner and Brown. Kentucky went up 13-6 after a kills from Lilley and Franklin. Auburn got the lead down 14-9. But UK pushed back with a four-point run, capped by a Franklin ace take a 18-9 advantage. Kentucky went on a 4-1 run to go up 24-13 and won with a kill from Lilley.
 
Set 3
Kentucky won the first point in what would be a back-and-forth set with a kill from Franklin. UK would go up 3-1 with a termination from Brown. Auburn tied the set at 3-3, but UK went 5-3 after a block from Brown and Skinner. Play seesawed until Auburn went on a four point run at 13-11, to take a 15-13 advantage. Auburn would go up 20-15, but a six point swing, gabbed by an attacking error, would give Kentucky a 21-20 advantage. The Tigers earned the lead at 22-21. Neither team took a significant advantage until UK went up 25-24 for match point after a block from Brown and Lilley. Auburn survived match point. UK had match point at 29-28 and 30-29, but Auburn would rattle off three-straight points to win 32-30.
 
Set 4
Kentucky took the first three points of the set after two kills from Franklin and a kill from Edmond. Play would then rock back-and-forth until 6-4, when UK rattled off four straight points. Franklin grabbed two blocks and Lilley one in the run. After trading points, Auburn put up five-straight points to pull within one at 11-10. Auburn took the lead at 14-13. Auburn would have the lead again at 17-16, but UK would put up four-straight points, capped by a Skinner hammer, and not look back. Kentucky won the set 25-21 after a Brown kill, helped by Lilley.
 
Follow along with the Cats on Twitter, Facebook and Instagram, and on the web at UKathletics.com.