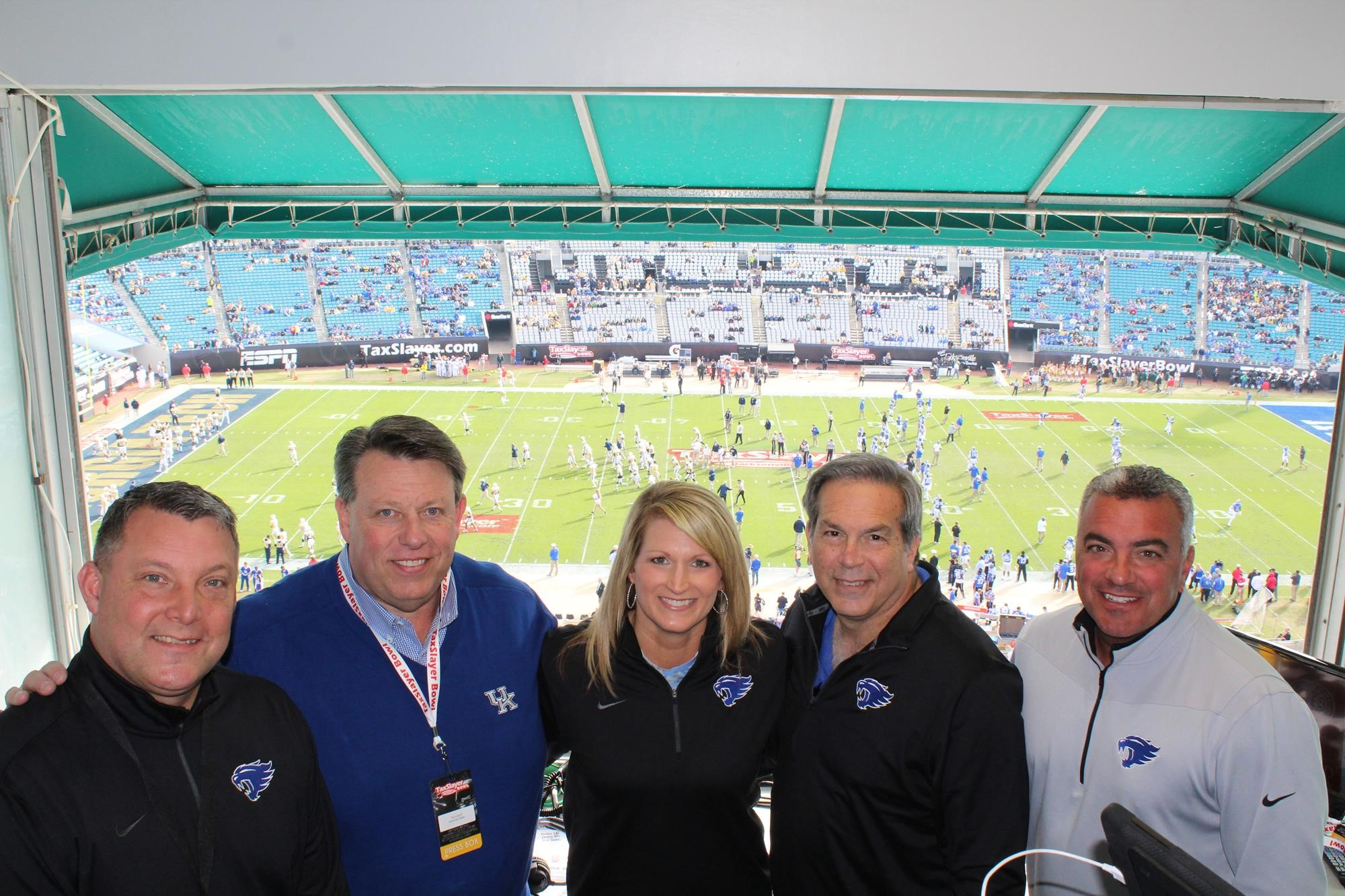 LEXINGTON, Ky. – The UK Sports Network announced its coverage for the 2017 Kentucky football season, which will be headlined by the radio broadcast featuring play by play from Tom Leach, the Voice of the Wildcats, and color commentary from Jeff Piecoro.
 
The radio broadcast will air throughout the state on UK Sports Network affiliates and will also feature sideline reporter Dick Gabriel. Joining Gabriel on the sidelines for UK's seven games at Kroger Field will be Freddie Maggard. Maggard will also provide in-game video sideline analysis for UK's home games on @UKSportsNetwork on Twitter. Chris Labar is the new studio host for UK football. He will keep fans updated with the Central Bank SEC Scoreboard and provide additional on-air support.
 
Maggard will serve as the analyst on the Texas Roadhouse Countdown to Kickoff alongside host Christi Thomas. The Countdown to Kickoff show will air starting two hours prior to kickoff. For home games, the show will air live from in front of Nutter Field House outside gate 1 of Kroger Field with special guests and giveaways. The set of the show is conveniently located near the Coke Fan Zone in Nutter Field House and the Cat Walk presented by Chevy.
 
For the first time, the Texas Roadhouse Countdown to Kickoff will go on the road and broadcast live from select Kroger locations in Kentucky.
 
Sept. 2 (Southern Miss) – 4101 Tates Creek Road, Lexington
Sept. 16 (South Carolina) – 3101 Richmond Road, Lexington
Oct. 21 (Mississippi State) – 300 Brighton Park Boulevard, Frankfort
Nov. 11 (Vanderbilt) – 212 Kroger Way, Versailles
Nov. 18 (Georgia) – 3175 Beaumont Circle, Lexington
 
Postgame, Gabriel will host Wildcat Wrap-Up. The show will feature continued analysis from Leach, Piecoro and Maggard, as well as comments from Mark Stoops.
 
In addition to coverage on game day, the Paul Miller Ford Mark Stoops Radio Show will air each Monday night during the season from 6-7 p.m. The only exception is on Nov. 21, when the show will air on Tuesday.
 
The Mark Stoops Show will also return to television on Sunday. It will air on WKYT in Lexington at 11:30 a.m. and on Fox Sports South at noon. Check local listings for times and affiliates in your area.
 
Season tickets are available at UKFootballTix.com for $310 apiece with corresponding K Fund donations attached. Fans can secure the best seat locations and year-round benefits by purchasing a season ticket package. Fans are able to use the Kentucky Football Virtual Venue to view and compare available seat locations and see a 360-degree virtual view from the seats inside Kroger Field. The Virtual Venue has been updated to reflect the installation of nearly 6,000 new bench-back seats in the upper level for the 2017 season. Payment plans are available for new purchases.
Public season-ticket packages in Sections 201-203 and 209-211 are $240 apiece. Fans can view a seating chart with the various pricing levels here. Limited quantities of the Kentucky Football Pocket Pass will also return for the 2017 season, which includes a mobile ticket to all seven home games for a discounted price of $205 while supplies last. 
The Wildcats will open the 2017 season with a game at Southern Miss on Sept. 2 and make their home debut on Sept. 9 vs. Eastern Kentucky University.
 
For more information on the Kentucky football team, follow @UKFootball on Twitter and Instagram, or like Kentucky Football on Facebook.