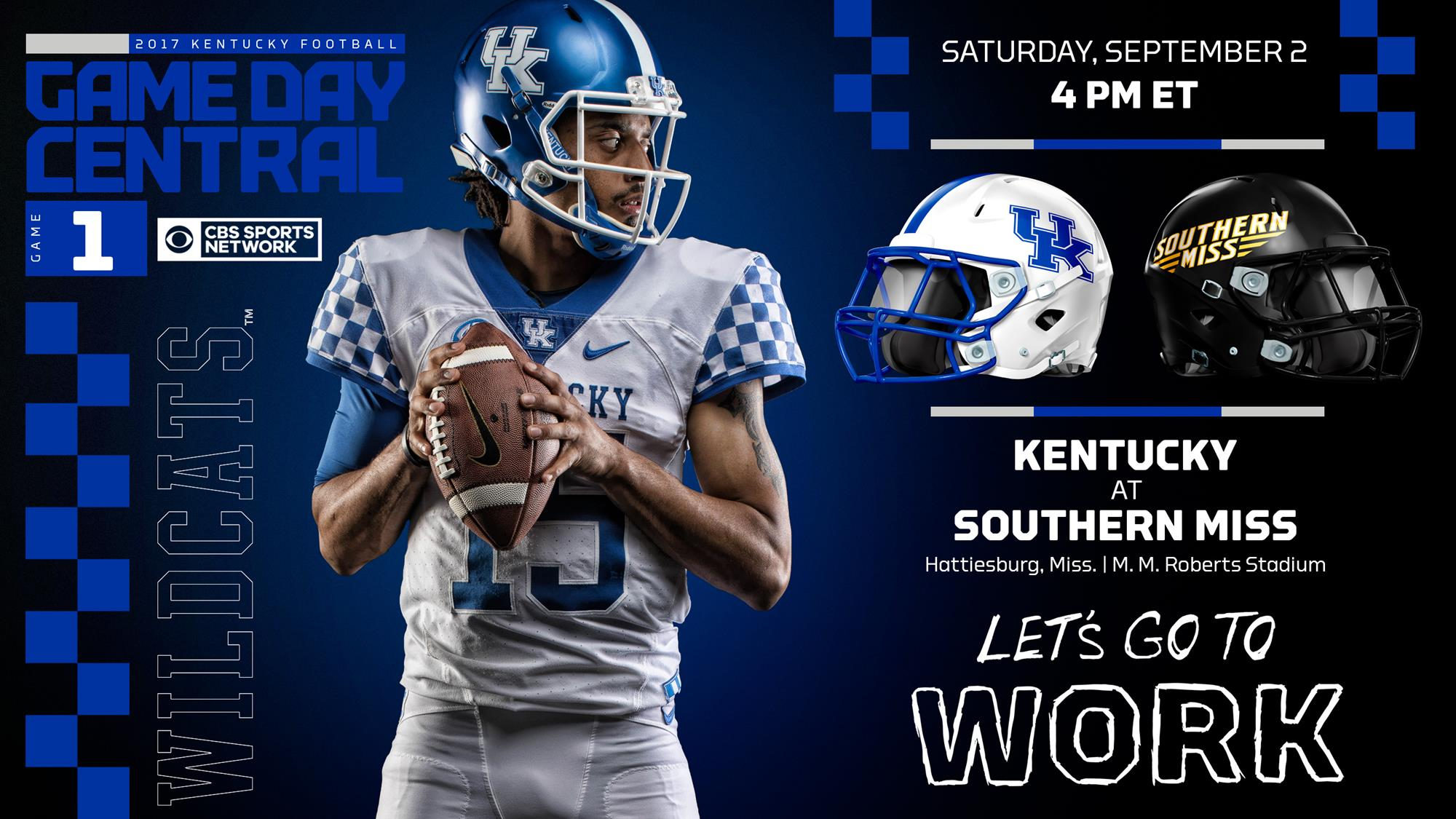 Coming off a winning season and bowl appearance for the first time since 2010 the Kentucky Football team looks to continue the momentum as it travels to Southern Miss to open the 2017 season on Saturday. It is the first time the Wildcats have played their season opener outside of Lexington since taking on Western Kentucky in Nashville in 2013.
 
Kentucky vs. Southern Miss
Sat., Sept. 2 – 4 p.m. ET
M.M. Roberts Stadium
Hattiesburg, Miss.
Game Notes: UK | USM
Digital Gameday Program
Coverage

TV: CBS Sports Network
Radio: UK Sports Network
Live Audio
Live Pregame Video
Live Stats
Text Updates

UK
2016 Team Stats
USM
7-6
2016 Record
7-6
4-4
Conference Record
4-4
30.0
Scoring/game
32.8
420.2
Total offense/game
472.8
234.2
Rushing yards/game
174.5
186.1
Passing yards/game
298.2
22.1
Kickoff returns (avg)
17.8
8.2
Punt returns (avg)
9.3
38.3
Punting (avg)
43.9
29:51
Time of possession/game
33:27
39.1%
Third down conversion
41.0%
75.0%
Fourth down conversion
63.0%
31.3
Points allowed/game
29.5
434.2
Total yards allowed/game
324.8
228.2
Rush yards allowed/game
149.9
206.1
Pass yards allowed/game
174.9

The Cats are 7-3 over their past 10 regular season games, including a win at No. 11 Louisville to reclaim the Governor's Cup and put an exclamation point on a remarkable turnaround after an 0-2 start to the 2016 season. Now entering coach Mark Stoops' fifth year at the helm of the program the Cats boast a deep and experienced roster as he continues to build toward sustained success.
The opener will kick off at 4 p.m. at Roberts Stadium and air on CBS Sports Network.
Cat Scratches: Opener about Much More Than Revenge for UK

A year later, the wounds are still fresh.
 
Ask Mark Stoops about Kentucky's season-opening loss to Southern Miss last season and you'll find out.
 
"It disgusts me," Stoops said on his call-in show Monday.
 
Benny Snell didn't play in the game, but he remembers well what it was like to be on the sideline as UK's 35-10 lead evaporated en route to a 44-35 defeat.
Scouting Southern Miss

• Southern Miss is coming off a 2016 season that saw the Golden Eagles go 7-6 overall, including 4-4 in C-USA. The Golden Eagles went on to earn a bid in the R + L Carriers New Orleans Bowl, capturing a 28-21 victory over the Ragin' Cajuns of Louisiana-Lafayette.
• Head coach Jay Hopson is entering his second season with the Golden Eagles. In his first year directing the program, Hopson started the season by leading the Golden Eagles to their first victory over an opponent in the Southeastern Conference since 1990, rallying a 44-35 win at Kentucky, and leading the team to its second-straight bowl appearance and 24th overall. 
• In 2016, the Golden Eagles delivered on both sides of the ball. Southern Miss averaged 32.8 points per game and limited opponents to 29.5 points per game. Southern Miss returns its top rusher from a season ago in Ito Smith. Smith rushed an average of 112.2 yards per game; finished last season three rushing touchdowns shy of the school record, and is No. 3 in the league for career all-purpose yards.
• Defensively, Southern Miss lost some key pieces from a season ago, including D'Nerius Antoine, who led the team with 86 tackles. Returning is defensive back Picasso Nelson Jr. who was third on the team in tackles with 48 and finished tied for the team lead with two interceptions.
Series Record vs. USM

• Saturday will mark the fourth all-time meeting between the two schools, the first in Hattiesburg.
• UK holds a 2-1 all-time record against Southern Miss, defeating the Golden Eagles 71-7 in the first-ever meeting in 1949 before taking down USM 32-0 in 1986. The Cats fell to the Golden Eagles last season in Lexington, 44-35.
• Saturday will mark the third time in the series that the two teams have met to open a season.
Kentucky-Southern Miss Ties
• Southern Miss offensive coordinator/ quarterbacks coach Shannon Dawson held the same title at Kentucky in 2015.
• Southern Miss does not have any players from the Commonwealth of Kentucky, while Kentucky has just one player on its roster from the state of Mississippi in Jervontius "Bunchy" Stallings of McComb.
Johnson & Johnson

• Explosive senior wide receiver Garrett "Juice" Johnson found a connection with quarterback Stephen Johnson, hooking up for three touchdowns of 40 yards or more over the final two games of 2016.
• Juice hauled in a 75-yard bomb on the Wildcats' first play from scrimmage in the 41-38 upset victory at Louisville. He later added a 63-yarder that looked nearly identical to the first score, as he got behind the Cardinals' defense.
• Juice led the 2016 team with 39 catches for 585 yards and a team-high five touchdowns on the season.
• For his career, Juice has five catches of 40-plus yards.
• Twenty letter winners return on offense from the 2016 season, including eight primary starters.
• Kentucky went through a remarkable transformation a year ago under new offensive coordinator Eddie Gran. Leaning more toward the passing game at the beginning of the season, an injury to the starting quarterback and the emergence of an outstanding freshman running back led Gran to remodel the attack.
• The result was 3,044 rushing yards, second-most in school history; 5.4 yards per carry, shattering the school record by a wide margin; and a pair of 1,000-yard rushers, first time in school history that had been accomplished in one season. And, the record-breaking ground game set up an entertaining big-play passing offense that featured 14 completions of 40 or more yards, 10 of which went for touchdowns. Kentucky scored at least 35 points seven times in 2016, the most since the 2007 season (nine).
• With two veteran quarterbacks, a 1,000-yard rusher, two career 1,000-yard receivers and four starters returning in the line, the UK offense should have balanced firepower again in the coming season.
Where to Watch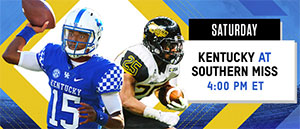 Saturday's game is on CBS Sports Network, which can be found on DIRECTV (channel 221), DISH Network (channel 158) and Spectrum cable (channel 531) in Lexington. To find out TV listings for a particular area, please visit the CBS Sports Network Channel Finder.
Texas Roadhouse Countdown to Kickoff Show

The Countdown to Kickoff show will air starting two hours prior to kickoff. Freddie Maggard will serve as the analyst on the Texas Roadhouse Countdown to Kickoff alongside host Christi Thomas. For home games, the show will air live from in front of Nutter Field House outside gate 1 of Kroger Field with special guests and giveaways. The set of the show is conveniently located near the Coke Fan Zone in Nutter Field House and the Cat Walk presented by Chevy.
For the first time, the Texas Roadhouse Countdown to Kickoff will go on the road and broadcast live from select Kroger locations in Kentucky.
Sept. 2 (Southern Miss) – 4101 Tates Creek Road, Lexington (Watch Live)
Sept. 16 (South Carolina) – 3101 Richmond Road, Lexington
Oct. 21 (Mississippi State) – 300 Brighton Park Boulevard, Frankfort
Nov. 11 (Vanderbilt) – 212 Kroger Way, Versailles
Nov. 18 (Georgia) – 3175 Beaumont Circle, Lexington