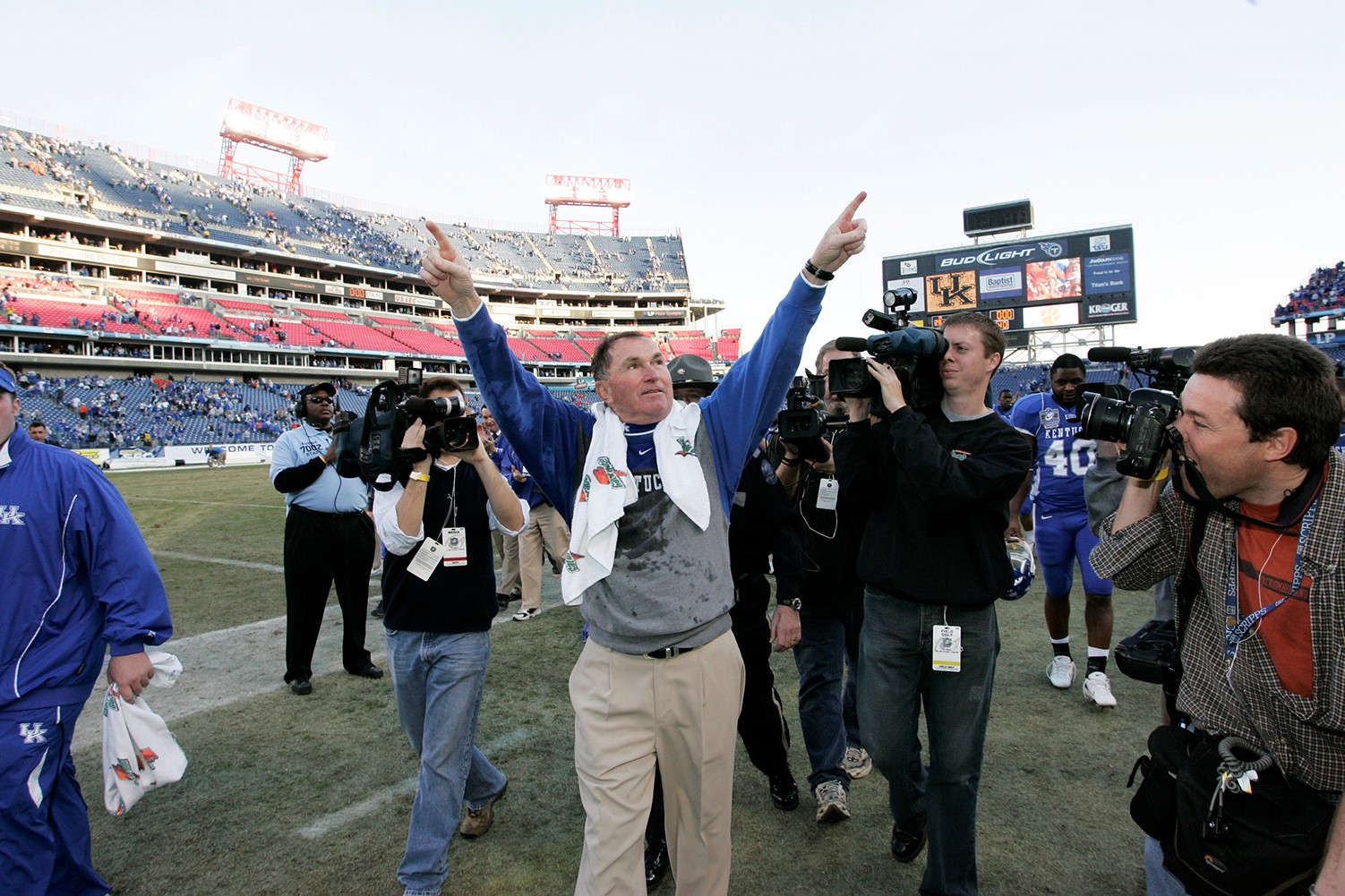 Buy the Kentucky Football Yearbook at Kroger Field and at Kroger Stories across the state or by clicking this link
What if I told you that in one season the Kentucky Wildcats were ranked in the top 10 of the first BCS poll, defeated their arch enemy Louisville Cardinals in dramatic fashion, beat the number one ranked team in America, and topped legendary coach Bobby Bowden and his Florida State Seminoles in a bowl game? All that and more describes the amazing story of resilience and determination of the 2007 Kentucky Wildcat football team.
Coach Rich Brooks had led a young yet coachable team to a bowl win over Clemson a year prior. During that 2006 season a trip to Baton Rouge can be best described as a singular moment of clarity as LSU pasted the Wildcats 49-0 to give Kentucky a 3-4 record heading into the final portion of its schedule. A great deal of soul searching and governance followed as did four consecutive wins. After three years of diligence, Coach Rich Brooks had painstakingly built a football program in his own image; tough, determined, disciplined, and passionate.
The Leaders
Leaders on the 2007 team were plentiful and powerful. The Cats were headed offensively by five in-state players that were catalysts of an offense that averaged 36.5 points and 443 yards per game. Boyle County product Jacob Tamme was the consummate Wildcat and frequent target of former North Hardin quarterback Andre Woodson. Another of Woodson's primary targets was Louisville Manual's Keenan Burton. Offensive linemen Zipp Duncan of Elizabethtown and St. Xavier's Justin Jeffries opened running lanes for one of the most prolific offensive seasons in Kentucky history.
Voice of the Wildcats Tom Leach, "That team (2007) was arguably the best offense in the SEC. NFL talent at receiver, tight end, quarterback, and running back. Anytime you're the best in anything in the SEC, that's saying something. Bad luck with injuries kept their record from being as good as it could have been."
The defense was energized by a pair of LaGrange, Georgia High School linebackers: Wesley Woodyard and Braxton Kelley. The pair were the heart and soul of a defense that at times bent but did not break at key moments of the season. In-state defensive linemen Corey Peters (Louisville Central) and Myron Pryor (Louisville Eastern) were joined by Jeremy Jarmon to spearhead a defensive line comprised of future professionals that put tremendous pressure on opposing quarterbacks. The secondary was equally as imposing as cornerback Trevard Lindley was regarded as one of the SEC's top shutdown defenders.
UK Sports Network sideline reporter Dick Gabriel, "The veterans on that team had been through a lot, including a period where they thought their head coach was going to be fired (in 2005). They rallied behind Rich Brooks and I think that brought them all closer together."
THE TROPHIES

The Governor's Cup;
Kentucky 40, Louisville 34
"Stevie Got Loose" is a phrase that is familiar within the Big Blue Nation. QB Andre Woodson threw a 57-yard touchdown pass to WR Stevie Johnson with 28 seconds remaining in the game as Kentucky beat the ninth ranked Cardinals at Kroger Field. The Governor's Cup win was UK's first victory over a top-10 team in nearly 30 years and ended a four-year losing streak to its arch rivals. The Cats were paced by their Heisman Trophy contending quarterback's 30 pass completions for 275 yards and four touchdowns. WR Keenan Burton caught 9 passes for 99 yards.
Music City Bowl;
Kentucky 35, Florida State 28
Both the Wildcats and Seminoles entered the bowl game with a 7-5 record. Kentucky had been ranked as high as eighth, FSU peaked at 19th. Kentucky was the first team to crack the scoreboard after Andre Woodson completed a 14-yard touchdown pass to TE Jacob Tamme. Florida State's Tony Carter's pick-six ended the first half with the score knotted up at 14. The second half started much like the first with a Woodson touchdown pass and UK jumped out to a 28-14 lead. FSU scored late, but Kentucky prevailed over legendary coach Bobby Bowden 35-28. 
In typical bowl game fashion, the Big Blue Nation traveled in hordes to Nashville as the official attendance was announced at 68,661, a Music City Bowl record at the time. For the second consecutive Music City Bowl, Andre Woodson was the MVP after throwing four touchdown passes. Rafael Little paced the Cats on the ground with 152 yards. UK's victory marked the first time it had won backto- back bowl games since 1952.
BEAT THE CHAMPS

Kentucky 43, LSU 37
The 17th ranked Kentucky Wildcats upset top-ranked LSU 43-37 in front of a sold-out and rambunctious Kroger Field. The victory was the Cats' first win over a No. 1-ranked team since 1964.
LSU led 27-14 late in the fourth quarter but could not hold off the determined home team. The game eventually went into three overtimes when linebacker Braxton Kelley stopped Charles Scott to end the Tigers' final drive of the game. Kentucky fans stormed the field and the celebration extended well into the evening and remains one of the most endearing moments in program history. LSU went on to win the national championship.
The Cats were led by quarterback Andre Woodson's 250 yards through the air.
UK Sports Network sideline reporter Dick Gabriel, "With about seven minutes left in the game, LSU was up three with the ball and I remember thinking, they could grind up the clock, score a touchdown and win or at least kick a field goal and force UK to scramble at the end. But they got cute, tried to throw it down the field and Trevard Lindley picked it off. (He might own the two biggest INTs in modern UK football history – that one, and the one that clinched the upset win over Georgia the year before.) When Kentucky scored right away I thought all the momentum had shifted. But it was funny – going into that game, even knowing how good LSU was, Kentucky was playing its best football so it didn't seem so shocking that UK was able to hang with LSU that day."
The Coach

Rich Brooks was named the Kentucky head football coach in 2003 with little fanfare. Brooks had built Oregon into a perennial Rose Bowl contender and is considered the constructor of the Duck football foundation. He became the head coach of the St. Louis Rams then defensive coordinator for the Atlanta Falcons prior to taking on the task of rebuilding the University of Kentucky Wildcat football team.
Brooks meticulously fashioned the Wildcat program. Universally respected by his players, Brooks' first three teams' records were 4-8, 2-9, and 3-8. His last four went 8-5, 8-5, 7-6, and 7-6. Kentucky's four-year bowl game stretch included three consecutive postseason wins which included back-to-back Music City victories and a win in the Liberty Bowl. The lovable coach retired in 2009 but not before winning the hearts of the Big Blue Nation and bringing respect back to the Kentucky Football program.
The University will honor the 2007 team 10 years after the magical season that included leaders, trophies, and a treasured coach.
Similarities between 2007 and 2017

Head Coach: Rich Brooks' record after four years at the University of Kentucky was 17-30. Mark Stoops is 19-30 after the same amount of time. Both led their teams to bowl games in year four. Brooks' teams matched his fiery personality. Stoops has done the same as the 2017 Wildcats have that Youngstown, Ohio, personality of being a hard-working, blue collar football team.
 
Linebackers: The 2007 team's defense was led by a pair of LaGrange High School teammates in Braxton Kelley and Wesley Woodyard. Woodyard was the Cats' leading tackler; Kelley was the thumper of the two. Fast forward to 2017, Youngstown Cardinal Mooney High School's Jordan Jones and Courtney Love man the middle of the line of scrimmage. Jones is the SEC's leading returning tackler; Love is the thumper of the two.
Cornerback: Trevard Lindley was Brooks' shutdown corner. Mark Stoops has Derrick Baity.
Tight End: Fan favorite Jacob Tamme had 45 catches and one touchdown in his first two seasons in Lexington. 2017 will feature another popular tight end in C.J. Conrad who had totaled 34 receptions and four touchdowns in his first two seasons as a Wildcat.
Enthusiasm: The 2007 team won over the fan base and expectation in Lexington sky-rocketed. A consistent winner was being established. 2017 is arguably the most anticipated season since 2007.
I can see the same fight and determination in Stoops' teams as I did in Brooks'. Both have built programs through hard work, tenacity, and passion. Kentucky opens the season at Southern Miss on September 2.