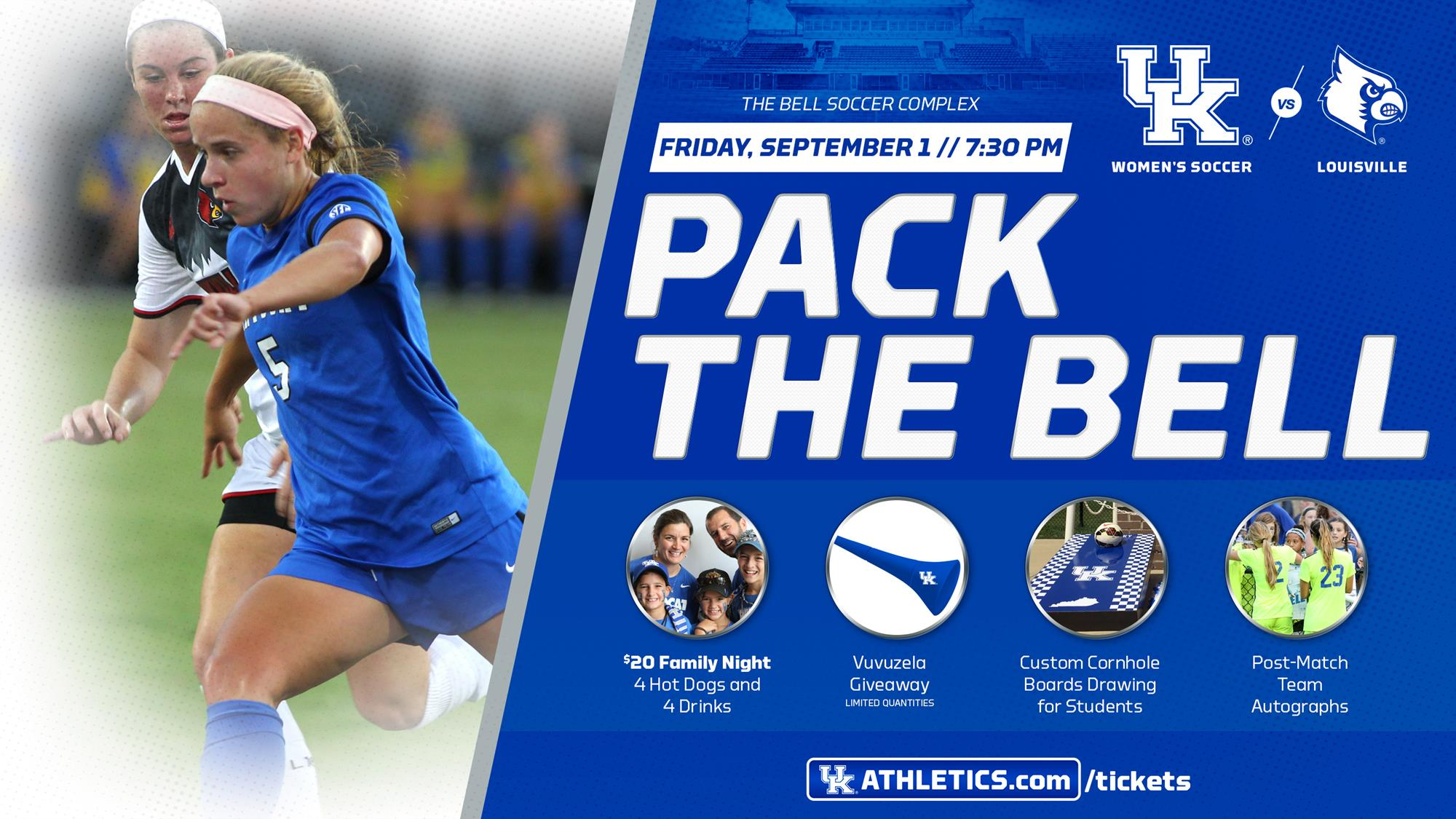 August 30, 2017 - 10:43 AM
Kentucky Hosts "Battle of the Bluegrass" on Friday at The Bell
LEXINGTON, Ky. – After picking up its first two wins of the 2017 season and the Ian Carry era last weekend, the Kentucky women's soccer team will now set its sights on its biggest non-conference weekend of the season as UK hosts Louisville in the annual "Battle of the Bluegrass" before turning around to face No. 15/8 Florida State in Tallahassee on Sunday afternoon.
 
Friday night's match at 7:30 p.m. ET will be shown live on the SEC Network+, ESPN3 and the WatchESPN app with Dave Baker (color) and former UK All-American Stuart Pope (color) on the call.
 
There will be a vuvuzela giveaway on Friday night in addition to $20 family night, where four hot dogs and four drinks will be available for just $20. Students will also be entered to win a customized cornhole set – which will be given away. Weather-permitting, all players will sign autographs after the conclusion of the match.
 
The Wildcats beat Eastern Kentucky 3-1 on Thursday night before winning their first overtime match since 2014 on Sunday with a 2-1 win in the 102nd minute over Wyoming thanks to Tanya Samarzich's third goal of the weekend just over a minute into the second overtime frame.
 
UK has won the last six meetings in a row with Louisville, dating back to the 2010 season. Last year, Kentucky went down a goal to the Cards but scored two second-half goals to hold off Louisville 2-1 at Lynn Stadium in the Derby City. Kentucky leads the all-time series with 12-2-1. The Wildcats have won the last six matches in a row with UL, and have outscored the Cardinals 11-1 in that stretch of matches. Kentucky defeated Louisville 1-0 the last time the Battle of the Bluegrass was played in Lexington.
 
Under the direction of Karen Ferguson-Dayes, the Cardinals enter the weekend with an impressive 3-1-0 overall record including wins over Boston University, Miami (OH) and at Indiana. The Cards' lone setback came in a 2-0 defeat Sunday against the Marquette Golden Eagles. Louisville will be playing its second true road match of the season on Friday.
 
The Cardinals are outscoring their opponents 7-4 this season and have outscored their opponents 4-0 in the first half of matches this season. Louisville is led on offense by freshman midfielder Emina Ekic, who has two goals inside the first two weekends of play. Redshirt freshman goalkeeper Gabby Kouzelos is the Cards' defensive star, only allowing four goals thus far and registering all three wins with a 1.00 GAA in net. UL has seven players with a goal or an assists this season.
 
Florida State, a national title winner as recent as 2015, enters the weekend with a 3-1-0 overall record with its only blemish coming on the road to Alabama on Sunday afternoon. The Seminoles are again loaded with offensive firepower this season and have already scored nine goals through the opening four matches this season. FSU is undefeated at home in 2017, including wins over UNC-Greensboro, South Alabama and Samford. Deyna Castellanos is the leading FSU goal scorer, with four goals scored inside the first four matches.
 
Match Day #5
Friday, Sept. 1
Louisville at Kentucky
Bell Soccer Complex – Lexington, KY
7:30 p.m. ET / SEC Network+
 
Match Day #6
Sunday, Sept. 3
Kentucky at #8 Florida State
Seminole Soccer Complex – Tallahassee, FL
1:00 p.m. ET / No TV or stream
 
For the latest on the Kentucky women's soccer team, follow @UKWomensSoccer on Twitter, Instagram and Facebook, as well as on the web at UKathletics.com.