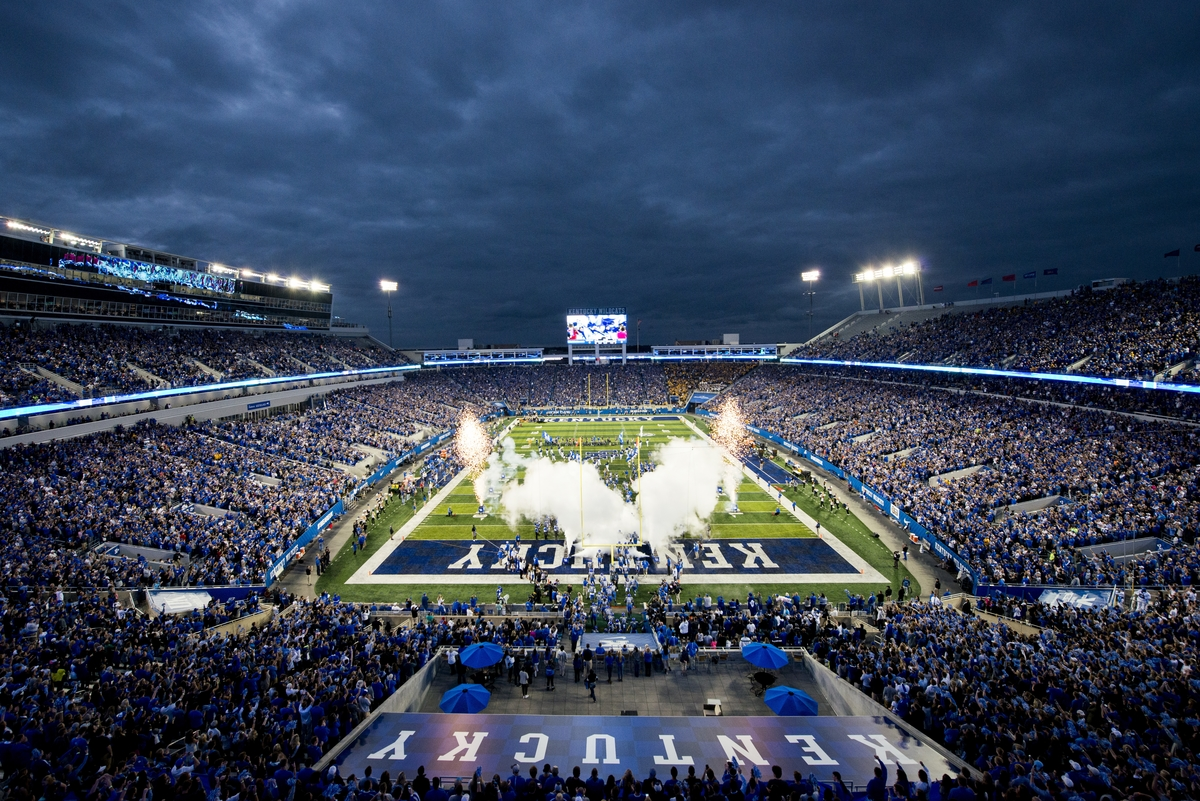 LEXINGTON, Ky. – Fan experience upgrades and operational changes will be coming to Kroger Field for the 2017 Kentucky football season. Ahead of the Wildcats' home opener on Sept. 9 vs. Eastern Kentucky, UK Athletics informs fans of the following:
New bench-back seating – New bench-back seating has been installed in the South upper level of Kroger Field.
Social media on video boards – Social-media posts from fans – including photos – will be incorporated into the video board presentation in real time on game day.
Gate 6 Kroger priority entry – As part of UK's comprehensive partnership with Kroger, fans will be able to enter through priority lines of entry at gate 6 by bringing canned goods to be donated to God's Pantry on behalf of Kroger.
Additional healthy snack options from Simple Truth – Additional healthy snack options will be available at Kentucky home games this season. Kroger's popular Simple Truth brand will also be offered throughout the lower concourse inside gates 4, 9 and 12.
Kroger Meal Deal – Concessions stands throughout the stadium will offer the Kroger Meal Deal on game day, packaging UK football fans' favorite combinations throughout the season.
Gate 1 mural – Kroger, UK, and UK Sports and Campus Marketing are collaborating to create a mural at gate 1 this season that will celebrate the partnership between the three parties. The mural will be a visual reflection of Kroger's commitment to the State of Kentucky and the university. Its progress will be on display for UK's game vs. Tennessee on Oct. 28 and it will be completed in time for UK's Governor's Cup battle vs. Louisville on Nov. 25.
Kroger Tailgating Experience – Kroger will also host a VIP tailgate event starting two hours prior to each home game in the lawn next to Bluegrass Technical and Community College. Kroger customers who spend more than $100 the week prior to the game will be invited to the free Kroger Tailgating Experience featuring food and beverage. Fans should present their receipts of $100 or more at the entrance, which will grant entry for four. The Kroger Tailgating Experience is open to the first 500 fans.
Complimentary water – Complimentary water will be available to fans throughout both the lower and upper concourse of Kroger Field. Four large water tanks will be located on both the lower and upper concourse that fans will be able to use to fill cups that will be provided. With these new tanks, concession stands will no longer offer complimentary water.
Lap tickets for infants under 12 months – The policy that all fans regardless of age must have a ticket remains in place, but new lap tickets will be available this season for infants 12 months and under. Lap tickets are only available on game day and may be purchased at the Kroger Field ticket office (between Gates 9 & 10) for $10 by an accompanying adult with a ticket. The lap ticket policy only applies to regular-season home football games. Lap tickets have been created in response to fan feedback from families with young children.
Clear bag policy – As a reminder, UK Athletics is implementing the SEC's new clear bag policy at Kroger Field this season as an additional safety measure and to facilitate entry. Each fan will be permitted to carry one large clear bag – either a one-gallon Ziploc-style bag or a 12″ x 6″ x 12″ clear bag – plus a small clutch that does not exceed 4.5″ x 6.5″. The small clutch allows privacy for small personal items and is also easily searched. The clear bag policy improves public safety by making bags easily searched and significantly reducing faulty bag searches. The same policy has been in place in the NFL for the last four seasons.
Special admissions entries – With the new clear bag policy, fans not carrying any bags will be able to enter the stadium through specially marked special admissions entries at each gate.
New Visitor RV Lots – The Visitor RV Lots have moved to two new lots located adjacent to the former lot. The first lot is located at the corner of S. Limestone and Virginia. It is accessible while driving south on S. Limestone, prior to reaching the Virginia intersection. The second lot is located at Press Avenue and Transcript Avenue. Both lots are available on Fridays prior to game day at 6 p.m. There are no RV hook-ups in either lot.
UK Athletics also reminds fans of the following important information for game day this season:
Game-day info online – The official online home for Kentucky football game-day information is ukathleticsgameday.com. Please visit that website for everything you need to know about attending games at Kroger Field this season.
Text assistance – The Game Day Assistance program enables fans to start a conversation with UK Athletics staff. Fans can text UK MESSAGE & SEAT LOCATION to 69050.
Email questions – Fans with questions or feedback about football game day can contact UK Athletics by emailing BBNfirst@uky.edu.
Game-day ticket office hours – The Kroger Field ticket office, located between gates 9 and 10, opens four hours prior to kickoff and closes five minutes into the third quarter.
Pregame concerts – The Kentucky Football Pregame Concert Series has returned for the 2017 season. Concerts will begin on the stage outside Gate 12 immediately following the Cat Walk presented by Chevy and last until 30 minutes prior to kickoff. The Cat Walk takes place two hours and 15 minutes prior to kickoff. After winning a fan vote, Walker Montgomery will play the season-opening concert on Sept. 9.
Gate 12 congestion – Fans should be aware of expected congestion in the concourse inside gate 12 and the plaza outside gate 12 both pregame and postgame due to team movements and plan accordingly. With the completion of the Joe Craft Football Training Facility, the team locker room is now located there. Starting about 90 minutes prior to kickoff and lasting until approximately 40 minutes prior to kickoff, the team walks from the football facility to Kroger Field, restricting fan movement. The gate 12 area is also shut down postgame to allow the team to return to the locker room.
Concessions – A diagram with concessions offerings at Kroger Field is available at UKAthleticsGameday.com.
Ride sharing – UK Athletics has worked with Lyft and Uber to establish a ride-sharing pickup and drop-off point on football game days. The loading and unloading zone is located on Sports Center Drive near the Woodland Glen dorms. Lyft and Uber drivers should proceed down Huguelet Drive, right on University Drive, left on Complex Drive and left on Sports Center Drive to pick up passengers, then right on Woodland Avenue after pickup.
Permits for tow-behind trailers – In order to maintain the integrity of reserved parking lots for all guests, tow-behind trailers will not be permitted on paved surface lots within Kroger Field, unless they too have a permit. Guests bringing a tow-behind trailer, without an additional permit, will be directed to the nearest open grass lot.
Tailgate setup – Fans are asked to not set up tents or trailers in the Kroger Field complex prior to noon on Fridays leading up to game day in order to facilitate preparations. Also, all vehicles, tents and trailers must be removed by noon on Sundays following game day.
Student ticketing – The voucher system in place last season for students will return for 2017. Vouchers will be exchanged on a first-come, first-served basis on game days at the student entrance (Gate 14 & 15) of Kroger Field, as long as seating remains. Gate 15 will be used for express lanes for students entering the stadium without a bag. Kentucky has reserved approximately 5,000 student seats per game, including approximately 4,000 in the lower-level student section and 1,000 in the upper level. Up to 6,250 vouchers will be sold. Thus, admission into Kroger Field is only guaranteed for the first 5,000 students that enter with a voucher. The first 4,000 students to enter with a voucher will receive a wristband for the lower-level student section. Wristbands are valid for general admission seating in sections 34-40. Once all lower level wristbands have been distributed, remaining students will exchange their voucher for an upper-level assigned seat, while supplies last.
Traffic – Fans are encouraged to review the suggested routes listed on their parking passes. An interactive map with directions to each parking area can be found at http://ukgamedayparking.io-media.com/. Fans are encouraged to display their parking permit when they leave their homes, enabling traffic personnel to efficiently sort and direct vehicles approaching the complex. Non-permit parking is available on Cooper Drive on a first-come, first-served basis beginning at noon ET on Fridays.  Additional non-permit parking is available in Parking Structures #2, #3 and #6.
Season tickets are available at UKFootballTix.com for $310 apiece with corresponding K Fund donations attached. Fans can secure the best seat locations and year-round benefits by purchasing a season ticket package. Fans are able to use the Kentucky Football Virtual Venue to view and compare available seat locations and see a 360-degree virtual view from the seats inside Kroger Field. The Virtual Venue has been updated to reflect the installation of nearly 6,000 new bench-back seats in the upper level for the 2017 season. Payment plans are available for new purchases.
Public season-ticket packages in Sections 201-203 and 209-211 are $240 apiece. Fans can view a seating chart with the various pricing levels here. Limited quantities of the Kentucky Football Pocket Pass will also return for the 2017 season, which includes a mobile ticket to all seven home games for a discounted price of $205 while supplies last. 
The Wildcats will open the 2017 season with a game at Southern Miss on Sept. 2 and make their home debut on Sept. 9 vs. Eastern Kentucky University.