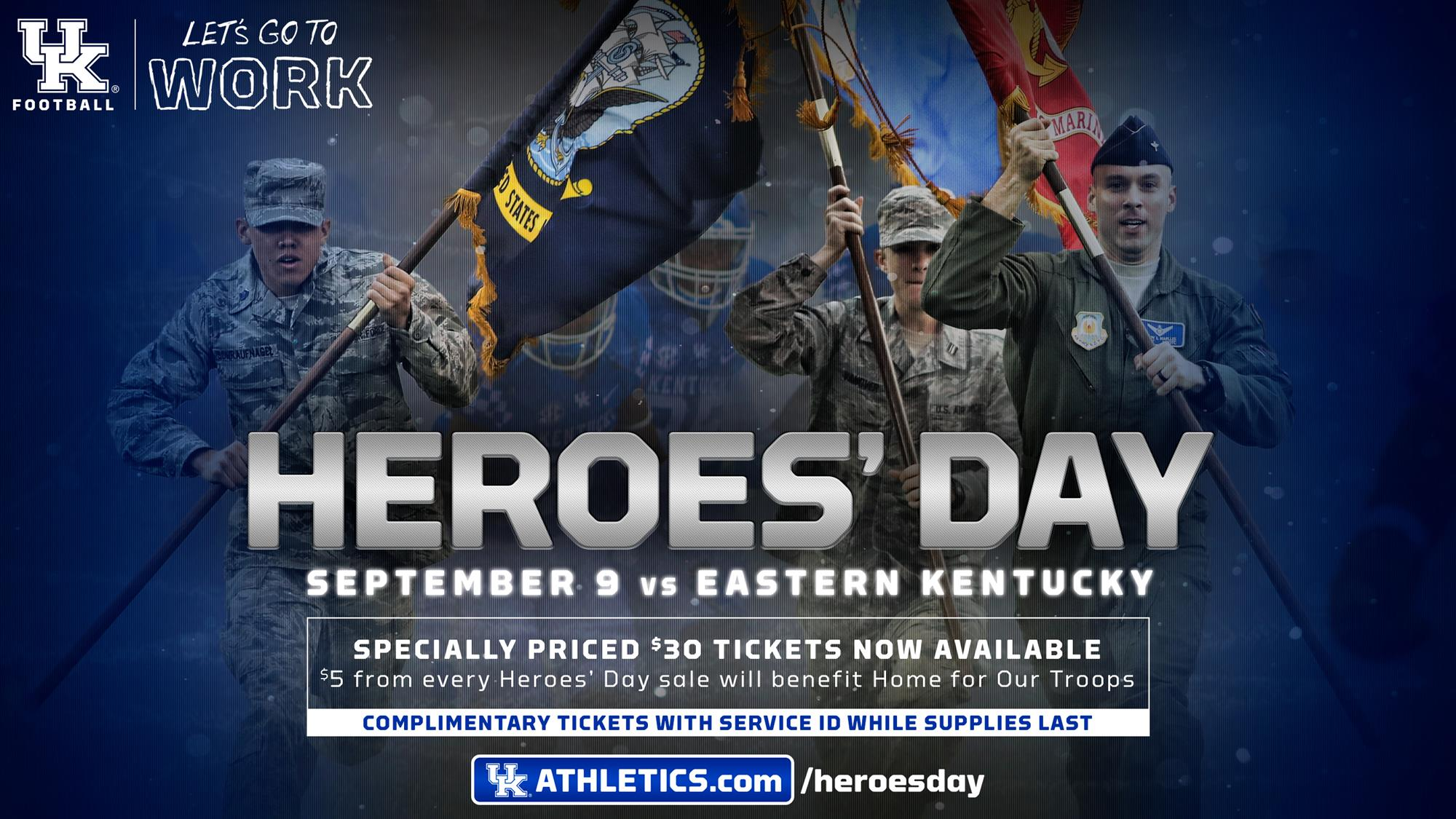 LEXINGTON, Ky. – Kentucky football's annual Heroes' Day game is set for the Wildcats' home opener vs. Eastern Kentucky at noon on Sept. 9 at Kroger Field.
 
The annual Heroes' Day event honors all active and reserve members of the armed forces along with police, firefighters and first responders. Any members of the aforementioned groups are eligible to receive two complimentary tickets to the game by presenting a valid service ID, while supplies last.
 
Tickets will be available at the Joe Craft Center ticket office beginning Tuesday, Sept. 5 and throughout game week from 9 a.m.-4 p.m. daily. Tickets can also be picked up on game day beginning at 8 a.m. at the Kroger Field ticket office, located between gates 9 and 10.
 
Along with complimentary tickets for heroes, UK Athletics is proud to offer specially priced tickets for the Eastern Kentucky game that will benefit Homes For Our Troops (HFOT). Fans can order tickets directly through a special website, UKathletics.com/HeroesDay, and $5 of every $30 ticket sold through this site will go directly to HFOT.
 
HFOT builds and donates specially adapted custom homes nationwide for severely injured post – 9/11 veterans, to enable them to rebuild their lives. Most of these veterans have sustained injuries including multiple limb amputations, partial or full paralysis and/or severe traumatic brain injury. These homes restore some of the freedom and independence veterans sacrificed while defending our country, and enable them to focus on their family, recovery, and rebuilding their lives. Since its inception in 2004, nearly 90 cents of every dollar has gone directly to program services for veterans. HFOT builds these homes where the veteran chooses to live, and continues its relationship with the veterans after home delivery to assist them with rebuilding their lives.
 
HFOT is currently the sole beneficiary of the Swings for Soldiers Classic, the golf event founded by UK football great and NFL tight end Jacob Tamme.
 
"The Swings for Soldiers Classic and our partnership with Homes For Our Troops is something that my wife, Allison, and I have spent nearly a decade building," Tamme said. "We are very proud of the progress we've made toward giving our nation's wounded heroes a home in which they can operate freely and regain their independence. UK Athletics and supporting our veterans: These are two things I will always be glad to get behind. BBN, thank you for your support on Heroes' Day."
 
Among the tentative plans for Heroes' Day are a football-field sized American flag for the national anthem, which will be presented by the UK Air Force ROTC and UK Army ROTC, recognition of personnel throughout the game and military VIPs in attendance.
 
Performing the national anthem will be the Wildcat Marching Band joined by a choir featuring students from the UK School of Music, as well as the Commonwealth Choir representing each of Kentucky's 120 counties.
 
The Wildcat Marching Band will also perform a special salute to military at halftime, complete with pyrotechnics.