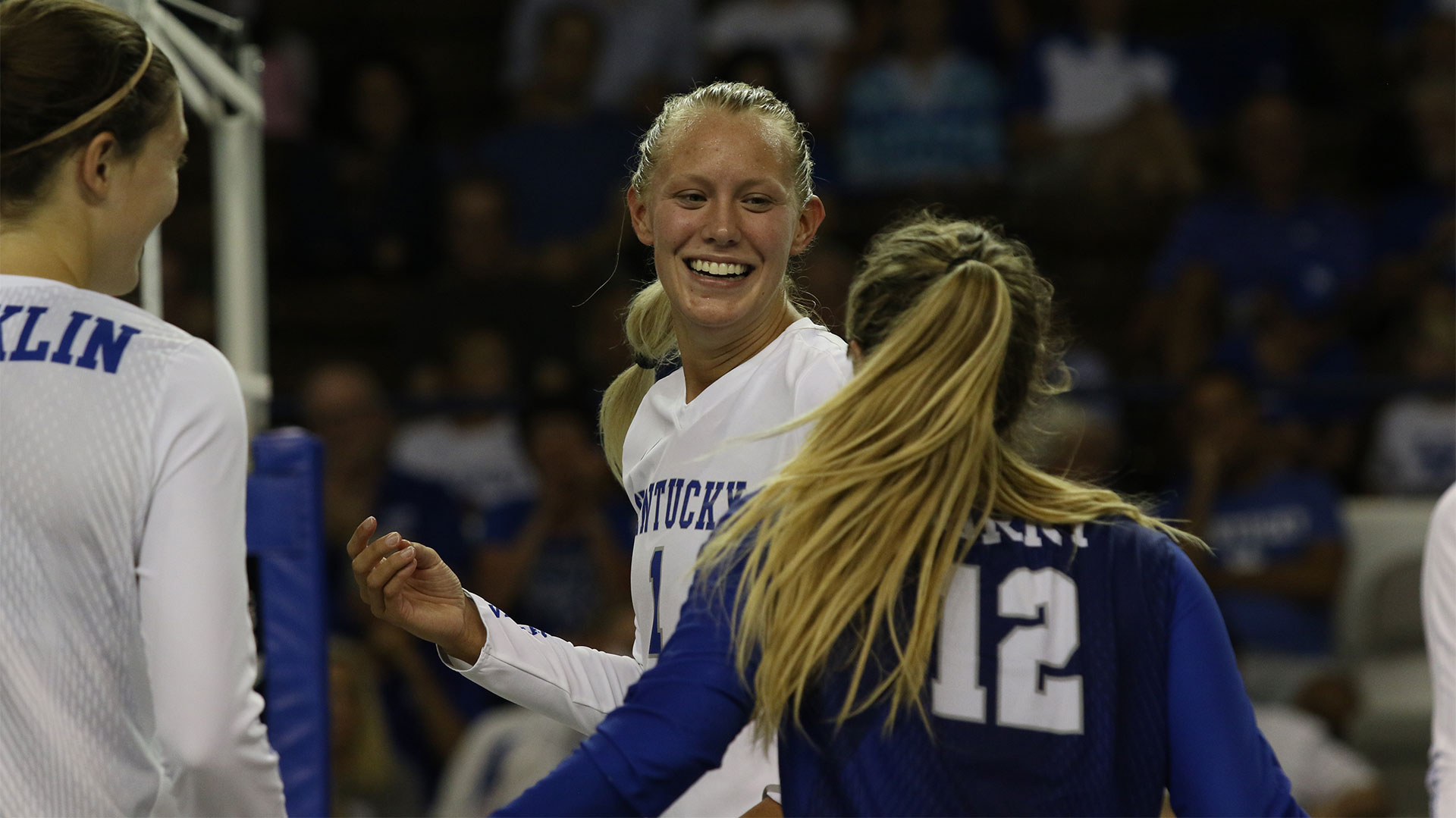 August 27, 2017 - 12:00 AM
Nyberg Sparks UK Volleyball in Win Over Cincinnati
After topping No. 23 Utah late on Friday night, it would have been perfectly understandable if the Kentucky volleyball team would have gotten off to a slow start on Saturday against Cincinnati. Not only did the 14th-ranked Wildcats survive the Utes in five sets, but the nationally-televised match lasted until almost midnight.
Predictably, the Wildcats were a little sluggish early in Saturday's match. That's when head coach Craig Skinner made a calculated move, sending junior Anna Nyberg into the game for her first action of the season. And Nyberg responded.
Kentucky led 18-17 in the first set when Nyberg entered the match for the first time. Shortly thereafter, Nyberg registered three straight kills to help Kentucky build a 23-18 lead. The Wildcats would win the set 25-21.
Kentucky head coach Craig Skinner knew Nyberg would be ready for the opportunity.
"My plan, if we needed a left side sub, she would be it," Skinner said of Nyberg. "She's earned that. She's been really good in practice. She's had great focus and a great attitude about her and she earned the right to go in there and change the way we were playing."
Nyberg would record seven kills in the match, while hitting .294. She added a dig, a block assist and a service ace as the Wildcats moved to 3-0 on the season.
Skinner was not surprised by Nyberg's performance.
"Her attacking has gotten significantly better in the last two weeks of practice," Skinner said. "We know she has a great serve and she's a great blocker. I'm happy for Anna."
Nyberg, a 6-2 junior from Tomahawk, Wisconsin, had only nine kills all of last season, after registering 47 kills as a freshman. Her seven kills on Saturday night were the most since her freshman season. She was excited to contribute to the team's win.
"I want to be that player that can come in and perform," Nyberg said. "It was really nice to come in and have the night I did. It was nice to help my team."
Nyberg got comfortable early with those three straight kills.
"I was definitely nervous going in, but those (kills) definitely helped me," Nyberg said. "I felt very comfortable after that."
Nyberg's teammates were thrilled to see her success.
"Having people like Anna Nyberg coming in and do what she did was unbelievable," said junior defensive specialist McKenzie Watson. "Our strength in numbers really showed this weekend."
Freshman libero Gabby Curry was also impressed by Nyberg's effort.
"All of us were insanely excited for her," Curry said. "I think the biggest thing for her is that she's been working so hard in practice and spending so much time before and after practice that I think she deserves that chance. When she got out there, she showed how much she's been working hard."
In the second set, Nyberg came up big again. With UK leading 24-22, Nyberg and senior Kaz Brown teamed up on a block to close out the set and give the Wildcats a 2-0 advantage. And in set three, Nyberg contributed her third career service ace to help the Wildcats break open a tight set, one that Kentucky would eventually win 25-20.
Nyberg's performance showed that this Kentucky team has plenty of depth, which will make the Wildcats difficult to prepare for as the season progresses.