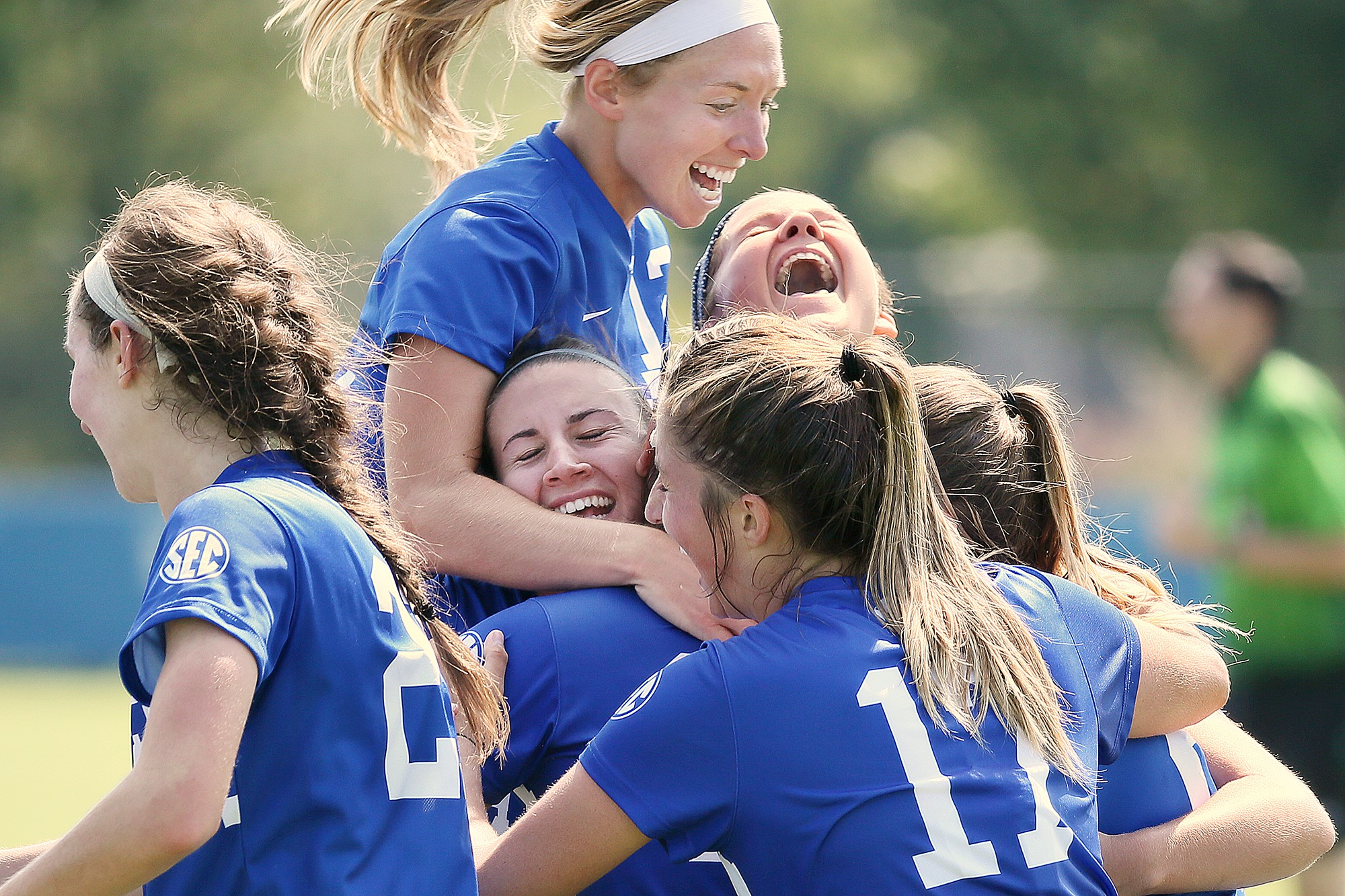 August 27, 2017 - 04:18 PM
Samarzich's Golden Goal Rescues Three Points in 2OT Thriller
LEXINGTON, Ky. – It had been exactly 1,093 days since the Kentucky women's soccer team had won an overtime match. That all changed on Sunday afternoon in front of 1,257 fans and K-9's on "Dollar Dog Sunday" at the Wendell & Vickie Bell Soccer Complex.
 
Senior forward Tanya Samarzich scored her third goal of the weekend in the 102nd minute of double overtime to rescue a deserved three points for the Wildcats as Kentucky outlasted the Wyoming Cowgirls, 2-1.
 
With Sunday's result – Kentucky climbs to .500 on the season at 2-2-0 overall, has won two-straight matches and now sets its eyes on the annual "Battle of the Bluegrass" with Louisville on Friday night at 7:30 p.m. ET from the Bell Soccer Complex.
 
The Wildcats took the early lead on freshman midfielder Yuuka Kurosaki's first-career goal as she calmly finished a penalty for her first pair of points in the Blue and White. Kentucky then went into the dressing room leading 1-0 holding a 9-6 lead in shots and a 4-3 edge in corner kicks.
 
In the second half, it was all Kentucky – who had outshot Wyoming in the first 27 minutes of the frame 4-0 – but the Cowgirls stuck true to their M.O. – and pegged one back to equalize. Wyoming took advantage of a long-range free kick just on the plus side of midfield, and after a scramble in the box, Brooklynn Mooney finished a chance from just outside the 18 to goalkeeper Evangeline Soucie's right to draw level.
 
Kentucky then turned up the pressure and nearly won the match as Julia Grosso's attempt from the left side minutes later hit the woodwork – but it wasn't to be and that match went to extra time.
 
In the first OT session, Kentucky had chance after chance, but was unable to come up with the winner. In the first minute of the second OT session – the Wildcats would go on to win the match.
 
Soucie punted the ball to the deepest penetration of the field all match just beyond the circle and it fell to the feet of Kurosaki. She then laid it off centrally for Eva Mitchell who couldn't have played a better ball into the feet of Samarzich running into the box.
 
Samarzich then took a few touches and clinically finished the game off with the outside of her right foot into the far post for the golden goal winner. The Mexican international player is now responsible for both of Kentucky's game-winning goals this season, as she also scored the match winner vs. EKU on Thursday night.
 
For the latest on the Kentucky women's soccer team, follow @UKWomensSoccer on Twitter, Instagram and Facebook, as well as on the web at UKathletics.com.