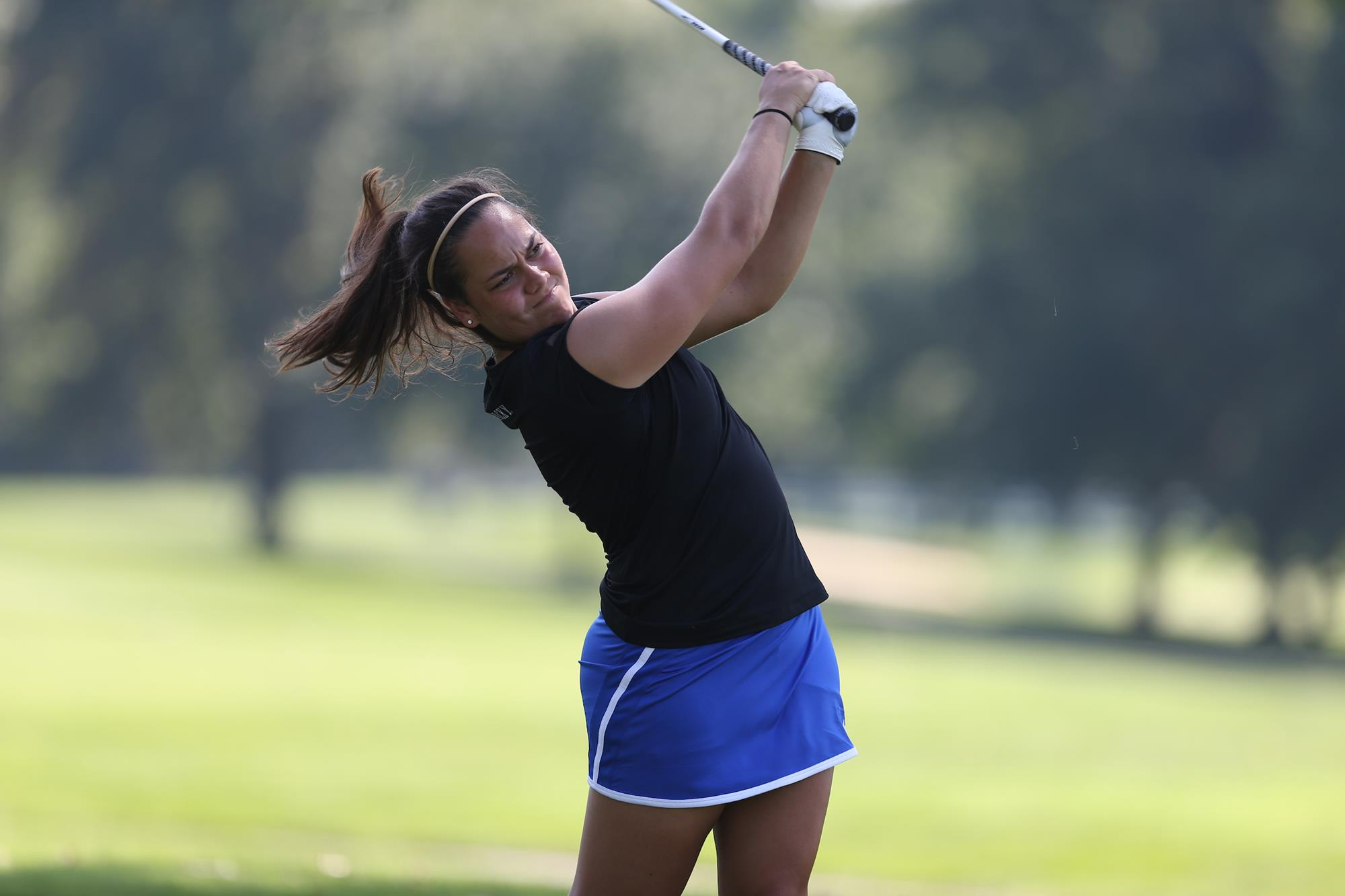 August 27, 2017 - 10:01 PM
Ale Walker Qualifies for Stage II of LPGA Qualifying School
RANCHO MIRAGE, Calif. – Kentucky women's golfer Ale Walker is moving on to Stage II of LPGA Qualifying School.
 
The redshirt senior played four days of magnificent golf at Mission Hills Country Club in Rancho Mirage, California, making the cut this weekend at Stage I of Q-School and inching one step closer to earning LPGA status.
 
In a record field of 362 players, Walker finished in a tie for 48th place at 1­-under par, more than enough to move on to Stage II, which will take place Oc. 19-22 at Plantation Golf and Country Club in Venice, Florida. To advance past this week's stage, golfers had to finish among the top 90 (plus ties).
 
That was never in doubt for Walker after a tournament-opening score of 4-under par.
 
The first-round 68 put Walker in the top 10, where she'd hover for most of the weekend. She followed Thursday's 68 with a 2-under 70 on Friday, a 1-under 71 on Saturday and a 6-over 78 on Sunday. Playing among mostly professionals, Walker posted the 13th-best finish among amateurs in the field.
 
Walker, who will be a key part of Kentucky's 2017-18 team this season, earned Symetra Tour status by making the 54-hole cut after Saturday's third round. The Symetra Tour is the official development tour of the LPGA.
 
The Paintsville, Kentucky, native will return to Lexington for the start of her final season at UK. Walker and the Wildcats will have two tournaments – the Mercedes-Benz Collegiate Championship in Knoxville, Tennessee, and the Bettie Lou Evans Invitational at the University Club of Kentucky – before Walker will head to Stage II of Q-School in Florida in mid-October.
 
There, Walker will compete against seasoned veterans and future stars of the game – but few amateurs such as herself. Stage II competitors will include:
Symetra Tour Members ranked 1-150, plus those tied for 150th place on the official 2017 Symetra Tour money list through the PHC Classic
LPGA Tour Class A Members who have not competed in an official LPGA tournament during the 2015-17calendar years
Professional players who, as of the conclusion of the PHC Classic, won an amount of money in official Symetra Tour events that is equal to or greater than the amount of official money won by the Symetra Tour member who was in 100th place on the official Symetra Tour Money List through the PHC Classic
Players, not otherwise qualified for Stage III, who are ranked within the top 400 on the Rolex World Rankings as of the entry deadline. Players will be ranked in the order of their position on the list as of the entry deadline. If more than 30 players apply through this category – and the total number of entries for Stage II exceeds 100 players – remaining players may be moved to start the qualifying process at Stage I
Top-five ranked players on the GolfWeek Women's Individual Collegiate Rankings as of the entry deadline
Top-five ranked players on the women's 2017 World Amateur Golf Rankings as of the entry deadline
Qualifiers from Stage I
Stage II will feature 72 holes of stroke-play competition with no cut. The top 80 players (plus ties) will advance to Stage III in Daytona Beach, Florida, where the final qualifiers will compete for the coveted top-20 spots that earn LPGA Tour membership.
 
After missing the entire 2015-16 season due to injuries, Walker has not only returned to her old ways, she's arguably playing the best golf of her career. She has played in 23 events in her Kentucky career with three top-20 tournament finishes. She returned from injury last season to play in five events with a top-10 finish in the stroke-play portion of the East & West Match Play Challenge.
 
Walker wasn't the only Wildcat in Q-School this week. Senior Isabelle Johansson and junior Claire Carlin also made the trip but did not make the 54-hole cut. Johansson finished at 9-over par while Carlin ended up at 19-over par.
 
In addition to Walker's success, this weekend presented a valuable warm-up opportunity for the 2017-18 season for the three Wildcats, all of whom are expected to be important pieces on a team that has its sight set on advancing to the NCAA Championships for the first time since 1992 as well.
 
With Carlin, Johansson and Walker included, UK will return all but two of its players from the 2016-17 squad that qualified for NCAA regionals, broke individual and team records, and won two individual titles.
 
For the latest on the Kentucky women's golf team, follow the team on Twitter, Facebook, Instagram and Snapchat, as well as on the web at UKathletics.com.