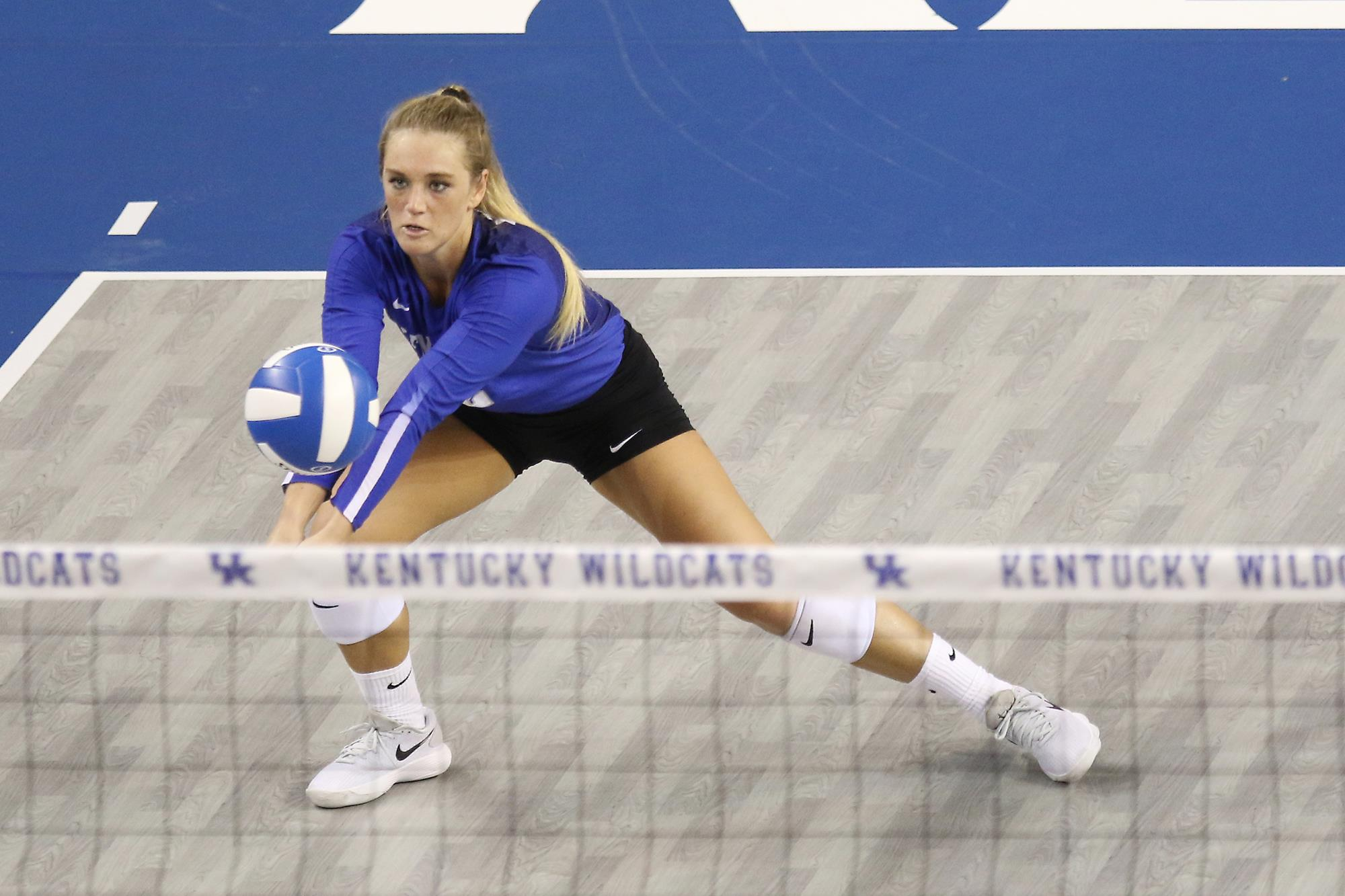 August 26, 2017 - 01:03 AM
Talented Freshmen Help UK Volleyball Get Past No. 23 Utah
There has been much hype in the preseason about the Kentucky volleyball team's 2017 freshman class. On Friday night, that talented group got its first big test, facing a nationally-ranked opponent in a nationally-televised match.
The group quickly proved that they are more than capable of shining on a big stage. Behind solid play from freshman setter Madison Lilley, freshman hitter Avery Skinner and freshman libero Gabby Curry, the 14th-ranked Wildcats topped No. 23 Utah 25-23, 29-27, 13-25, 20-25, 15-12 in a five-set classic on Friday night at Memorial Coliseum that was seen nationwide on the SEC Network.
Kentucky head coach Craig Skinner was pleased with how his rookie group responded in their first chance under the spotlight.
"They're not freshmen volleyball-wise," Skinner said. "They've been playing for a long time at very high levels and they understand what the pressures are in competing. All of them have competed for national championships in club, so they knew what to expect when they got here."
Avery Skinner bounced back from a tough outing earlier in the day by recording 11 kills, including some clutch plays in the fifth set. Lilley had her second straight double-double, with 42 assists and 12 digs. And Curry had a game-high 18 digs in the match.
"They did great," sophomore Leah Edmond said of the rookies. "Gabby, Avery and Madison all did phenomenal. They all kept their composure and kept going at it. We all figured out how to keep them call, too. I'm very proud of them."
Coach Skinner agreed with Edmond's assessment.
"They smoothed it out. They got a little indecisive at times and whether to go for it or not. I think they noticed in the fifth game to go for it, and you're going to sleep better at night when you do that."
While it was Edmond carrying a large portion of the offensive attack with 22 kills, the Wildcats likely would not have prevailed without the contributions of the freshmen. 
"They're all capable," Coach Skinner said. "Every person has a value to this group, and I think we saw that tonight."
Coupled with the team's five seniors, the talented freshman class has helped the Wildcats to a 2-0 start. While Kentucky has played only two matches, the talented freshman class is living up to its billing so far.