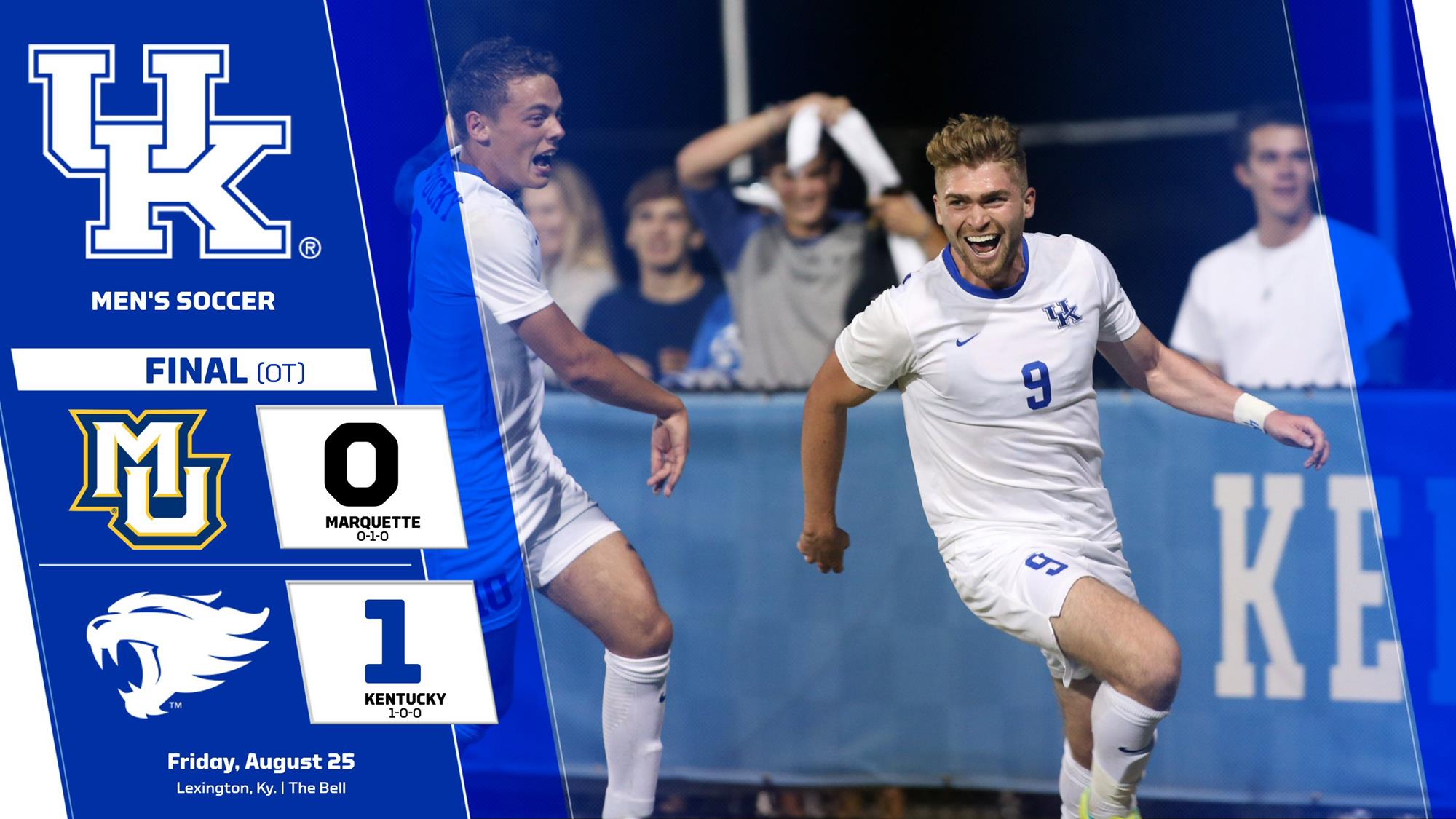 August 25, 2017 - 11:07 PM
McKelvey's Overtime Winner Gives UK Soccer Season Opening Win
Wildcats begin season with 1-0 home win
LEXINGTON, Ky. – Andrew McKelvey scored the golden goal two minutes into overtime to lift the Kentucky men's soccer team to a 1-0 win over Marquette in front of 1,701 fans on Friday at The Bell.
Transfer Mikkel Pedersen's corner kick fell to Alex Bumpus. The senior captain defender moved the ball back across the face of goal to McKelvey who finished from close range into the roof of the net.
 
Kentucky's back line was resolute in defense in front of freshman goalkeeper Enrique Facusse who earned his first career win and clean sheet.
 
"It was a corner kick and a good whipped-in ball," McKelvey said. "I think one of their defenders flicked it on, and Bumpus reacted well by doing what he had to do. I just stayed alert and was able to finish." 
McKelvey scored the sixth goal of his career, while Pedersen and Bumpus each notched first career assists.
UK is 1-0-0 this season, while Marquette dropped to 0-1-0.
 
Kentucky's best chance of the regulation 90 came on 73 minutes as the ball fell to freshman Kalil ElMedkhar who forced Marquette keeper Luis Barraza into a good reaction to his left.
 
Marquette nearly ended proceedings just before the end of regular time when Martin Alba rattled the woodwork. The midfielder had a go from four yards beyond the 18, but his shot hit the crossbar square only for Landon Souder to clear out for a corner, which didn't seriously trouble the UK defense.
 
The quote
"We came out and did what we had to do today," senior captain Landon Souder said. "We had not gotten a win during this preseason so we knew we had to get a win today in order to make coach the happy."
 
The precedent
Kentucky improved to 2-0 against Marquette all-time, having won 4-0 in Milwaukee last season in the season opener.
 
Kentucky is 16-10-1 all-time in regular-season openers.
 
The Wildcats have won three openers in a row. Kentucky is 4-2 in season openers under Johan Cedergren.
 
Kentucky has won its home opener in all four seasons at the now four-year-old Wendell and Vickie Bell Soccer Complex.
 
Next match
Kentucky will play its first road match of the season Tuesday at ETSU.
 
—
For the best coverage of UK men's soccer follow the team's social media accounts on Twitter, Facebook and Instagram in addition to on UKathletics.com.