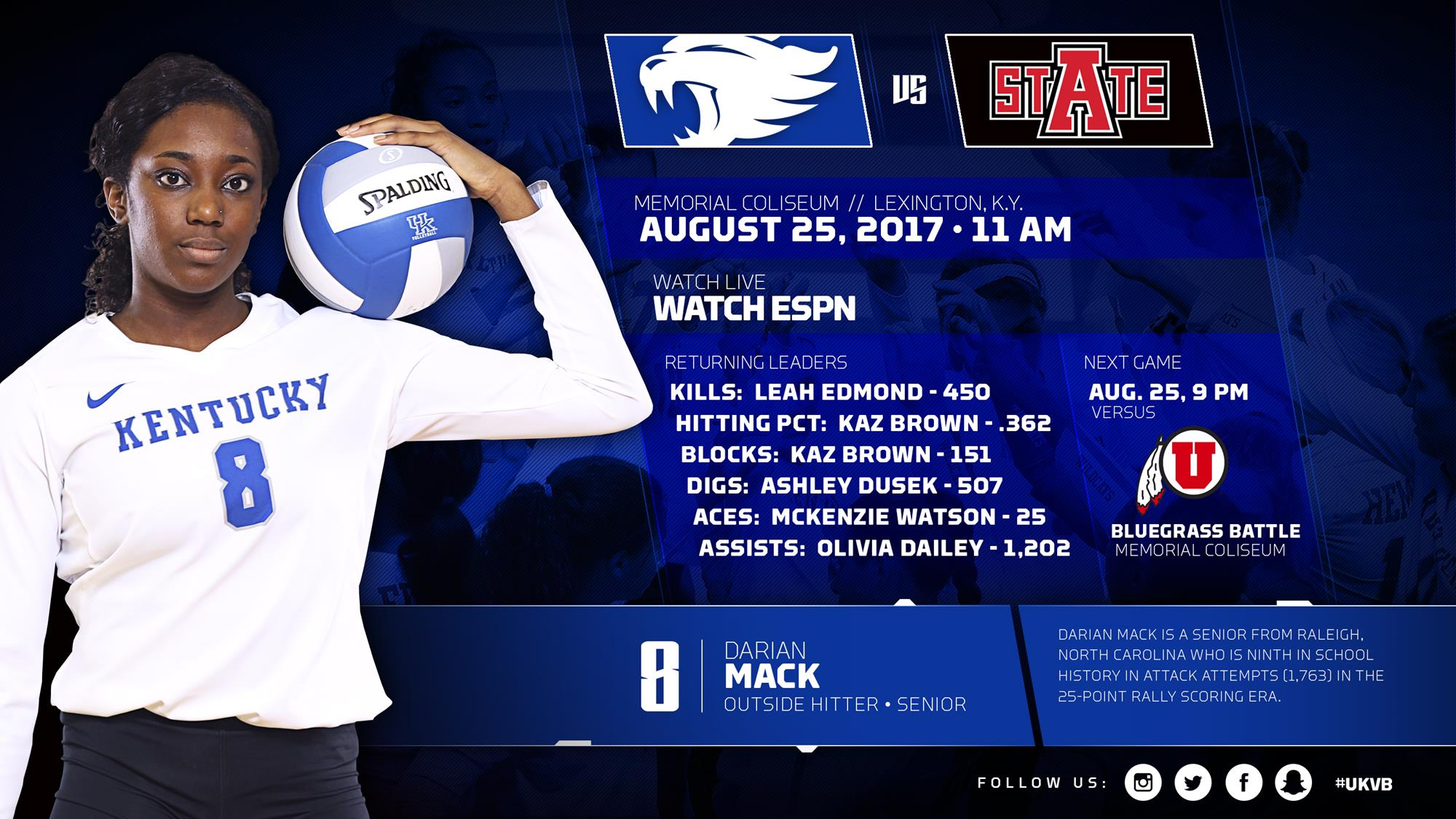 August 24, 2017 - 02:42 PM
Kentucky Opens Season at Home with Bluegrass Battle
Match Notes | Live Stats | Watch Live: Arkansas State | Utah | Cincinnati
 
LEXINGTON, Ky. – After a successful preseason, the No. 14 Kentucky volleyball team will open the season with the annual Bluegrass Battle on Friday and Saturday. UK will welcome Arkansas State and No. 23 Utah on Friday at 11 a.m. and 9 p.m, respectively, and Cincinnati on Saturday at 7:30 p.m. The matches against ASU and UC can be seen on SEC Network+, while the Utah match will be shown live on SEC Network.
 
The UK match with the Red Wolves is free admission. Utah will face Cincinnati at 1 p.m. on Friday inside Memorial Coliseum while ASU will face UC at 6 p.m. On Saturday, the Red Wolves will take on the Utes at 5 p.m. before the final match of the night. Non-UK matches will not be streamed, but live stats will be available on UKAthletics.com.
 
Match Day Information
Doors will open one hour prior to first serve. Fans are encouraged to arrive early and travel light for quicker entry.
 
Kentucky Athletics is excited to introduce ticket scanning at Memorial Coliseum this season. Season and single-game volleyball tickets will now be barcoded and scanned for validity at each entrance. By barcoding tickets, fans will soon have access to more ticket management features than ever before.
 
Bags entering Memorial Coliseum may not exceed 12″ x 6″ x 12″. All bags are subject to visual inspection upon entry. An exception will be made for medically necessary items, after proper inspection. Please note, backpacks are not permitted inside Memorial Coliseum, regardless of size.
 
Complete match day information can be found at our game day site by clicking here.
 
Parking Information
All E-lots surrounding Memorial Coliseum including the North Craft, High Street, Rose Street, and Linden Walk employee lots are available for event parking beginning three hours prior to first serve. Additionally, the South Limestone Garage (PS#5) and the Rose Street Garage (PS#2) are available two hours prior to first serve.
 
Disabled parking is available in the North Craft lot. Spaces are limited and provided on a first come, first served basis with a valid, state-issued disabled parking hangtag.
 
Shuttle Information
A shuttle is available free of charge from the South Limestone Garage (Parking Structure #5). The pick-up/drop-off point at the South Limestone Garage is located on Administration Drive. We ask that all patrons access this pick-up/drop-off location by the sky bridge, accessible from level 3 of the parking structure. The shuttle pick-up/drop-off location at Memorial Coliseum is located at the front of the Coliseum on Avenue of Champions.
 
Shuttle services begin two hours pre-match and will continue 20 minutes after first serve and will resume post-match for one hour.
 
Scouting the Opponent – Arkansas State
Arkansas State went 25-8 last season and 15-1 in the Sun Belt en route to a West Division championship. ASU fell in the Sun Belt Conference Tournament finals to end its season. The Red Wolves return four starters, including three who made the preseason Sun Belt All-Conference team. Kenzie Fields, Calisa May and Jessica Uke earned a spot on the squad while the team was picked to win the West Division of the Sun Belt once again.
 
Scouting the Opponent – Cincinnati
Cincinnati went 22-10 last season and earned an at-large bid to the NCAA Tournament. UC lost in the first round of the NCAA Tournament to Florida State, 3-1. Three Bearcats – Jordan Thompson, Jade Tingelhoff, Carly Nolan – were named preseason All American Athletic Conference while Thompson earned preseason Player of the Year. UC finished second in the preseason coaches' poll, finishing just behind Wichita State.
 
Scouting the Opponent – Utah
Utah will start the year ranked No. 23 in the nation after going 20-12 last season and made its 13th NCAA tournament appearance. The Utes have two players – Adora Anae and Tawnee Luafalemana – on the All Pac-12 preseason team. Anae broke the season kill record with 592 last year and was named an All-American. Utah is young with eight newcomers, including seven freshman and one JUCO transfer. The Utes were picked to finish fourth in the PAC-12.
 
Preseason All-SEC
Three Wildcats – Leah Edmond, Kaz Brown and Ashley Dusek – were named to the preseason All-SEC team. Brown and Dusek have appeared on the list twice in their careers, while Edmond earned her first honor. As a team, Kentucky was picked to finish second in the coaches poll by just one point. Florida earned 139 points and seven first-place votes to take the top spot, while UK earned 138 points and six first-place votes.
 
AVCA Ranking
The Wildcats will start the year ranked, coming in at No. 14 in the American Volleyball Coaches Association poll. Under head coach Craig Skinner, the team has been ranked for 101 weeks, and currently has appeared in the poll for 10-consecutive weeks. Skinner's highest ranking was No. 7 in 2009.
 
First Ever Exhibition
For the first time in school history, Kentucky had the opportunity to play an exhibition match. UK took on WKU, and did not disappoint. While set scores were not released, freshman Avery Skinner led the way with 15 kills on a blistering .520 hitting percentage. Olivia Dailey and Madison Lilley combined for 49 assists and 12 digs, while Gabby Curry posted a match-high 23 digs.
 
Academic Awards
For the third-consecutive season, the Kentucky volleyball program earned the American Volleyball Coaches Association (AVCA) Team Academic Award honoring the Cats' 3.43 cumulative grade-point average for the 2016-17 academic year. Kentucky also posted a perfect 1.000 APR.
 
Best Recruiting Class Ever
Kentucky's recruiting class was the highest in program history at No. 5 The No. 5 class in the nation includes No. 4 Madison Lilley, No. 32 Avery Skinner, No. 46 Gabby Curry and No. 81 Kendyl Paris. Transfer Merideth Jewell also joined the team from Morehead State.
 
Representing the USA
Multiple Wildcats represented the USA this summer. Gabby Curry and Leah Edmond put on the Red, White and Blue for the USA Women's Junior National Team that played in Mexico at the 2017 FIVB Volleyball Women's U20 World Championship. The USA finished in seventh place after beating Bulgaria in the seventh-place classification match.
 
Kaz Brown competed in Thailand for USA Volleyball, while Olivia Dailey competed for the Collegiate National Team in Minneapolis.
 
Returning Production
Kentucky is slated to return 91.9 percent of its leading kill production, including its top-five terminators in Leah Edmond, Kaz Brown, Darian Mack, Emily Franklin and Brooke Morgan. Edmond led the team with 450 kills last season. Defensively, UK returns 97.8 percent of its blocking numbers and 84.5 percent of its dig production. Brown, who already holds numerous 25-point rally scoring era records, is UK's leading returning blocker with 151 rejections a season ago. Ashley Dusek has posted more than 200 digs in all three seasons with the Cats.
 
Bringing Home Awards
Multiple Wildcats brought home awards at the conclusion of last season. Three Wildcats – Leah Edmond, Ashley Dusek and Olivia Dailey – were named All-America. Edmond was on the third team, while Dusek and Dailey were honorable mention.
 
Edmond, Dusek and Dailey, along with Kaz Brown, were named AVCA All-Region and All-SEC. Edmond took home the SEC Freshman of the Year award and the AVCA Southeast region Freshman of the Year award. Dusek repeated as the SEC Libero of the Year.
 
Impressive Freshman Season
Leah Edmond had an impressive freshman season that ended with her being named third-team All-America, AVCA All-South Region Freshman of the Year, SEC Freshman of the Year, as well as All-SEC. Edmond led the squad with 450 kills. Her 4.25 kills per set were good for second in the SEC and 33rd in the nation. Her kill total was the second highest ever in the 25-point rally scoring era.
 
Chasing Records
After another solid year that earned her All-SEC once again, Kaz Brown has climbed the charts of the 25-point rally scoring era record book. Brown currently sits second in her career in block solos (45), block assists (384) and total blocks (429). Her 726 kills currently sits in eighth, while here 1,515 attacks are 10th. In the single-season category, Brown holds the top spot in total blocks with 180 in 2015.
 
Follow along with the Cats on Twitter, Facebook and Instagram, and on the web at UKathletics.com.