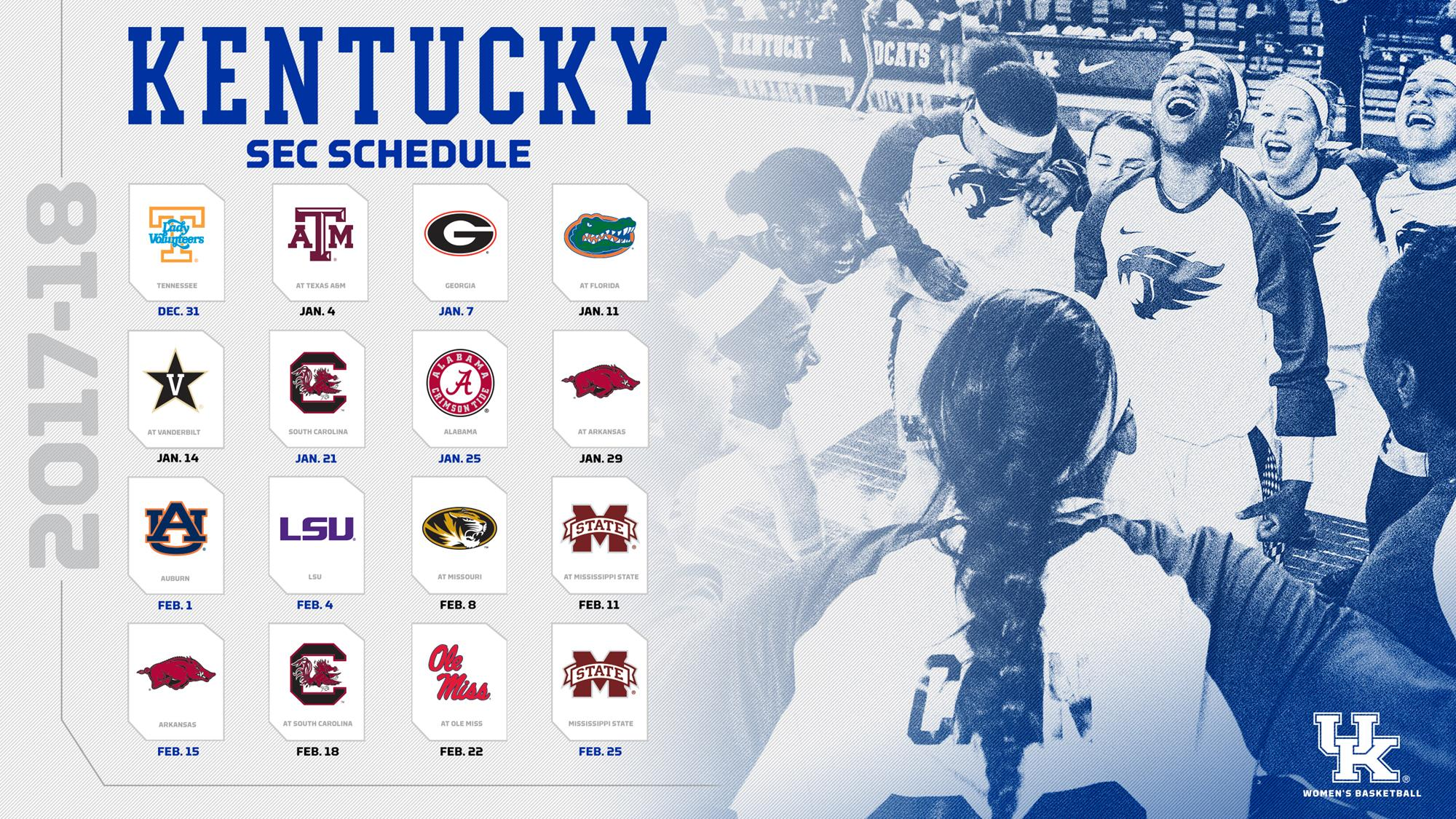 August 22, 2017 - 02:56 PM
Kentucky's 16-Game SEC Schedule Announced by League Office
2017-18 Schedule | 2017-18 Schedule (PDF)
LEXINGTON, Ky. – The Southeastern Conference has announced its 2018 league slate, featuring a challenging 16-game schedule for the 2017-18 Kentucky women's basketball team. The Wildcats will play host to Tennessee, Georgia, South Carolina, Alabama, Auburn, LSU, Arkansas and Mississippi State, while traveling to play at Texas A&M, Florida, Vanderbilt, Arkansas, Missouri, Mississippi State, South Carolina and Ole Miss.
 
For the second straight season, the Wildcats will begin their league slate against Tennessee, squaring off with the Lady Vols on New Year's Eve in Lexington. UK begins the New Year at Texas A&M on Thursday, Jan. 4 before returning to Lexington to face Georgia on Sunday, Jan. 7. After a two-game swing at Florida on Thursday, Jan. 11 and at Vanderbilt on Sunday, Jan. 14, the Wildcats have their bye date on Thursday, Jan. 18 before back-to-back home games against South Carolina on Sunday, Jan. 21 and Alabama on Thursday, Jan. 25. The month concludes on Monday, Jan. 29 at Arkansas.
 
February will start with two home games against Auburn on Thursday, Feb. 1 and LSU on Sunday, Feb. 4, before starting one of the more challenging parts of the schedule with four of five games on the road. The tough stretch begins Thursday, Feb. 8 at Missouri before traveling to Starkville on Sunday, Feb. 11 to face Mississippi State. UK breaks from the road to face Arkansas at home Thursday, Feb. 15, before playing at South Carolina on Sunday, Feb. 18 and wrapping up the difficult sequence at Ole Miss on Thursday, Feb. 22. UK will conclude its SEC slate Sunday, Feb. 25 against Mississippi State in Lexington.
 
The SEC schedule is a challenging 16-game slate, playing every team in the league at least once and three teams twice in one permanent opponent (South Carolina) and two opponents (Mississippi State, Arkansas) that rotate annually.
 
During the week of January 21-28, SEC member institutions will participate in the seventh annual "We Back Pat" Week. The week-long initiative is focused on bringing awareness and recognition to the Pat Summitt Foundation, a fund of East Tennessee Foundation, and its fight against Alzheimer's disease. 
 
New season ticket purchases are available online at ukathletics.com/tickets, while fans can also call (800) 928-2287 or visit the UK Ticket Office in person. The UK Ticket Office is located inside the Joe Craft Center at 338 Lexington Ave. 
 
Purchasing season tickets offers the best option and price savings for fans. New season ticket purchases are available in upper-level reserved chairbacks (sections AA-JJ), lower-level reserved bleachers (sections R-Z) or general admission bleachers (sections RR-ZZ) for $65 per ticket. Lower-level reserved chairbacks (A-J) sections are sold out again this season. New season ticket seating will be assigned in late September after the Sept. 13 renewal deadline.
 
Season ticket renewal invoices are available online at UKathletics.com/renew. Each season, season ticket holders are able to request a seat upgrade upon renewing their season tickets. Seat upgrades are based upon availability. To request an upgrade, fill out the upgrade request section through your online renewal invoice or write the request on your hard-copy season ticket renewal invoice, which was mailed out in early August. Upgrade requests will be reviewed after the season ticket renewal deadline.
 
In addition to season tickets, all-session books to the 2018 SEC women's basketball tournament are now on sale within Kentucky's allotment. This year's event will take place at Bridgestone Arena in Nashville, Tennessee from Feb. 28 – March 4. Seat locations will be assigned based upon K Fund priority point system in January 2018.
 
For more information on the Kentucky women's basketball team, visit UKathletics.com or follow @KentuckyWBB on Twitter, Instagram and Snapchat, or Kentucky Women's Basketball on Facebook.