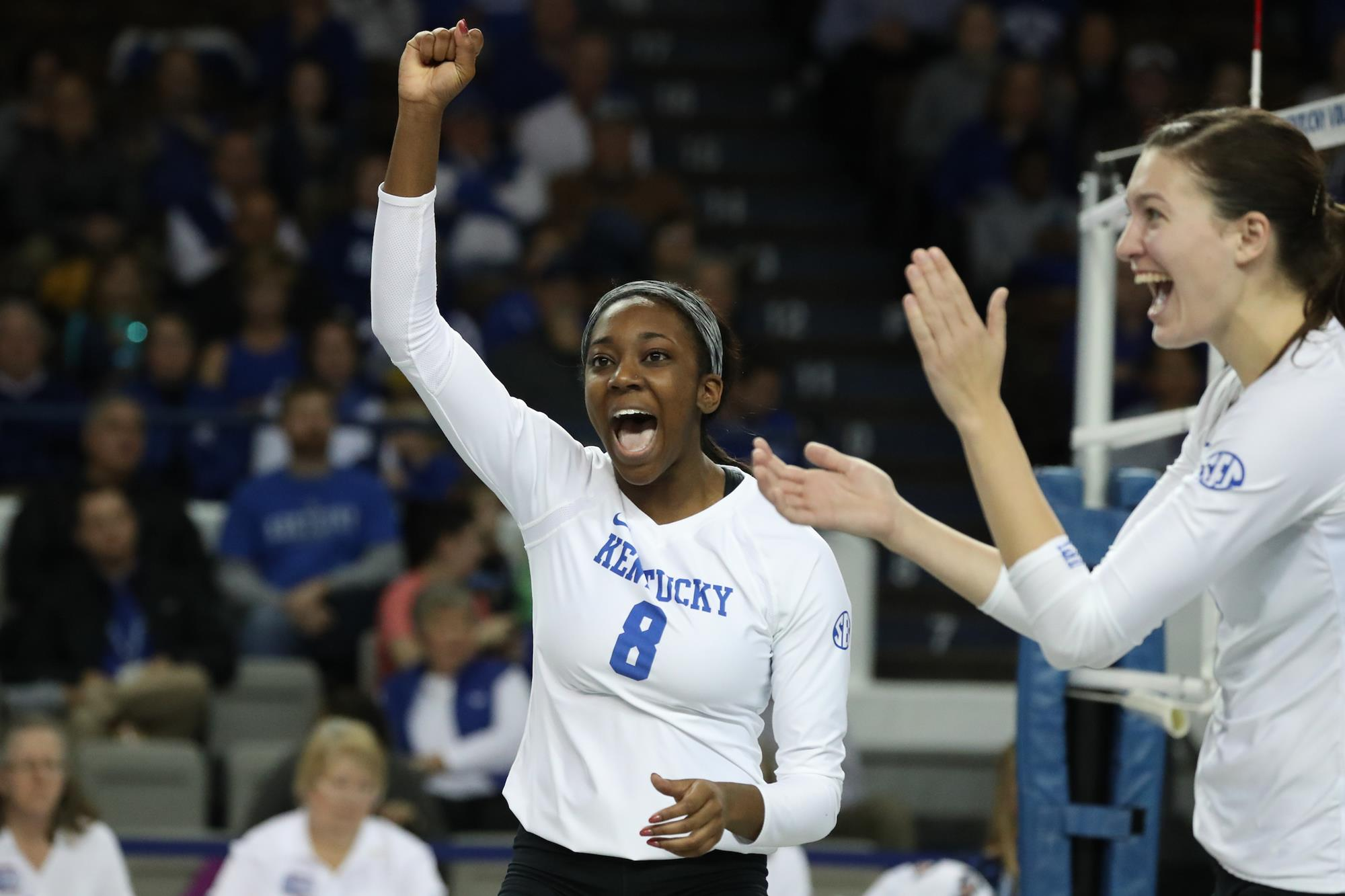 August 21, 2017 - 11:59 AM
Undervalued Mack Ready for Senior Season
Sometimes in sports, especially on teams with a lot of talent, outstanding players can be overlooked. It's not to say that these players are not talented and very important to the team, it's just that their contributions simply get overshadowed by others on the squad.
Kentucky volleyball senior Darian Mack could easily fall into that category. Despite putting up numbers that could have earned her a number of accolades, Mack has largely gone without a lot of individual recognition during her three years at UK.
Kentucky head coach Craig Skinner knows this is not fair, but also understands how it can come about.
"That happens a lot when you have very good players on successful teams," Skinner said. "There are players who are deserving of more accolades than what they get from the media or the coaches."
Mack, a 6-0 senior from Raleigh, North Carolina, had a big season as a UK sophomore in 2015, knocking down 363 kills, the eighth-highest single-season total in Kentucky volleyball history during the rally-scoring era. Mack also had 229 digs and 60 total blocks that season. Despite leading the team and ranking ninth in the SEC in kills, Mack was overlooked for all-conference honors.
"I can probably list off five, or more, matches where if it wasn't for her, we wouldn't have won those matches because of her making a block or making a dig at middle back or she had 20 kills," Skinner said of Mack. "She can impact the game in a lot of different ways. She's very willing to do a lot of things."
Last season, Mack shared the hitting load with a number of other players. She was third on the team with 267 kills, while playing in 103 of the team's 106 sets during the season. 
Her junior season also produced 54 total blocks, a statistic that's even more impressive considering that Mack is not nearly as tall as many of her opponents. So how does she block so effectively?
"It's a combination of athletic ability and technique," Skinner said. "Even though she's only 6-0, her wingspan is probably 6-4 or 6-5, so she blocks as high as Emily (Franklin) and Kaz (Brown) and Brooke (Morgan). She's also very disciplined with her hands. Her hands take away space across the net and that's a hard concept to teach. But that makes it easy for the diggers behind her to play defense because she does take away so much space because of her discipline."
This season, Mack is ready to prove the doubters of herself and her team wrong.
"The preseason rankings came out and we were ranked behind Florida, picked to finish second in the conference, so our goal is to prove that wrong," Mack said. "Then, we want to make a run in the NCAA Tournament. Last year, we got shipped out to Washington, which wasn't the best (scenario). So hopefully we can put ourselves in a position this year to host the first and second rounds."
Mack believes that this UK team has what it takes to accomplish those goals.
"We have a great group coming back," she said. "We have a little bit more experience and time under our belts. I think that will give us an extra push."
And if her senior season goes as her previous three years has, Mack will be a solid, yet quiet contributor as the Wildcats pursue those goals.