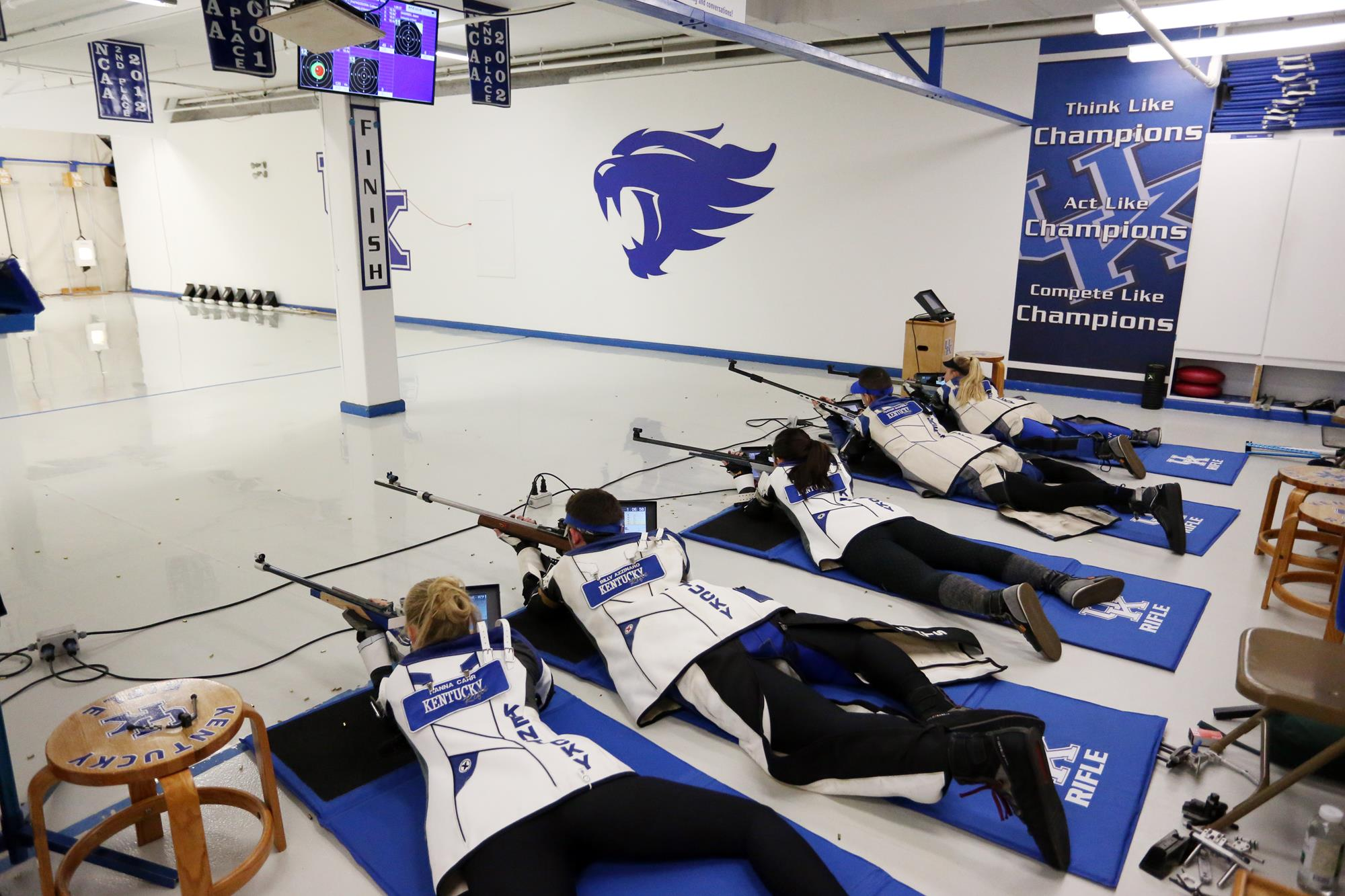 LEXINGTON, Ky. – After another top-five finish at the NCAA Championships in 2017, the Kentucky rifle team unveiled its strong schedule for the 2017-18 season. The campaign features five home matches and numerous challenging road tests.
 
"Obviously we're excited," head coach Harry Mullins said. "Our year-to-year goals of trying to get on the podium at the NCAA Championships and GARC Championships have not changed. Newcomers like Henrik Larsen and Hailee Sigmon will add some flair to the team and the returners have really come back with a lot of motivation and enthusiasm. If they engage and lock in, then we can see some good things this year."
 
The 2017-18 season will kick off on Oct. 7 in Oxford, Mississippi with the Ole Miss Invitational. Held at the Patricia C. Lamar National Guard Readiness Center, this event features some of the nation's best talent.
 
"It's always an exciting way to start out the season with great competition," Mullins said about the opener. "Ole Miss has great facilities. It will be a quick trip, but I think we will get what we want out of it."
 
Following the Ole Miss Invitational, UK will host two consecutive home matches. A solid Navy team will travel to Lexington on Oct. 14 to face the Wildcats in their first conference action of the season, while Morehead State will come to the Buell Armory on Oct. 21.
 
"Navy's new head coach, Mike Anti, is an Olympic medalist so I think he adds a lot to them," Mullins said about the matchup with Navy. "He has some solid recruits, and this will be a good test of where we're at, especially being at home. Morehead State will be another challenge as we see where we are after two months of training."
 
UK will face another road test on Oct. 28 at Akron before returning home to face an improved Ole Miss on Nov. 4. After five consecutive weeks of action, the Wildcats will take a short break before heading back out on the road to Colorado Springs, Colorado, to compete in a quad-meet with Air Force, Nebraska, and Ohio State. Two matches will be shot over Nov. 18-19 to cap off the fall portion of the schedule.
 
UK returns to action after the break with conference matches on consecutive days – Jan. 13 & 14 – in West Point, N.Y. The Wildcats will face Army on Sunday and NC State on Saturday and then return to the bluegrass state on Jan. 19 for the Withrow Invitational on the Murray State campus. The final home match of the regular season will be Jan. 27 against Memphis at the Buell Armory in Lexington.
 
UK's final regular-season and conference test will play out on the road on Feb. 10 against defending national champion West Virginia.
 
"By then, West Virginia will probably have their new range set up and we can shoot on it," Mullins said about the trip. "That will be a prelude of things to come in the postseason since they host the GARC Championships."
 
As they have in many years past, the Wildcats will host a NCAA Qualifier against Morehead State on Feb. 17 before making the trip back to Morgantown, West Virginia, for the Great American Rifle Conference Championships Feb. 23-25.
 
The NCAA Championships will be held March 9-10 at The Citadel in Charleston, South Carolina.
 
For the latest on the Kentucky Rifle team, follow @UKRifle on Twitter and on the web at UKathletics.com.