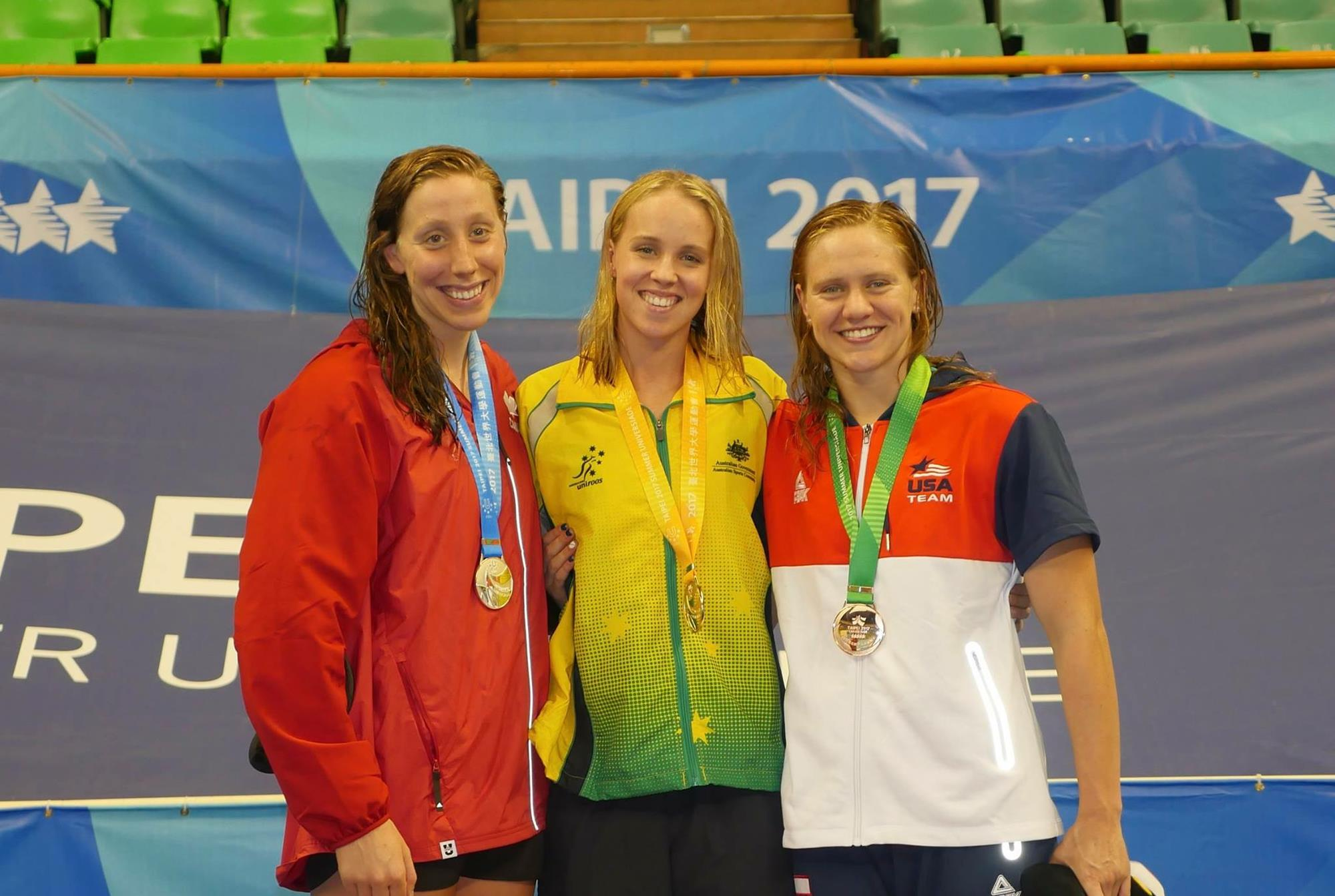 August 21, 2017 - 12:29 PM
Alexander Wins Bronze at World University Games
LEXINGTON, Ky. – Kentucky swimmers Asia Seidt and Bridgette Alexander each advanced to the championship final of the 200-meter backstroke at the World University Games on Monday in Taipei, with Alexander picking up the bronze medal and Seidt finishing fourth for Team USA.
 
"Getting the bronze for Team USA was absolutely incredible," said Alexander, who is entering her senior season at UK. "I knew I had to just take it out and try to hold on in such a close field as it was such a tightly packed heat. Obviously getting the gold medal was the goal, but being my first international meet, I couldn't have asked for a greater experience. Coming off the meet thought, I am so excited to get back to Lexington and start the collegiate season."
 
Alexander touched the wall in 2:10.30 to earn the bronze, her fastest time of the week. Seidt was just one hundredth of a second behind her teammate in the final to take fourth in 2:10.31.
 
"Bridgette winning her first medal at an international competition is awesome," said Kentucky head coach Lars Jorgensen. "It was truly an outstanding week for both Asia and Bridgette to be able to represent the United States and I'm so proud of both of them."
 
Australia's Sian Whittaker won the gold in 2:09.50, followed by Canada's Alexia Zevnik for silver with a time of 2:09.92.
 
Kentucky's 2017-18 swimming and diving season kicks off with its annual Blue-White intrasquad scrimmage on Sept. 29 before hosting its first dual meet against Vanderbilt on Oct. 4.
 
For the latest on the Kentucky swimming and diving program, follow @UKSwimDive on Twitter, on Facebook at Facebook.com/UKSwimDive, and on the web at UKathletics.com.